2018 looks to be a banner year for the anime statues side of First4Figures, as we're likely to see their first statues go up for order from the Fullmetal Alchemist, Gurren Lagann and Cowboy Bebop series, as well as the first in-hand arrivals of Samurai Champloo's Mugen and Berserk's Guts statues. But while Cowboy Bebop releases will be kicking off with Jet Black in the near future, today we got an updated look at the main man himself: F4F Spike Spiegel!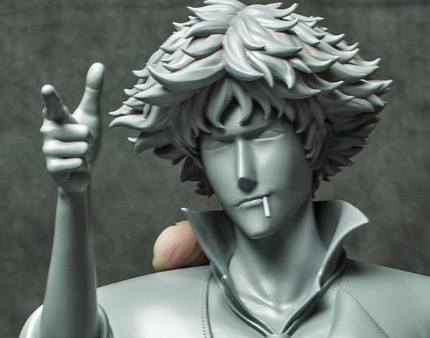 Cowboy Bebop is one of the earliest anime licenses that First 4 Figures acquired, and has been in the works for quite some time now. In fact, the first time that we saw previews of the eventual 1/4 scale Cowboy Bebop statues series was well over a year ago!
The image below shows the prospective poses selected for Faye Valentine, Jet Black and Spike Spiegel—three of the four statues announced for the Cowboy Bebop lineup. While the pose for Ed & Ein hadn't been decided yet at the time, First 4 Figures has confirmed that they're committed to creating statues of the entire crew. So have no fear, hacker and welsh corgi fans–the Bebop bounty hunting team will be complete one day!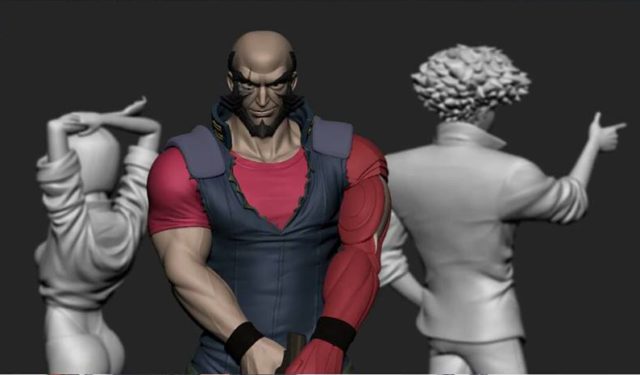 Spike's suit may or may not ultimately end up having sculpted stitches on it. F4F showed a preview of the seam to gauge fan reaction earlier this year, but haven't revealed yet whether or not the stitches will be present on the final statue.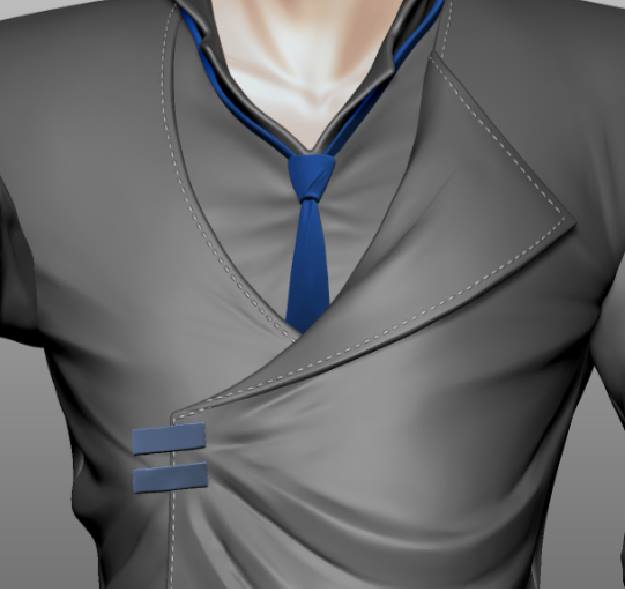 Way back in summer 2016, F4F CEO Alex Davis posted some 3-D images of the progress being made on Spike's head, as seen below.

Based off of feedback from members of the First 4 Figures Official Collector's Club in response to that teaser, revisions were made to the 3-D model of Spike in September 2016 as shown below.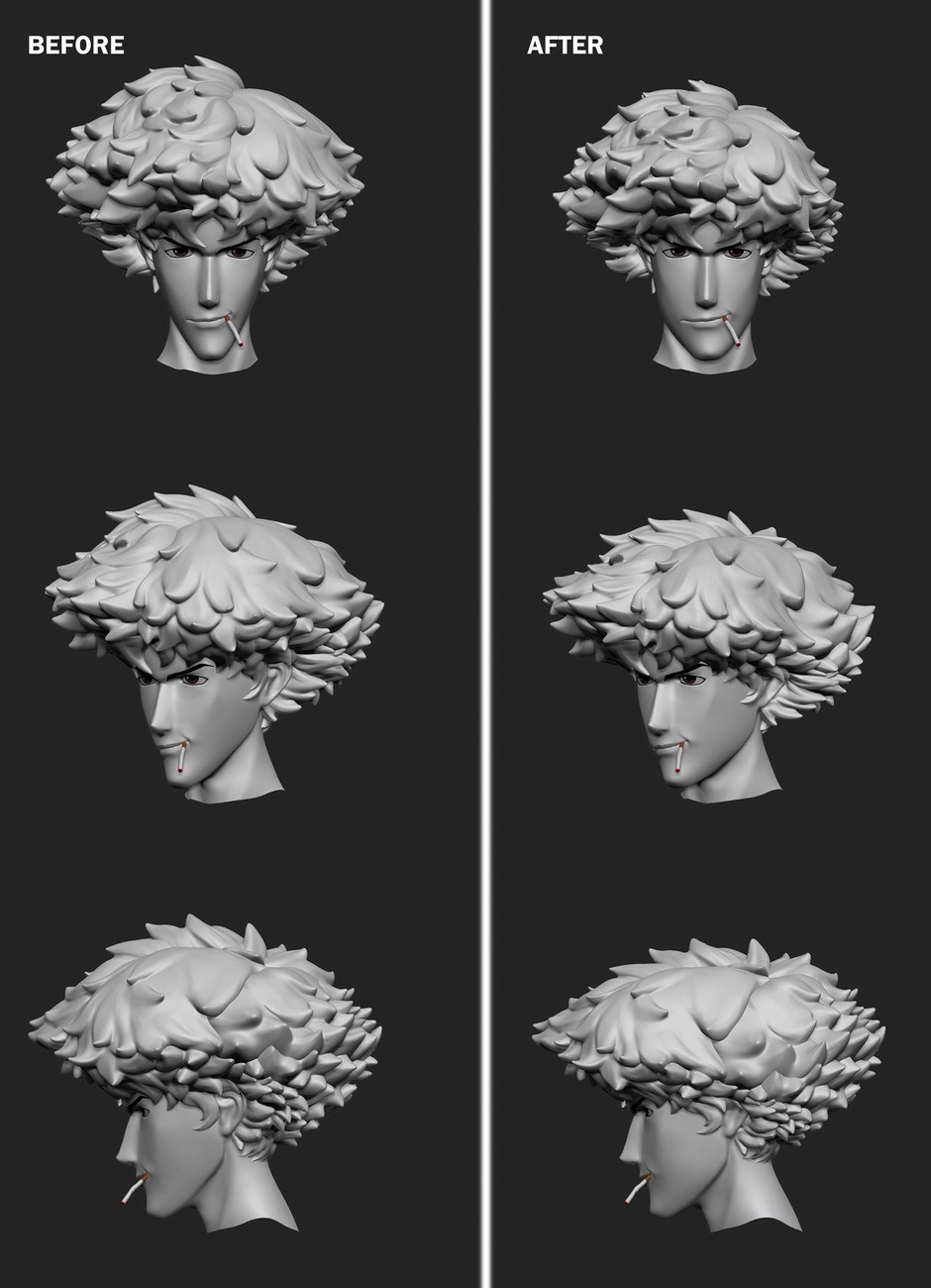 Spike's jaw was widened and the hair ratio was reduced. That was the last that we saw of ol' Spike Spiegel for over a year, but this week, Alex Davis struck back with our first look at a physical, 3-D print of the sculpt for the First4Figures Spike Spiegel head sculpt.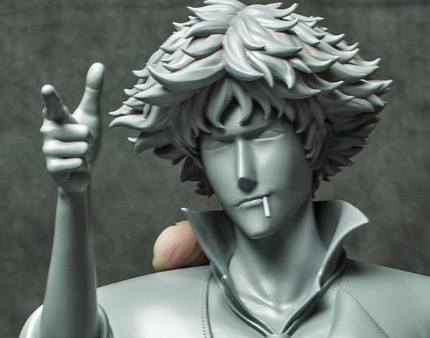 I had a really hard time visualizing how the Spike portrait was going to look in actual physical form based off of the renders we saw last year, but now that we can see it in the physical state, it's almost eerily accurate to how Spike appears in my mind (despite the fact that Spike is only a piece of 2-D artwork in the Cowboy Bebop anime).
For those wondering, Spike's cigarette isn't resin at the moment since this only a 3-D print, but it's likely to be made of resin in the final production piece.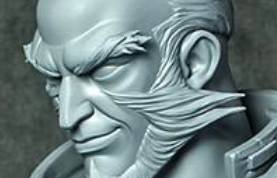 Though it's going to be a bit agonizing for Cowboy Bebop fans to wait for Spike now that we've seen this stellar sneak peek, we're going to have to do our best, because Spike is still quite a ways off from going up for pre-order (likely a minimum of six months, by my estimation). I suspect we won't be seeing Spike go up for pre-order until Summer 2018 at the earliest.
In the meantime, the F4F Jet Black statue is expected to go up for order in a few months as the inaugural entry in the First4Figures Cowboy Bebop line. We were shown the physical sneak peek of Jet shown above in spring 2017, and it looks very promising, so I'm looking forward to the official pre-order sometime soon. I'll post updates here and to the Gamer Toy News Facebook and Twitter Pages as more previews of the F4F Cowboy Bebop statues (and statues from other lines) are revealed.
Based off our newest look, how do you think Spike Spiegel is coming along, Cowboy Bebop fans? Is this looking like a series that you'll be collecting?