Given the almost nonexistent flow of news from Mattel about their Halo 6″ Figures Collector's Series, I was sort of dreading the possibility of attending the New York Toy Fair 2017 this weekend and hearing that the 6″ Halo line was cancelled. But as it turns out, no news really is good news: a whole second wave of Mattel Halo figures debuted at the show, including The Arbiter, Buck, Vale, Atriox, an Imperial Grunt Build-A-Figure and more!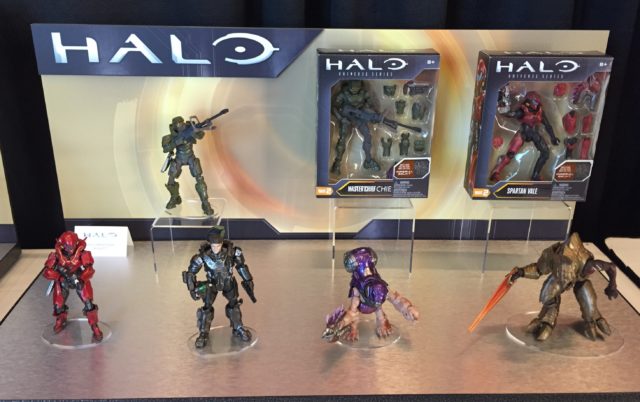 Okay, let me start with a disclaimer: I was not exuberant about the paint apps or plastic quality on the first wave of Collector Series Halo action figures Mattel put out last year, and I thought the quality control on Fred and Kelly was downright disgustingly awful.
But as bad as some of the traits of Wave 1 were, I did like some of the sculpting and playability that the figures had. So if you're like me and at a minimum didn't hate Series 1, the Imperial Grunt Build-A-Figure Series is more of the same… except maybe a little bit better.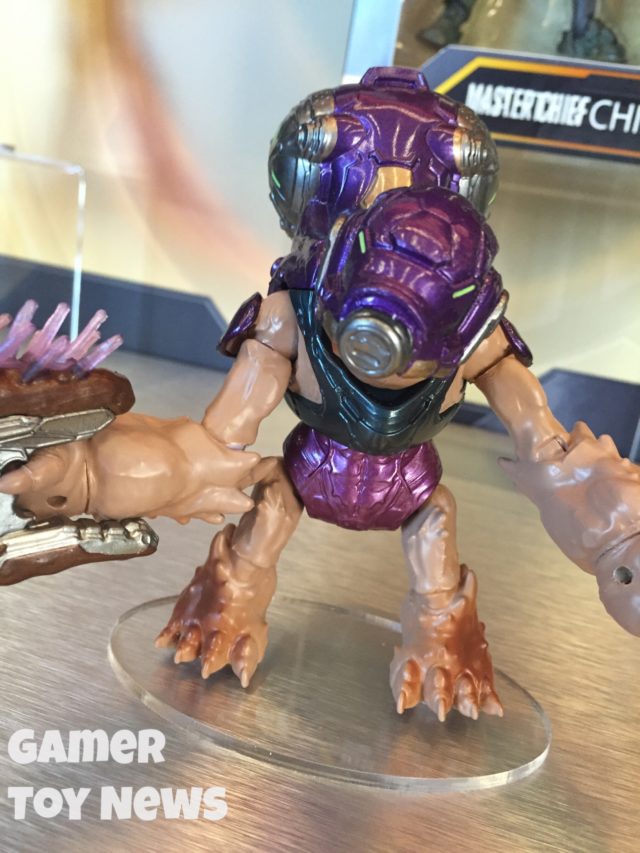 This time out, you'll be able to put together the Mattel Imperial Grunt Build-A-Figure by combining the extra pieces obtained from purchasing all six figures in the set.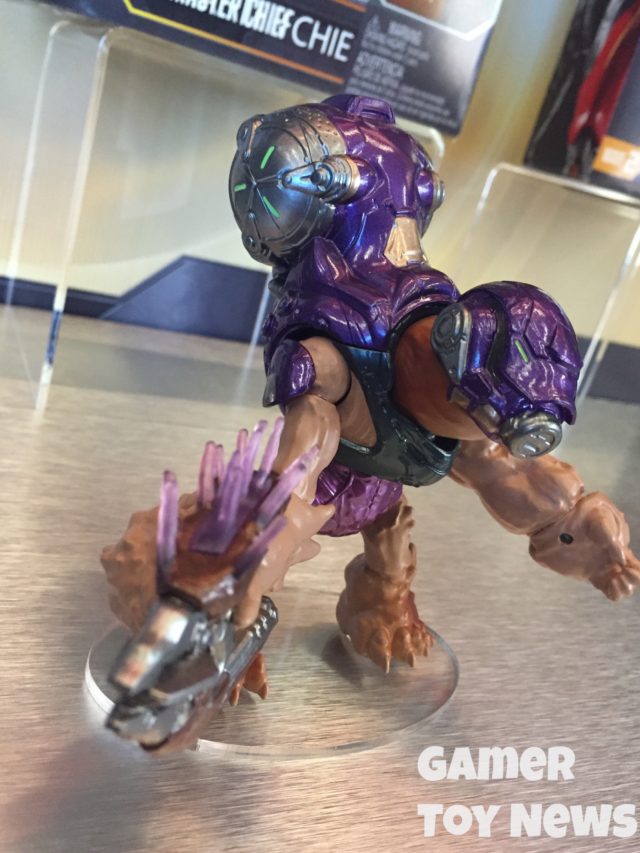 I'm not at all thrilled with this BAF for several reasons. First off, once again the army-builder is inexplicably the wave's Build-A-Figure. This makes zero sense. Zero! "Want six Grunts? Buy $720 worth of figures!" Ridiculous.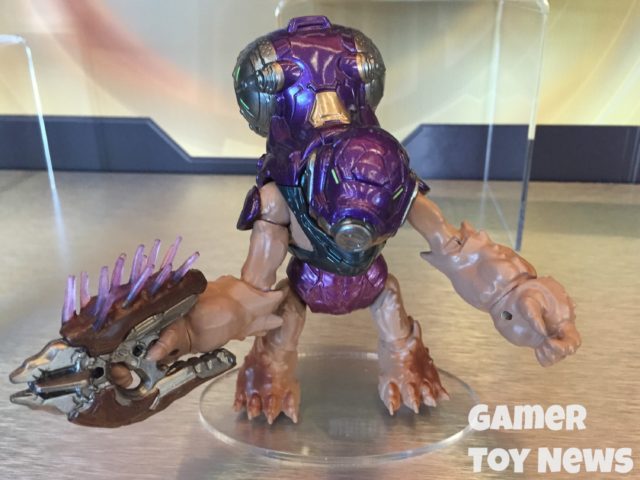 The real damning thing here, though, is that the mostly unpainted  fleshy skin on this Imperial Grunt figure looks downright awful. This is the worst-looking 6″ Halo figure Mattel has shown off so far, unfortunately.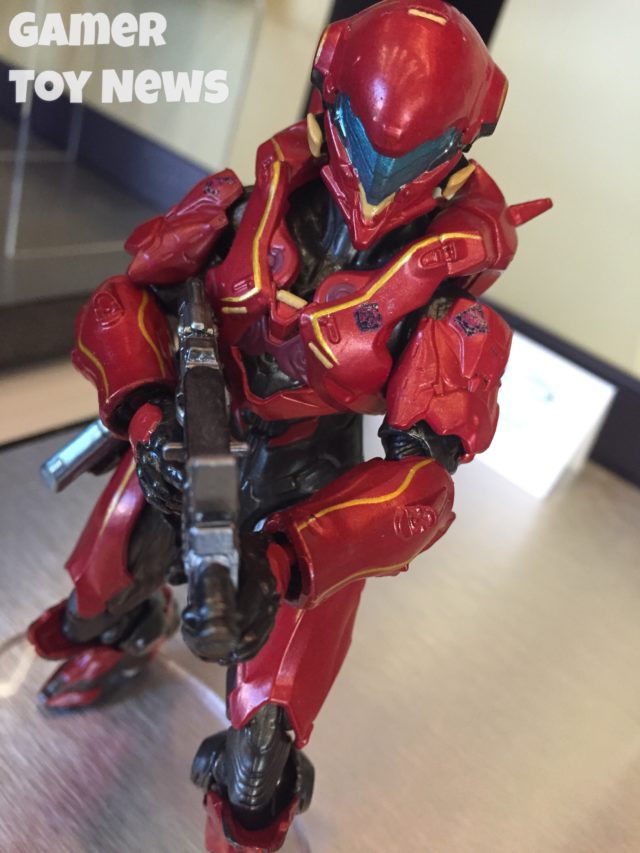 *Achem* Now that I've gotten my biggest gripe out of the way, let's look at some figures I actually do like–which is most of them.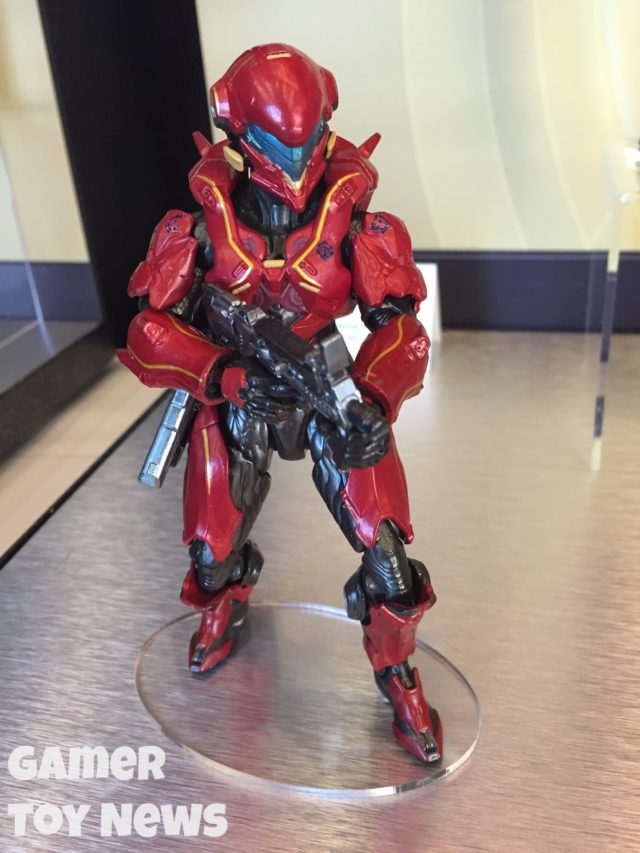 While I'm far from being a Spartan Fireteam Osiris fanboy, the Mattel Spartan Vale 6″ figure looks outstanding.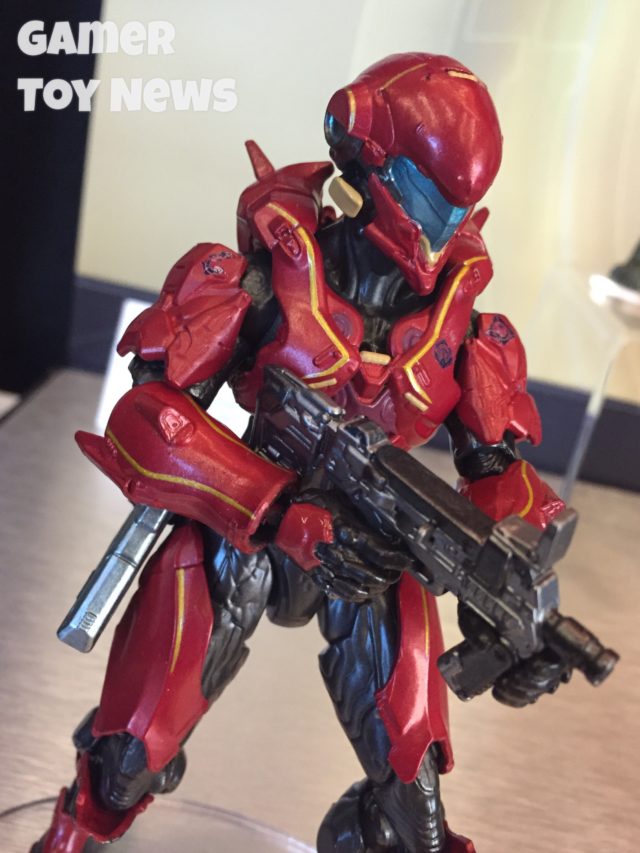 The shiny red armor on Vale doesn't need a paint wash as desperately as some other colored armors do, making the Mattel Vale among their best-looking Halo figures thus far.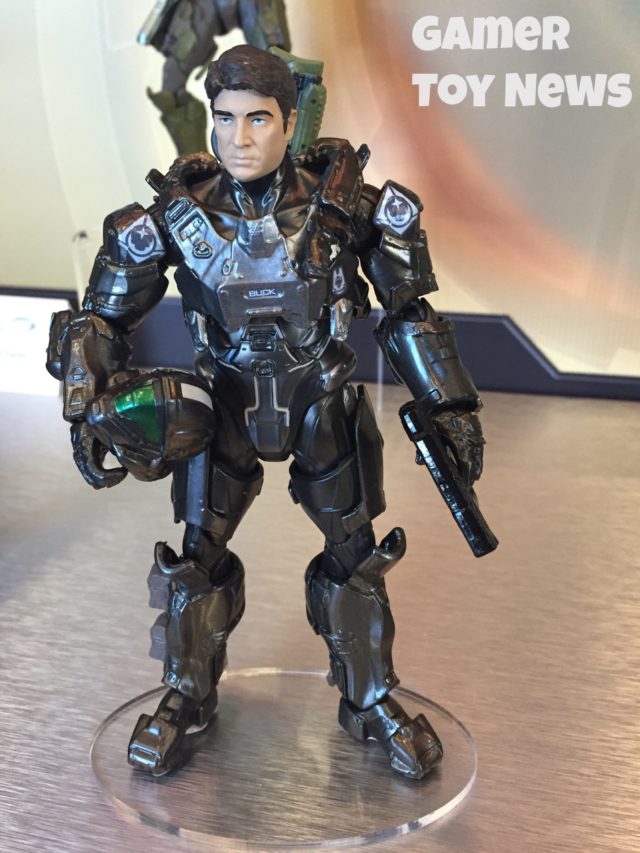 Vale's teammate Nathan Fillion–Er, I mean "Buck", is looking almost as good. This is the first unmasked human head Mattel has done for the Halo Collector Series, and I think it looks pretty decent.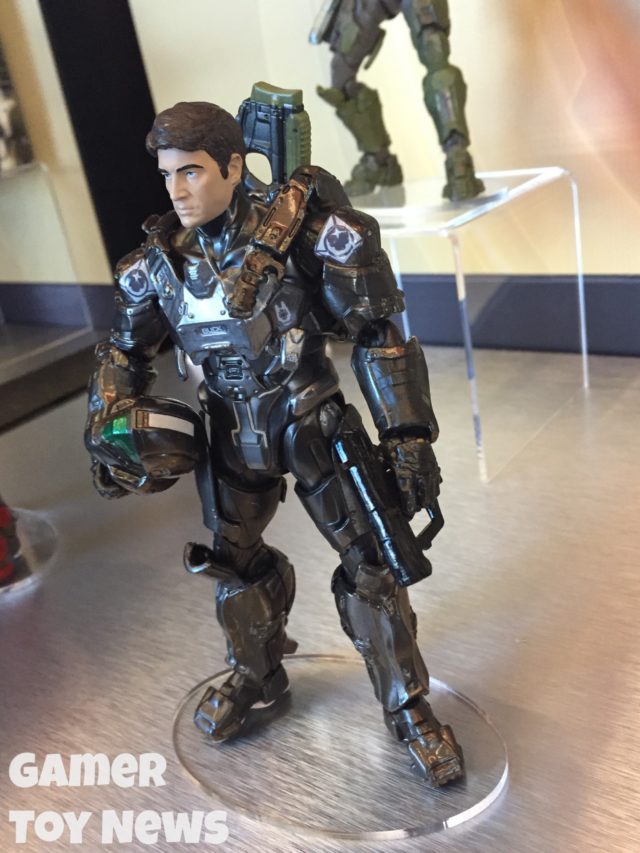 I think a paint wash would really enhance the look of Buck's silver Spartan armor, but it looks "good enough" as it is–certainly better than any of the Wave 1 Spartans.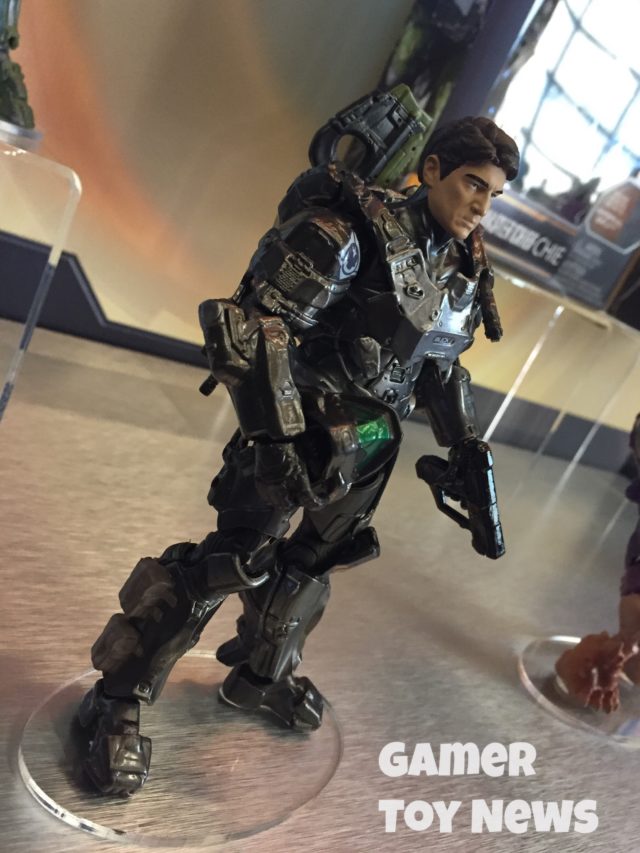 The Master Chief is back again in Wave 2, and this time he's got improved feet (meaning "without armor that constantly flops around") and a sniper rifle.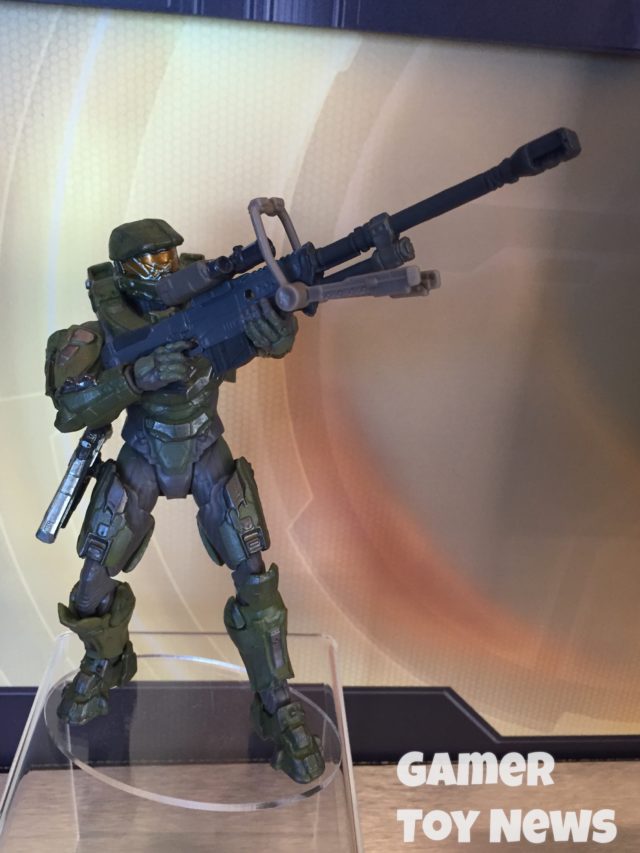 I'm sure many collectors are going to want to pass on this Chief, but it's important for Mattel to keep the most popular character in circulation, and at least this is an improved version of him.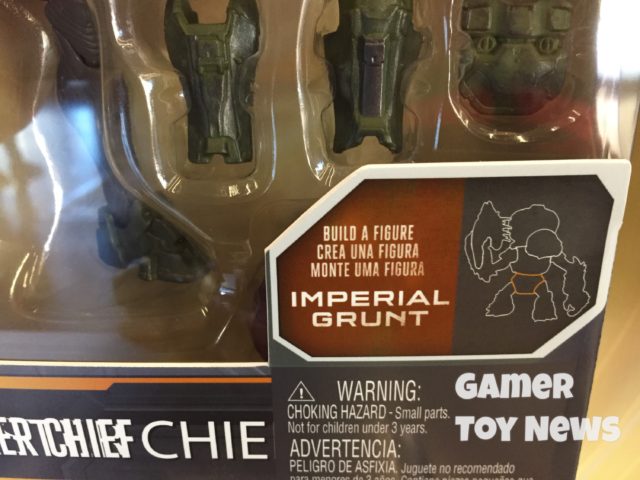 Note that the Wave 2 Master Chief will come with Inperial Grunt BAF pieces, so you have to buy the Chief if you want to build the Grunt.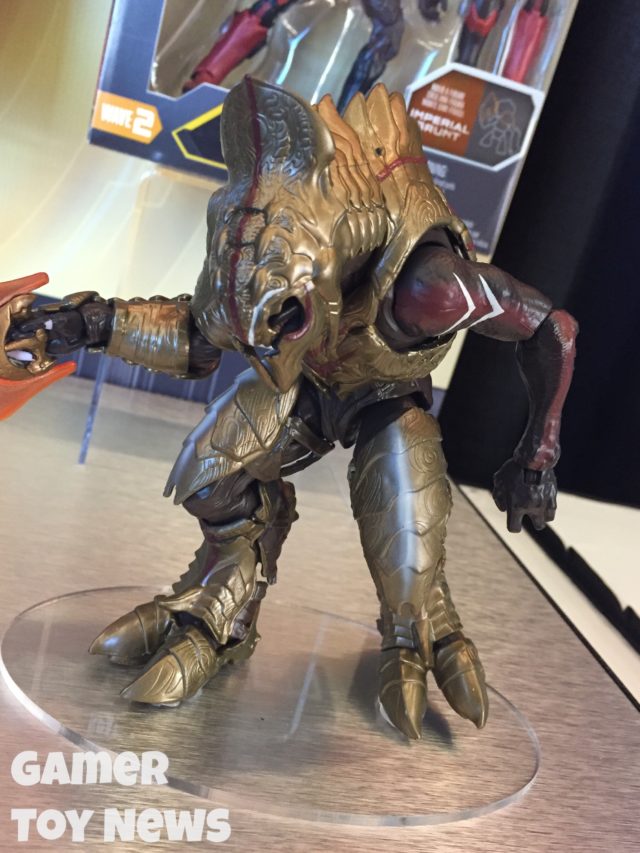 Rounding out the Halo 5 characters, it's our first 6″ Arbiter from Halo 5!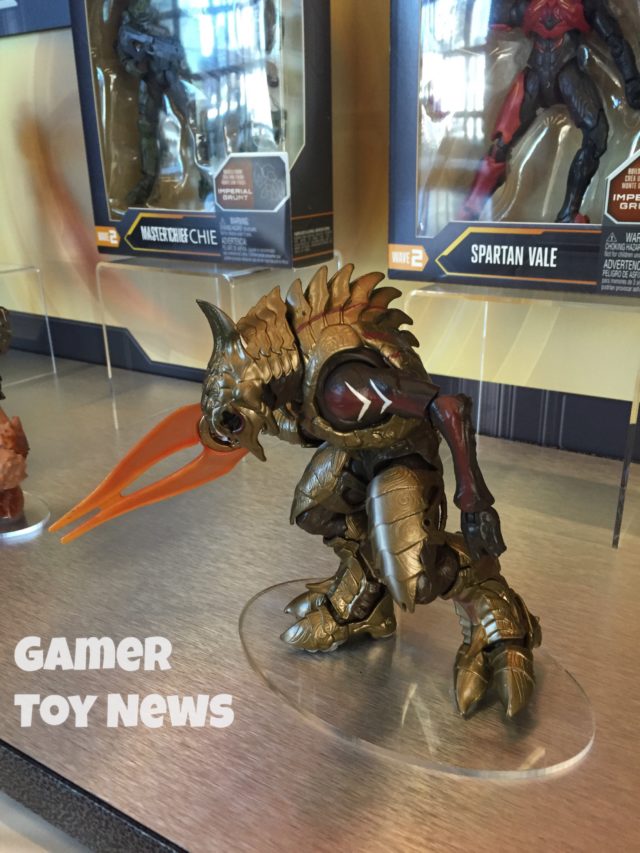 This Arbiter figure has gotten a lot of flak since being shown yesterday, but I think the sculpting here is some of Mattel's best work thus far with the Halo line.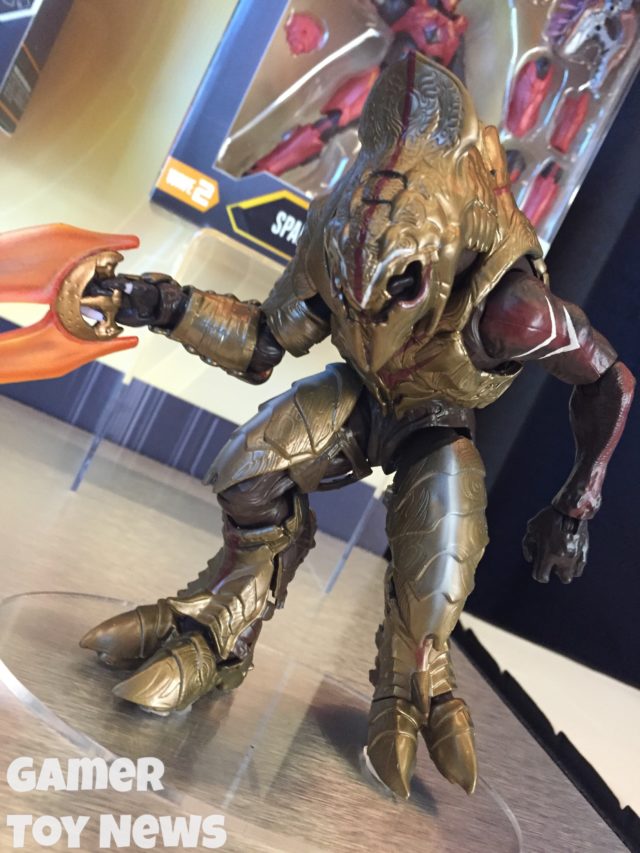 While I don't disagree that the paint deco could be much improved, there's a ton of sculpting detail here and I dig the red Energy Sword. I think this figure will really win over some folks when they see it in-person.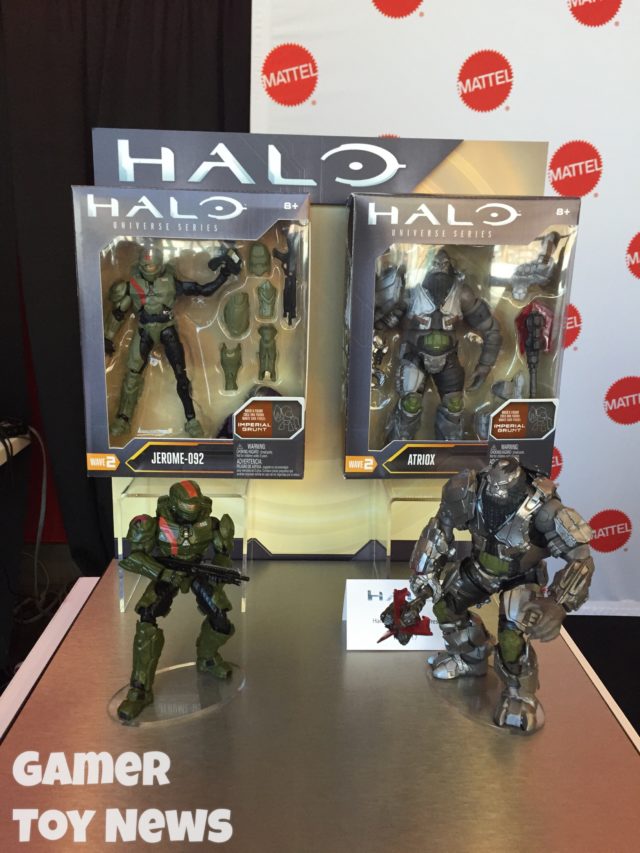 The final two figures unveiled at the Mattel Toy Fair event yesterday were actually the only two figures they'd previously shown off for the wave: Atriox and Spartan Jerome-092.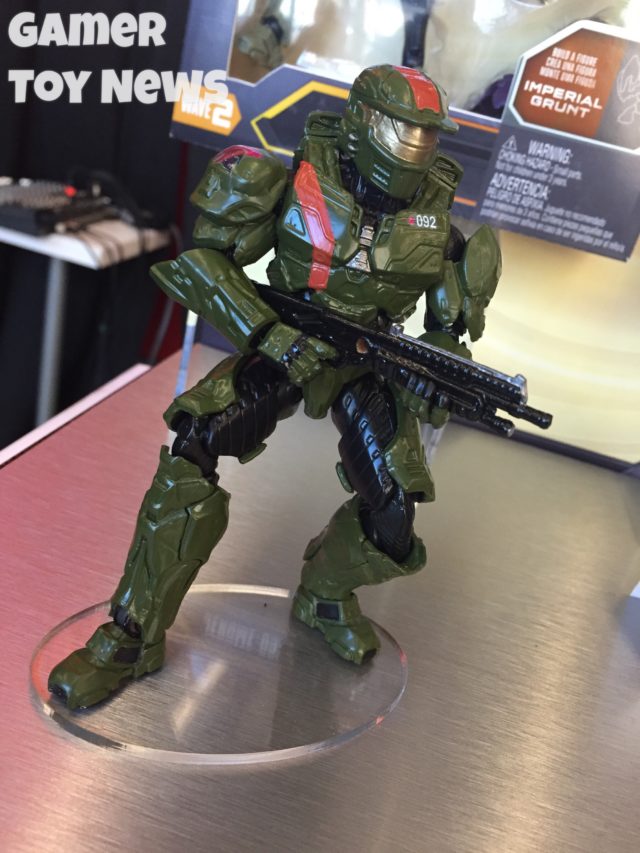 My heart belongs to Halo Wars, so any action figure of Jerome is a guaranteed purchase by me. That said, I'm not as happy with this Spartan Jerome figure as I really want to be.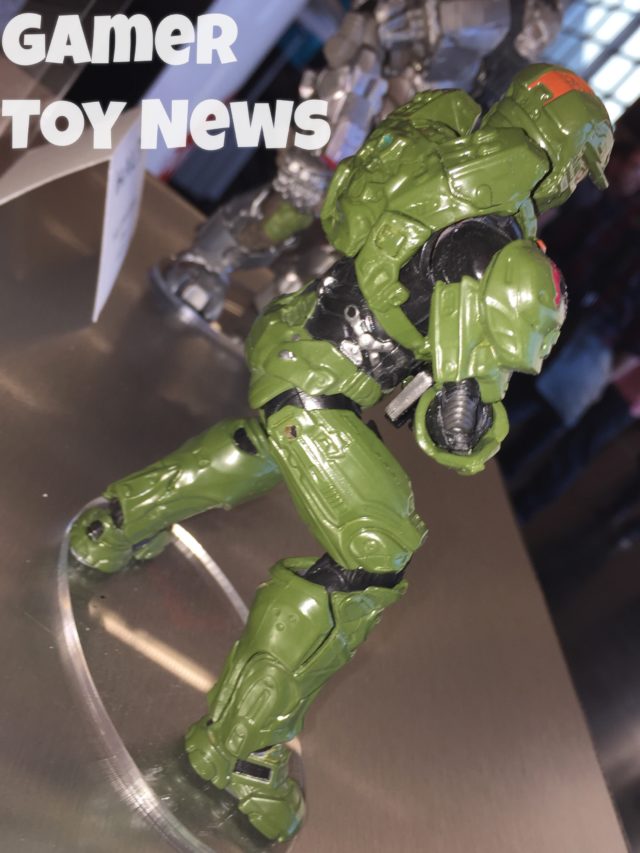 Without any paint wash or weathering, Jerome's green armor looks awfully plastic–like one of those little green army men.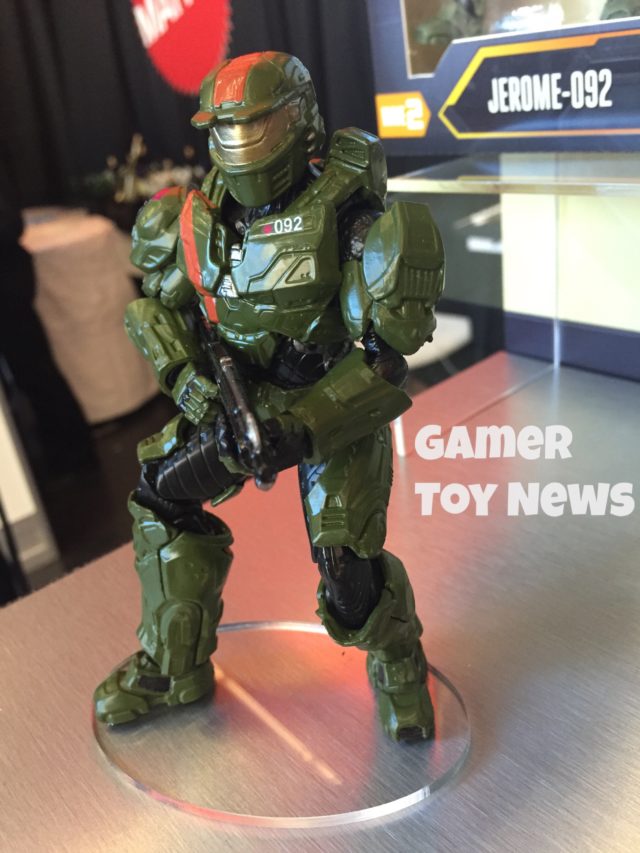 As I said, any figure of Red Leader is an auto-purchase from me, but this figure will require some customizing to really meet its potential.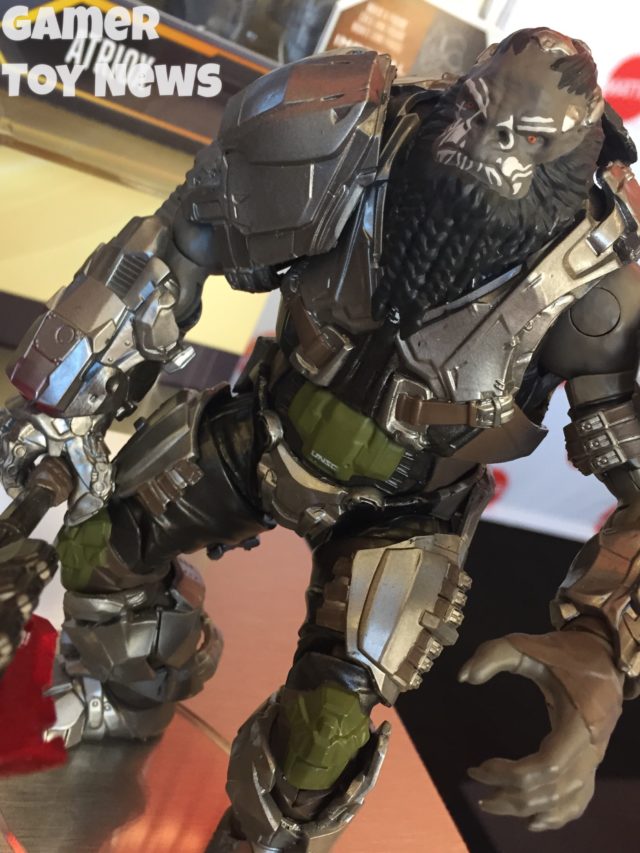 Last but not least, it's the leader of The Banished Jiralhanae–Brute Chieftain Atriox from "Halo Wars 2"!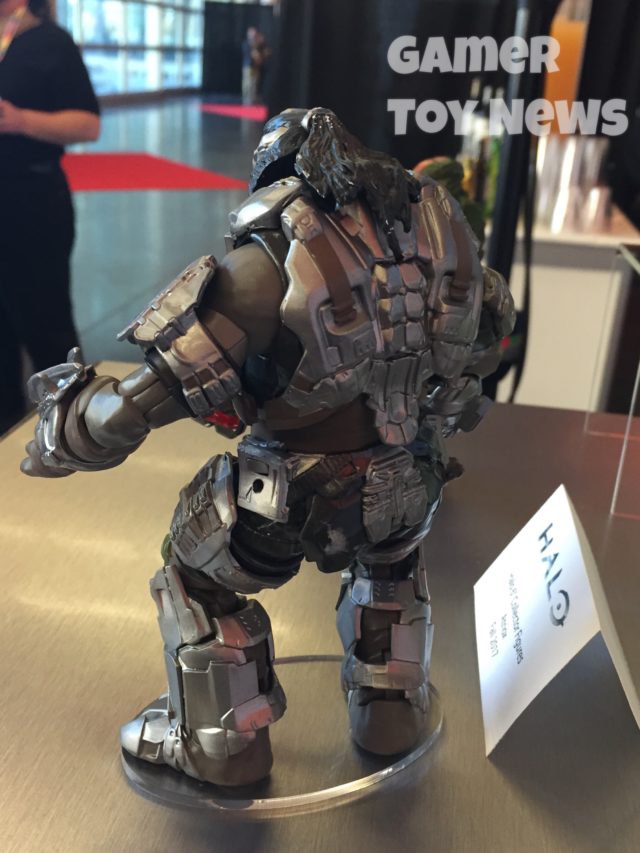 This is the very first Brute figure Mattel has tackled, and I think it's an overall solid first effort. Atriox is large and imposing, his face paint looks good, and the figure is a 100% new sculpt that doesn't reuse any preexisting tooling.
The only real weakness of the Atriox figure is the whole line's weakness: paint apps. The minimalist approach to paint deco Mattel takes simply does not work on gritty, realistic Halo characters like Atriox (and pretty much any other Halo character).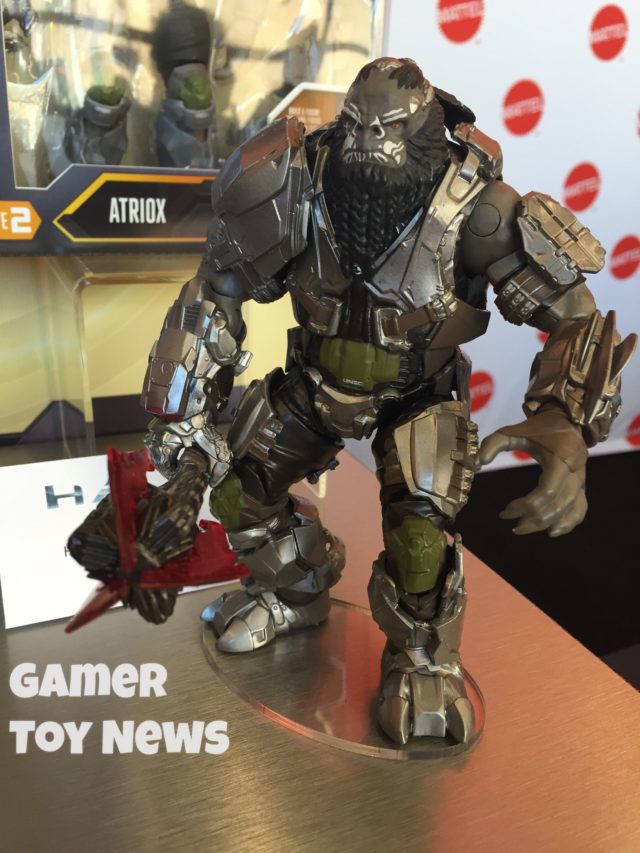 The Mattel Halo Wave 2 figures are scheduled to be released in Spring 2017, although there's aren't any concrete release window dates known at this time. I'll post an update to the Gamer Toy News Facebook Page and Twitter Feed once we receive more information about these figures and again with link when they go up for order.
Thoughts on Wave 2, Halo collectors? Is this a step forward, a step back, or not a step in any direction for the Mattel Halo 6″ figures line? Which figures–if any–will you be snatching from this series?