If there's one thing in Street Fighter collecting life that's certain, it's that every new line of toys or statues that comes out will feature an Akuma and a Ryu. And sure enough, the Raging Demon is making his Bandai Tamashii 6″ figure debut just a few mere months after the most iconic Street Fighter character of all: the SH Figuarts Akuma figure is now up for order!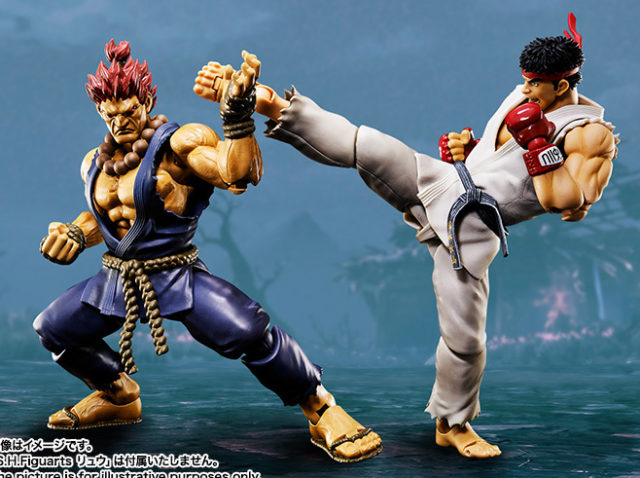 When Storm Collectibles debuted their Street Fighter V Akuma figure this summer, it was met with the coldest reception for any figure Storm Collectibles has done in the series just yet. As terrific as the figure looks, many collectors simply do not care for the "Lion's Mane" Akuma look, alas.
But for those hardcore longtime Street Fighter fans, Bandai Japan has got you covered! They've now debuted and solicited their own 6″ Akuma Figuarts figure, and he's sporting the classic Akuma head and hair that everyone knows and loves!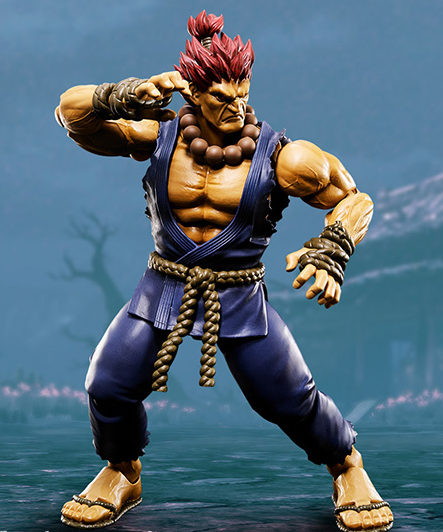 While the overall figure doesn't look quite as seamless to me as Storm Collectibles' version, I think this is the first case where I prefer the Bandai S.H. Figuarts Street Fighter iteration. To me, a "normal" Akuma head is a genuine essential when making an action figure of the most popular SF villain.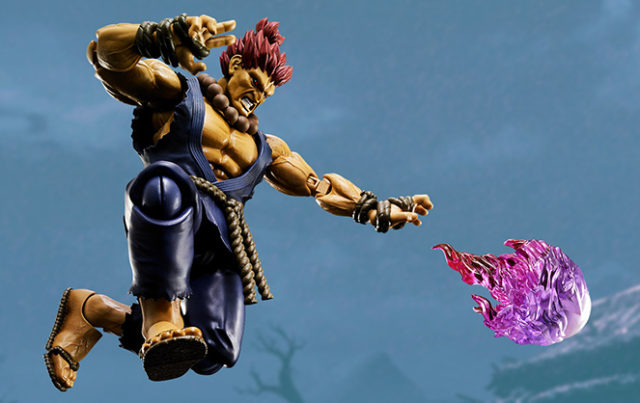 Bandai is also spoiling us with some truly great accessories for this figure, as he'll include two interchangeable face plates (with frowning or teeth growling expressions), a totally awesome-looking translucent purple hadouken effects piece, a stand to hold up the hadouken, a variety of interchangeable hands, and a backdrop from his SFV stage. Not a bad haul at all!
He'll also be priced quite a bit cheaper than his Storm Collectibles counterpart, as he'll retail for just $54.99 in the United States (compared to $70 for Storm's). With the Bandai Figuarts name and the classic look, there's no question this action figure is gonna be a hit.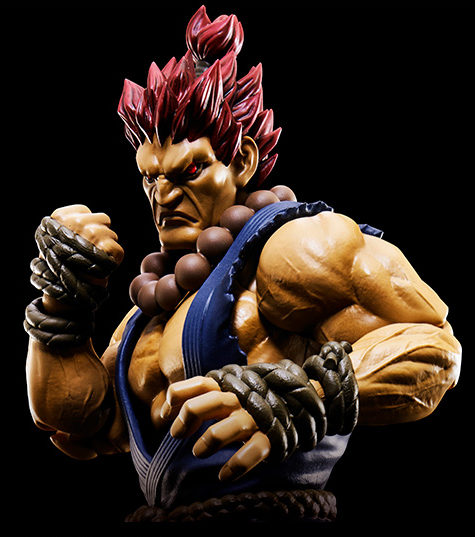 The SH Figuarts Street Fighter Akuma figure is now up for order, and is scheduled to be released in February 2018. Thus far there haven't been any problems with shortages of the figures in the Street Fighter Figuarts series, but Akuma is on another level as far as popularity goes, so hopefully Bandai doesn't underestimate the demand for Ryu's eternal enemy.
What do you think of the Akuma Figuarts figure, Street Fighter fans? Is this the best 6″ figure of Akuma ever made, and how do you think it compares to the version that Storm Collectibles put up for sale earlier in the summer?