I would be totally lying if I said I fell completely in love with the PDP Pixel Pals figures at first sight. In actuality, I thought they were some sort of weird custom light-up Perler bead-like creations that first time I saw them. But when I saw that one of my old favorites, the Halo Master Chief was up for order in Pixel Pals form, I knew that I had to give the line a chance. Now that I've got my very own Halo Pixel Pals Master Chief in-hand, what do I think? Read on…
When you think "The Master Chief", you probably don't think "8-bit" (or anything even remotely similar).
But–having been conditioned by various designer vinyl companies (like Funko and The Loyal Subjects) over the past few years to accept alternative stylistic takes on characters–seeing the Master Chief like this doesn't knock me for a loop in the way it might have a decade ago. And so, my first experience with a PDP Pixel Pal began…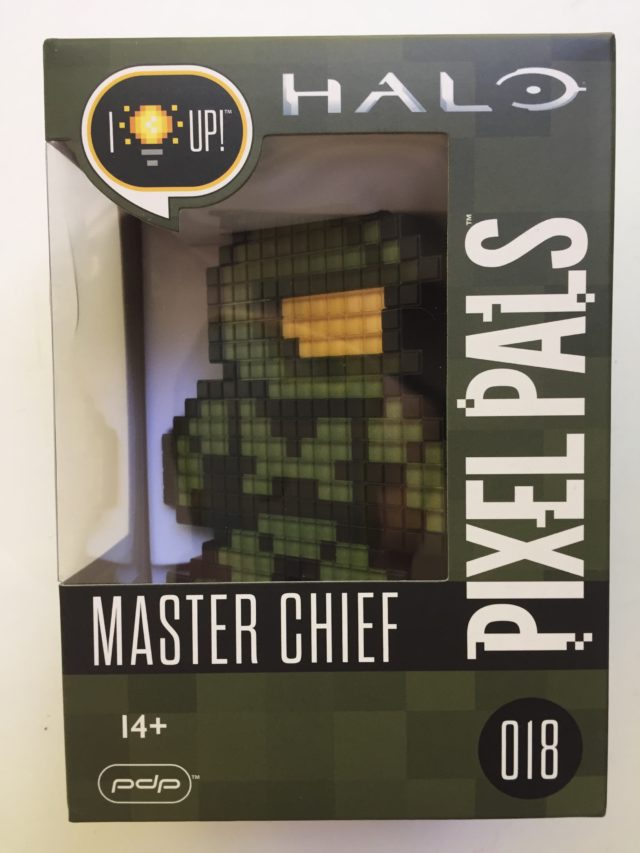 As soon as I felt my Master Chief Pixel Pal's box in my hands, something felt eerily familiar to me: the size. I grabbed the nearest Funko POP Vinyls figure sitting around that wasn't Tinkerbell (don't ask) to do a direct comparison and discovered that yes, Pixel Pal boxes are basically the exact same dimensions as Funko POPs figures.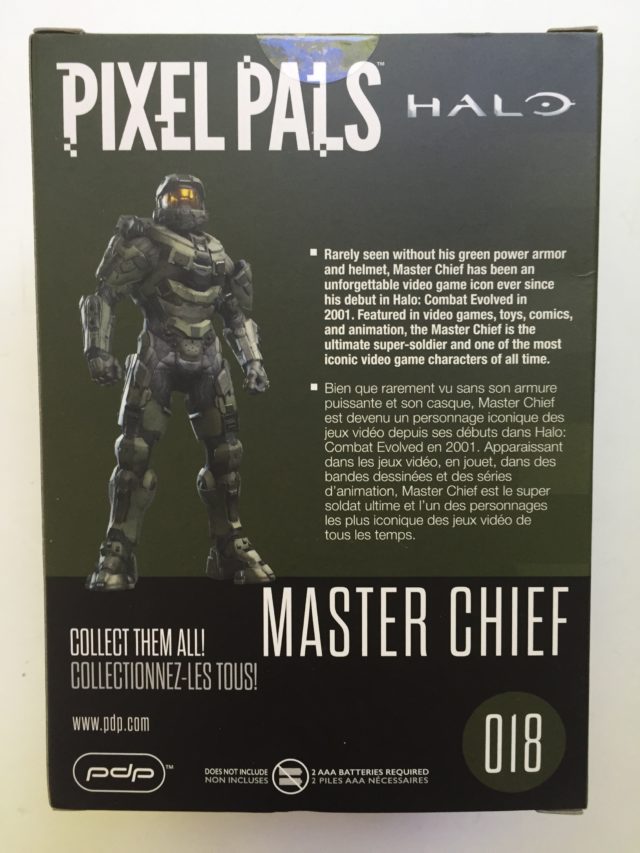 I think this is actually a brilliant idea from both marketing and collecting perspectives. Both stores and collectors are used to having displays of hundreds of figures in boxes of these exact dimensions, meaning that PDP Pixel Pals boxes will slide right into a display of Funko POP Vinyls seamlessly.
At $14.99, the Pixel Pals Halo Master Chief figure is priced a couple bucks more than your standard Nintendo Amiibo figure, but the Pixel Pals have advantages in size (nearly 6″ tall), the light-up electronic feature, and the ability to be returned to an easily storable box when not in use.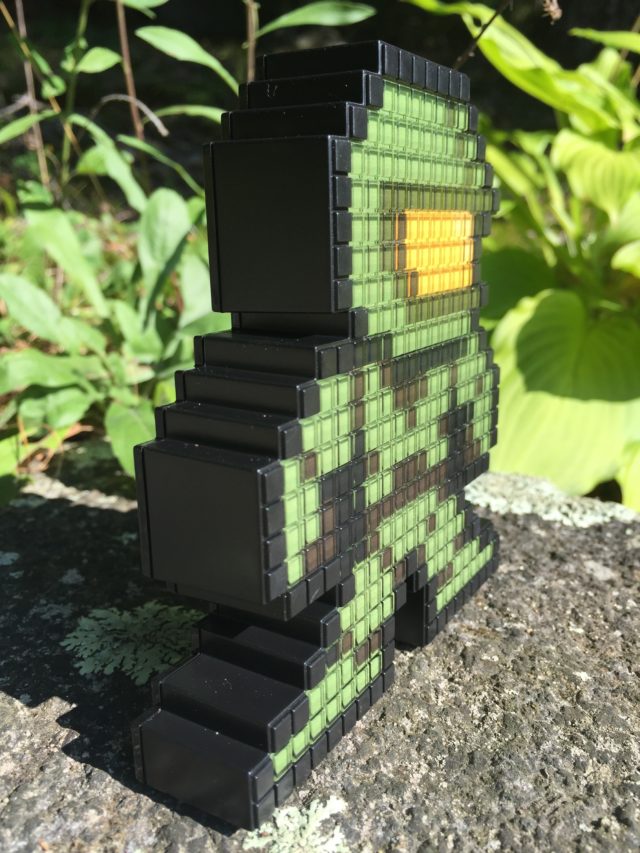 The Pixel Pals Master Chief figure itself feels surprisingly lightweight and quite sturdy. I slipped and dropped it on the cement while I was carrying it around for photos, and was pleased to see I hadn't shattered 15 bucks worth of glowing Master Chief figure—in fact, he wasn't damaged at all.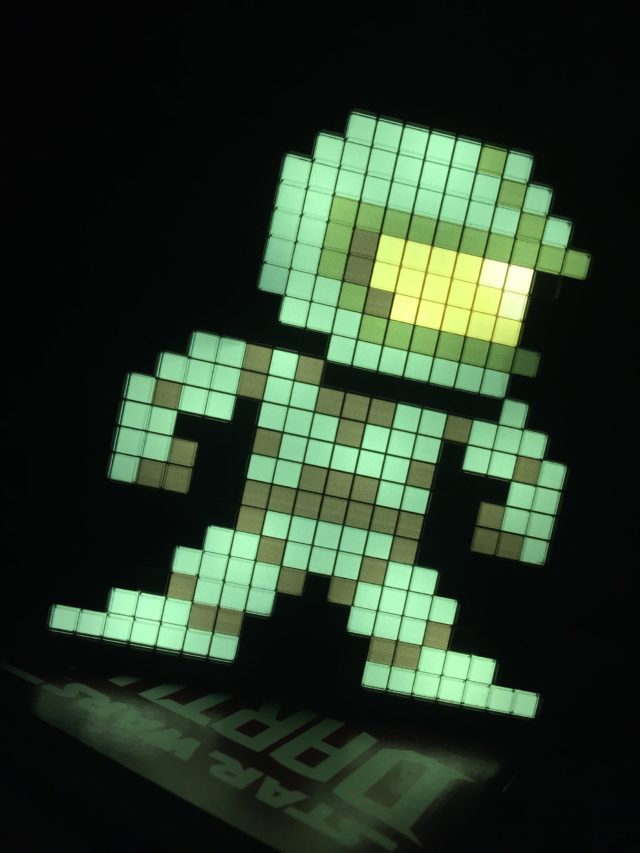 The quality-control on the paint is terrific, and the light-up function is bright enough to serve as a sweet nightlight (if you use such a thing).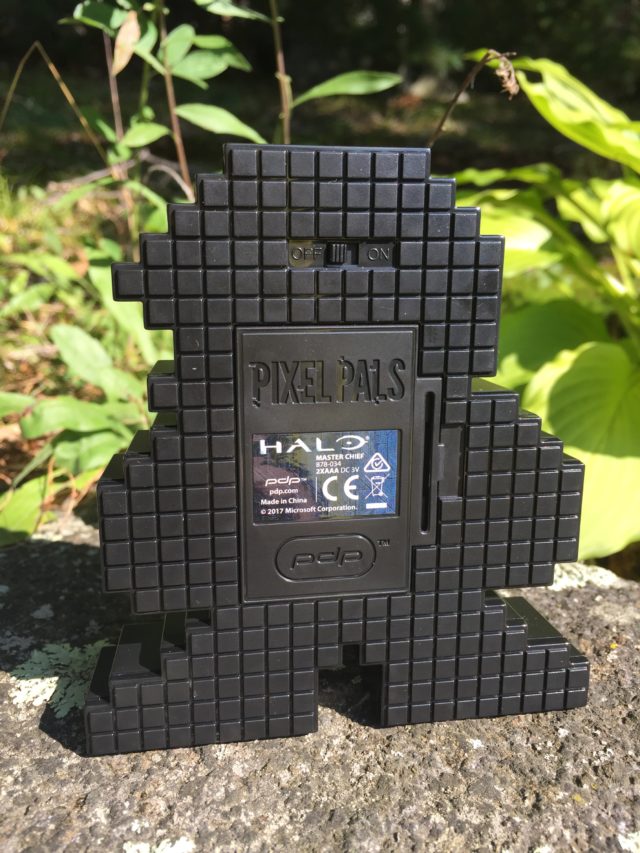 I wasn't wild about having to run out and get AAA batteries to activate the electronics (who uses AAAs these days?), but it was worth a buck or two in batteries to have such a totally unique Master Chief for my shelf.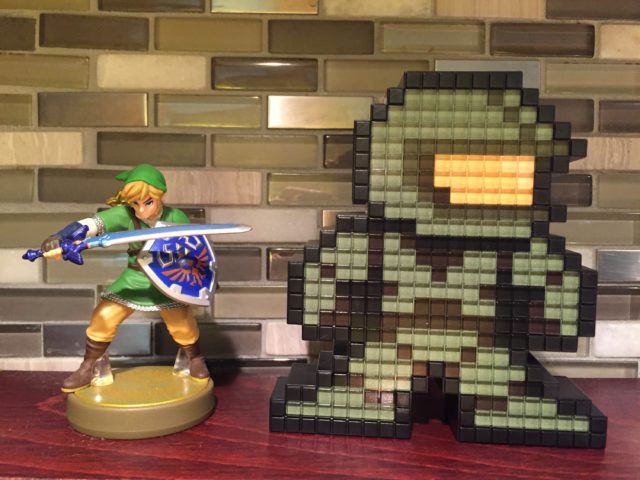 Overall: For 15 bucks, I dig my Halo Pixel Pals Master Chief figure. These figures are fairly priced and look a lot better in a display than I expected them to. I don't have a huge Halo toys display like I used to, but this Master Chief will be finding a nice, unique spot in my collection, serving as a stylistic contrast to all my realistic Halo figures. If you don't object to quirky items in your collection, I would recommend giving this Master Chief Pixel Pal a look.
What do you think of the Pixel Pals Halo Master Chief figure, and the line as a whole, gaming fans? Has anyone else picked up a Pixel Pal figure, and if so, what did you think of it? Leave a reply and let me know, or come into the Gamer Toy Alliance Facebook Group to chat it out with other gamers!
GRADE: B+