Earlier today, I posted my review of the Marvel vs Capcom Infinite Collector's Edition Iron Man & Captain Marvel statues and Infinity "Gems" box on Marvel Toy News, but that's only half the battle (okay, more like three-fifths of it, but whatever). The other two statues in the Collector's Edition set are two of Capcom's biggest icons, and also the figures I was most looking forward to in the box set. Do the Mega Man X and Chun Li statues meet my expectations?
The Right:
I posted a bunch of photos of the box and interior packaging for the Marvel vs. Capcom Infinite Collector's Edition in my first part of this review on Marvel Toy News, so please head over there and check that out if you're interested in unboxing photos.
This half of the review is going to be a bit more streamlined, as I'm going to focus on what I cared about most in this whole Collector's Edition: the Chun Li and Mega Man X statues. We'll start with X, because he's my favorite.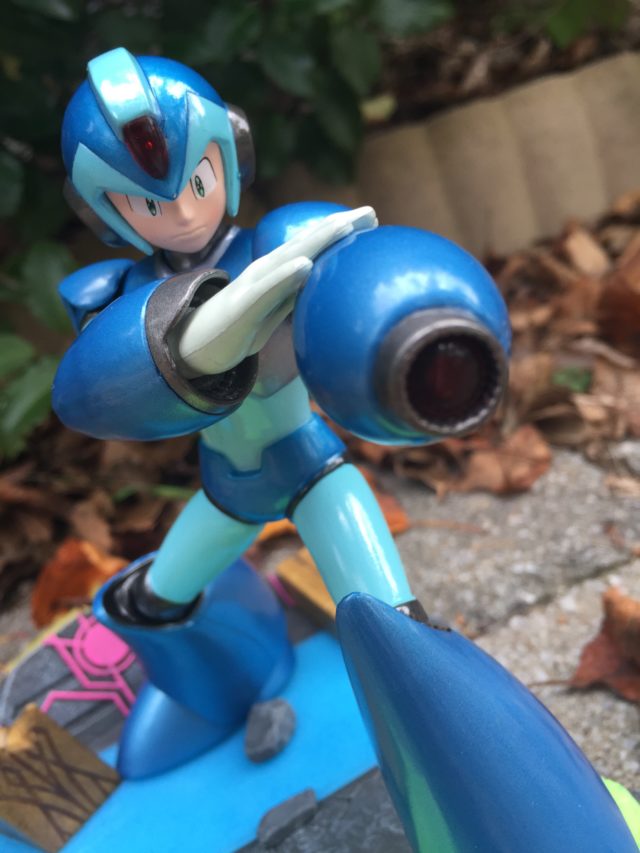 Despite being a veritable gaming icon, there have been way less Mega Man and Mega Man X statues released over the years than you'd expect. So getting X in a classic pose in the semi-common Kotobukiya ARTFX+ 1/10 scale is a definite treat.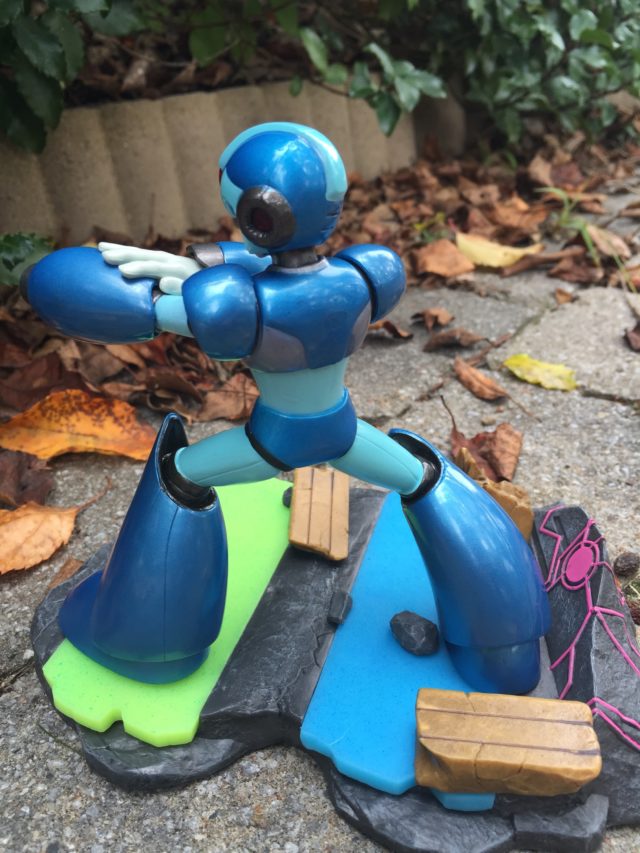 The smooth curves and lack of texturing on the Mega Man X statue is true to the character design (as it should be), and I appreciate Project Triforce using translucent red plastic on portions of X's helmet and busted instead of opaque paints (which would totally ruin the look, IMO).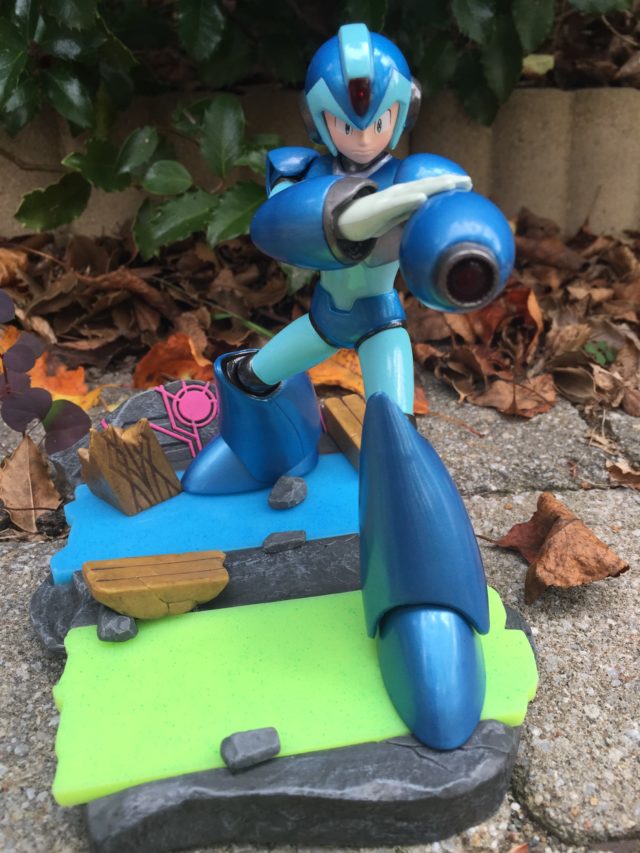 The X statue's proportions look on-model to the game, and I like the neutral face that he's sporting. If you've been watching a Mega Man X statue in approximate 1:10 scale, this is a nice piece that should scratch that itch for a small amount of cash.
The other Capcom-based figure included in the set is the First Lady of Fighting Games herself, Chun Li of Street Fighter fame. Chun Li is clearly the most elaborately-designed statue in the set, and while she's not flaw-free, she's pretty dang good.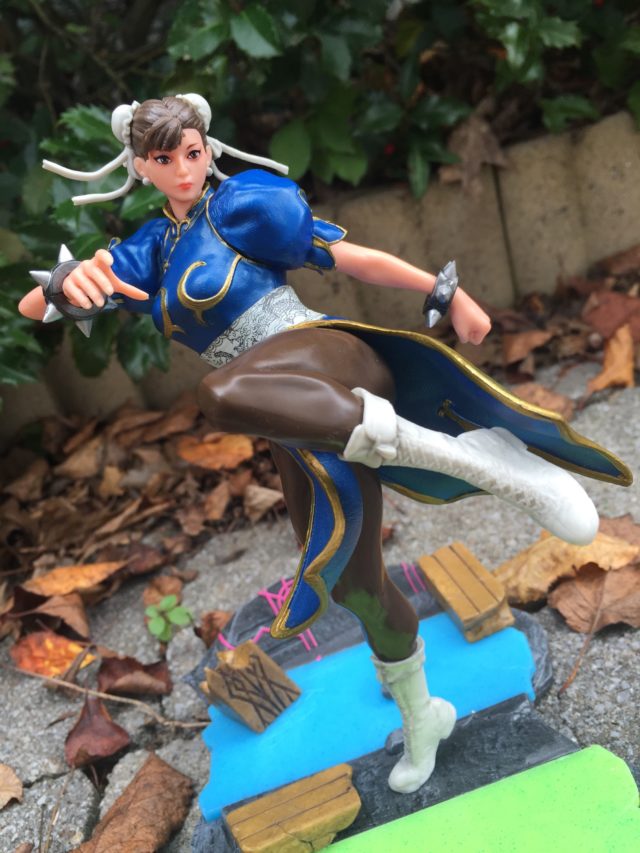 The Marvel vs Capcom Infinite Chun Li statue is a dynamic, one-legged kicking pose that looks totally true to the character. I'd ordinarily be a bit concerned about a statue that's balancing only on its front toes like this one, but it feels very solid–I don't see this warping or falling over anytime soon. Chun Li's skirt is made of a semi-hard plastic that feels very durable, and I have little concern about it ever deforming either.
The white wrap around the Chun Li statue's stomach is probably the single most detailed portion of any of the four statues included in the Collector's Edition, and the factory did an admirable job making the Chinese dragon look downright perfect.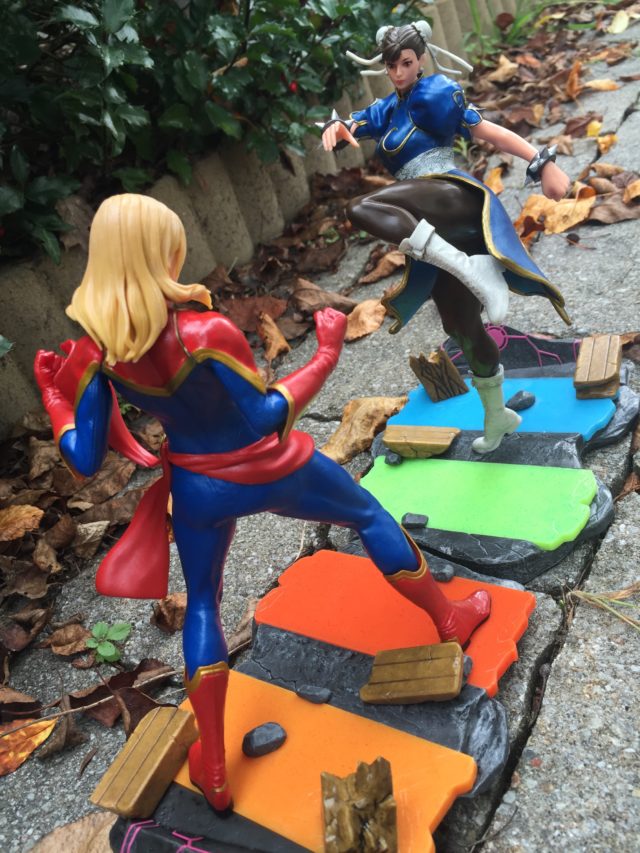 Also, I'm really impressed that Triforce thought to put some paint shading on Chun Li's boots and didn't just leave them squeaky-clean white. They look like boots used for kicking peoples' asses with and not modeling boots for taking pretty photos in. Thumbs up.
The Wrong:
Capcom worked hard to make their Chun Li model more appealing for MvC Infinite, but even with their improvements, I'm not in love with Chun Li's face here.
The face on this figure isn't hideous or anything, but if just doesn't look quite right, and when I've got her in front of me, her face really bugs me. Your OCD level regarding Chun Li's face may vary.
In addition, I don't think the blue paint selected for Chun Li's dress is the perfect shade. It's darker than I expected it to be, and it doesn't really seem to match her dress color in Marvel vs Capcom Infinite or any other game. Seeing Chun Li in a different shade of blue like this is a bit jarring.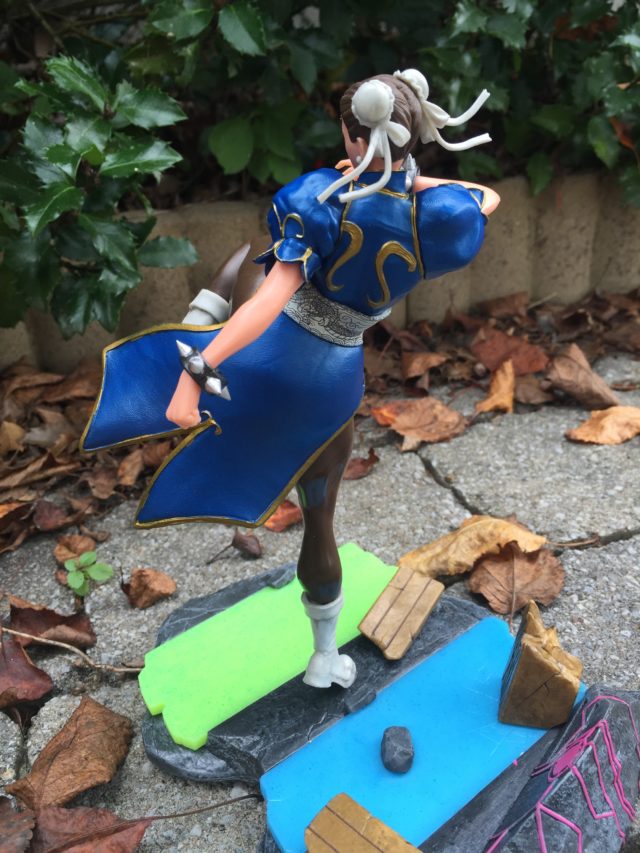 And speaking of jarring–I really wish Project Triforce had resisted the urge to stick those neon blue and green stripes on the bases for these statues. These actually bother me less than the orange bars on the two Marvel statues, but they still distract away from the characters themselves nonetheless.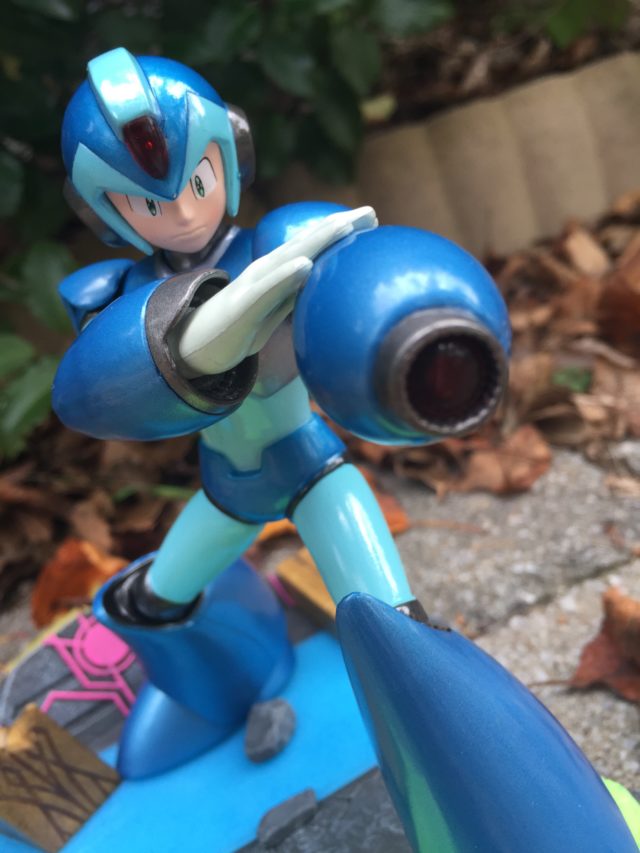 Overall: The Marvel vs Capcom Infinite Mega Man X and Chun Li statues have all of the quality of the Marvel statues that are also in the set, a As far as X goes, I'm fully satisfied: great pose, great paint, great facial expression–just "great". The Chun Li statue I'm slightly less enamored with, as the blue of her dress is a shade too dark and really throwing me off, and her face just isn't quite right to me (game accurate or no). Even so, these statues are high-quality, well-done, and certainly worth picking up individually on ebay for about 35 bucks each if you like what you see and don't want the whole set.
GRADE: A-
Agree or disagree with my views on the statues in this set? Drop by our Facebook Group–the Gamer Toy Alliance–and let me know what you think of these statues and how they could be improved (if at all!).