If there's one thing I love more than looking at and talking about upcoming statues, it's actually receiving and unboxing them and adding them to my collection. It's been a long time since I received a new resin statue from First4Figures, but I was blessed to have the F4F Fighter Kirby Exclusive Statue I ordered last year from the F4F website turn up on my doorstep a few weeks ago. Does this statue of the hero of Dreamland meet all my lofty dreams for it? Read on…
The Right:
While First 4 Figures put a ton of statues up for order in 2017, relatively few resin statues actually arrived from them last year. But the new year is upon us—and the tidal wave of releases is starting to come in!
Majora's Mask, Spyro the Dragon, Silver the Hedgehog and Katamari Damacy should all be arriving in the first half of 2018, and collectors have already begun receiving Sif (Dark Souls), Nightmare (Soul Calibur) and the subject of today's review: Fighter Kirby.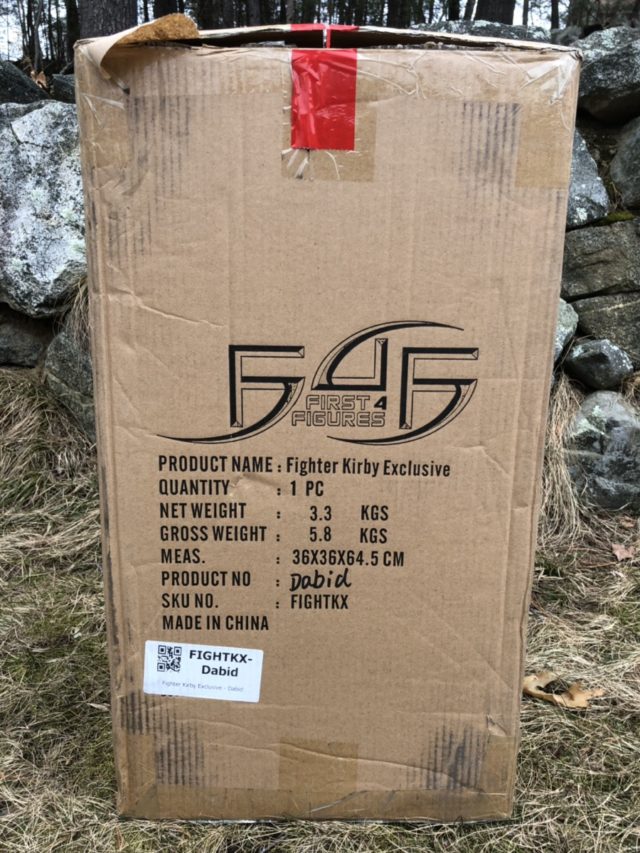 Now, full disclosure: as an admin for the First4Figures Official Collector's Club on Facebook, I get an optional special perk for the statues I buy from F4F: the chance to replace my statue's edition number with a name of my choosing.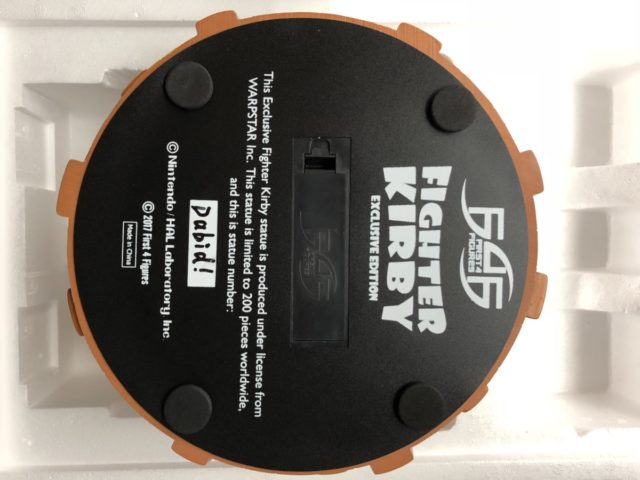 It won't affect my review score (at all), but I won't pretend I don't get a little thrill out of seeing "Dabid!" on the bottom of the base of my statue and on the shipping and art boxes.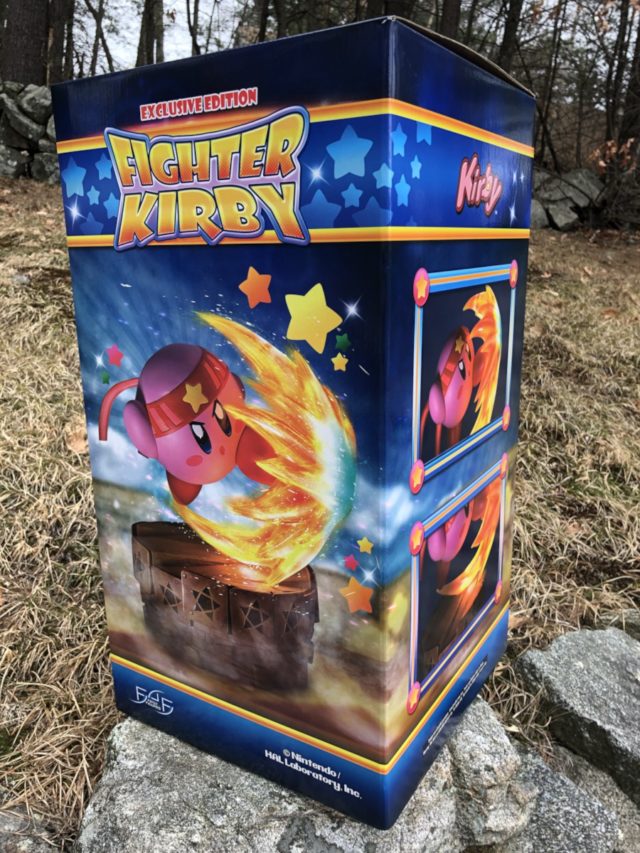 And speaking of the art box…! First 4 Figures typically creates some of the most eye-grabbing art boxes out there, and I think they outdid themselves with the box for their Fighter Kirby statue.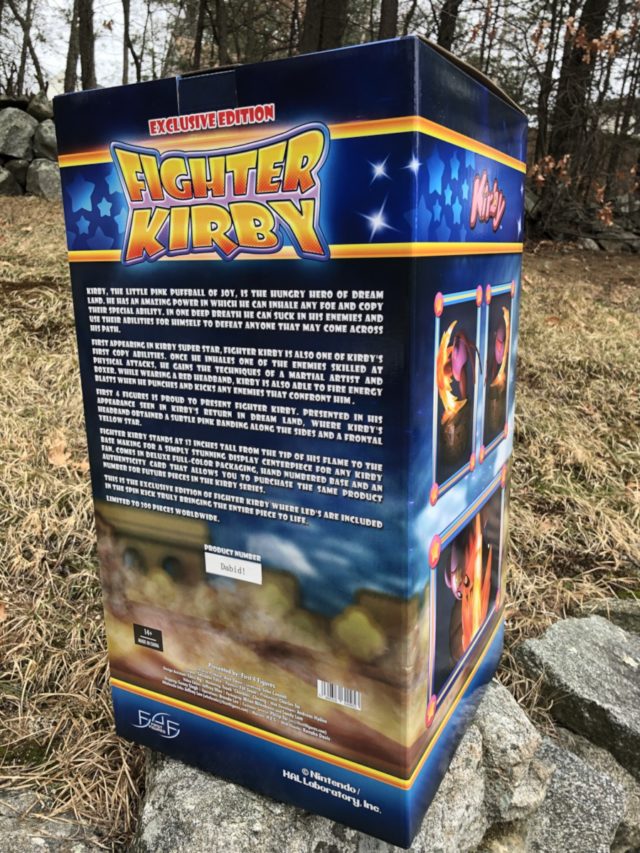 The various hues of blue in the background contrast nicely with Kirby's bright pink and yellow colors, and cartoony stars on the box feel totally appropriate and add nicely to the feel of the packaging.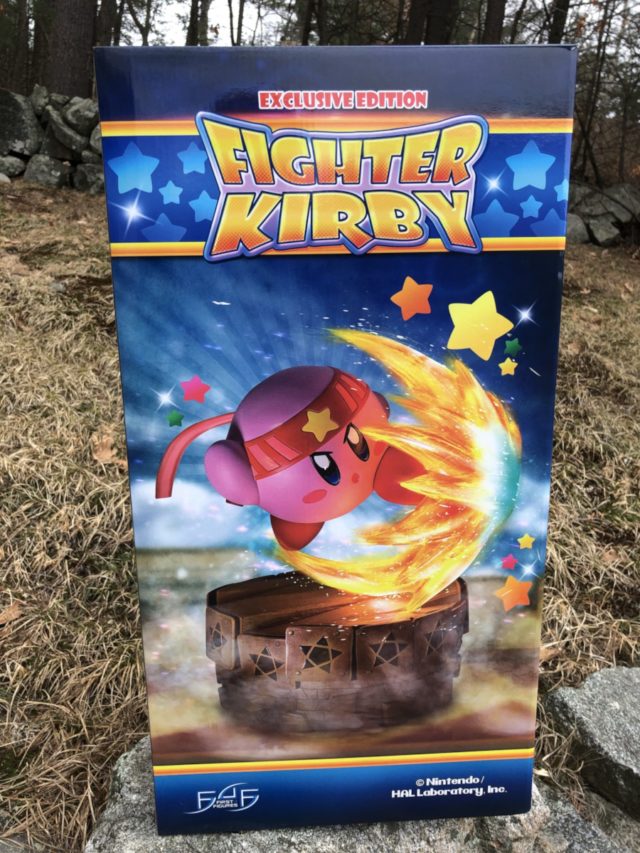 If I had extra space to display empty statue boxes (and believe me, I don't), this is definitely one I'd have proudly displayed.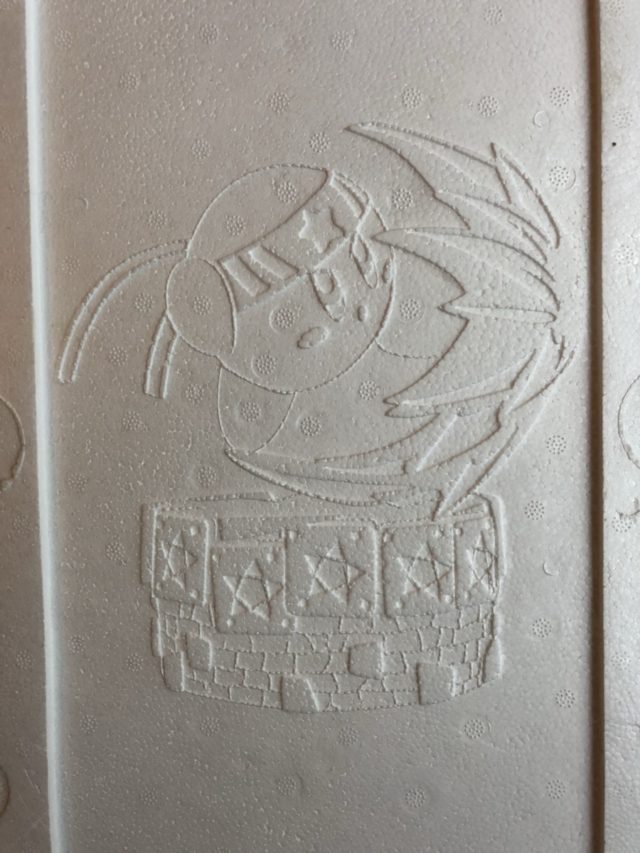 Inside of the box, Kirby is safely nestled inside of styrofoam with that extra bit of trademark #F4Flair: artwork of Fighter Kirby etched into the styrofoam itself.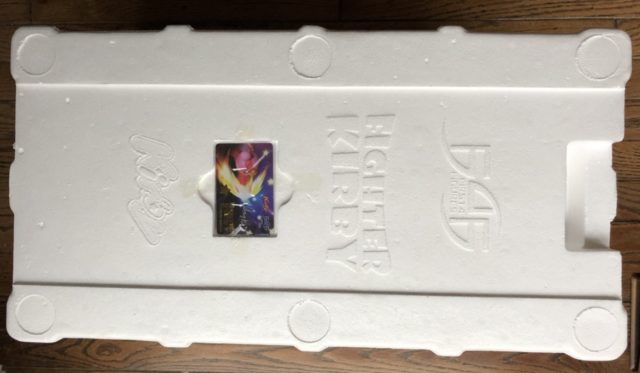 This is a little thing that most collectors will only ever appreciate for a couple minutes (if that), but it's a nice touch that really shows the love that went into the product.
Because I ordered my Exclusive Fighter Kirby on Day One, I get both the usual authenticity card and an extra Day One art card signed by F4F CEO Alex Davis.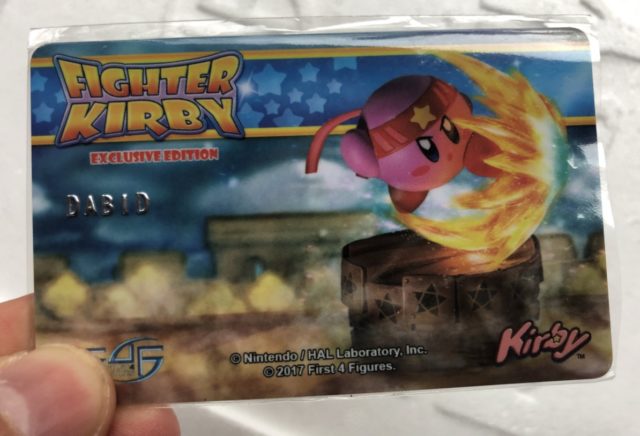 The cards are quite nice, and I look forward to the day that official card holders are available to properly display them.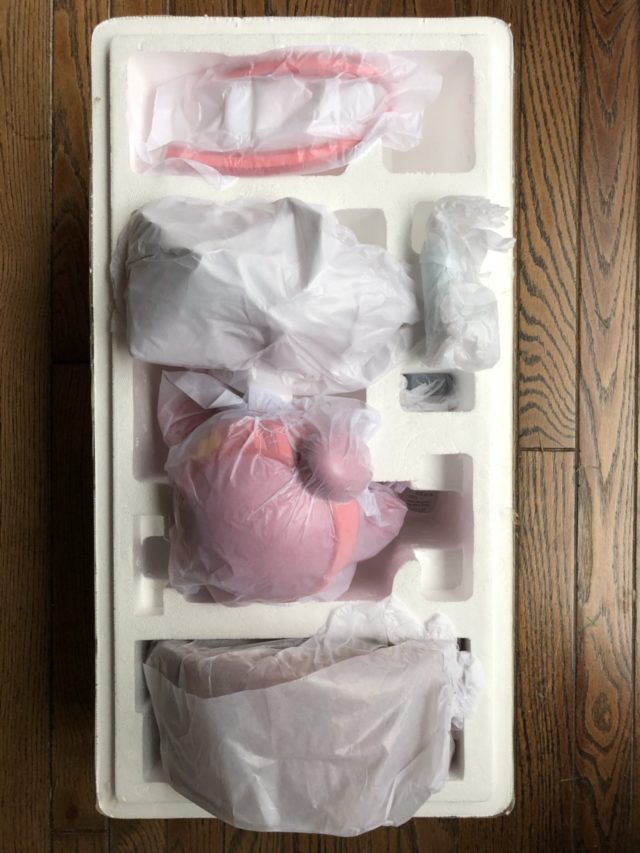 Cracking open the styrofoam, we find the Fighter Kirby figure in 5 pieces: base, body, headband, kicking energy effects piece and rechargeable battery. The regular edition will (obviously) not include the battery, since it doesn't have any electronics built-in.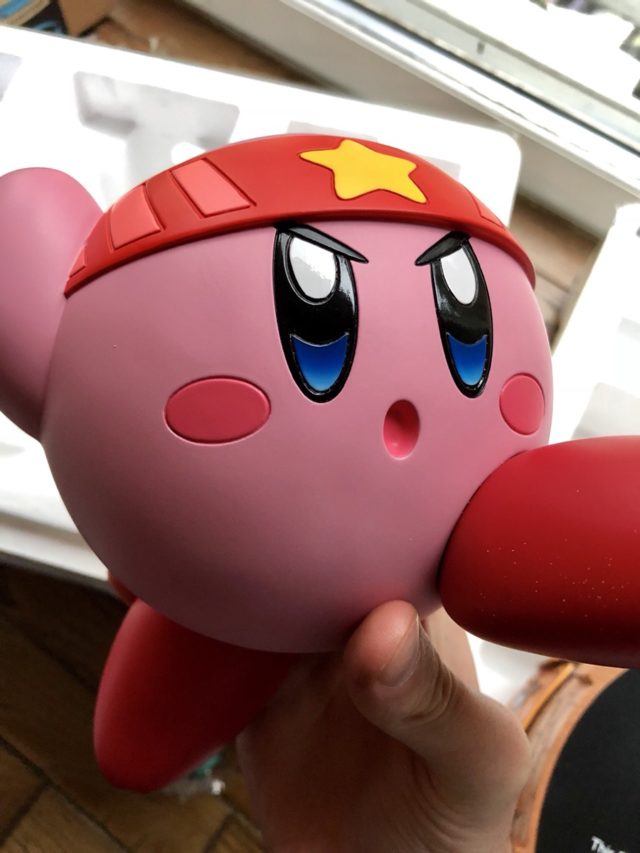 I always worry a little bit about defects when I unbox a new statue, but there's not one to be seen on Fighter Kirby. No scratches, no paint flaws… nada. Sheer quality perfection.
"Dabid!" on the base! That's me! *Squee!*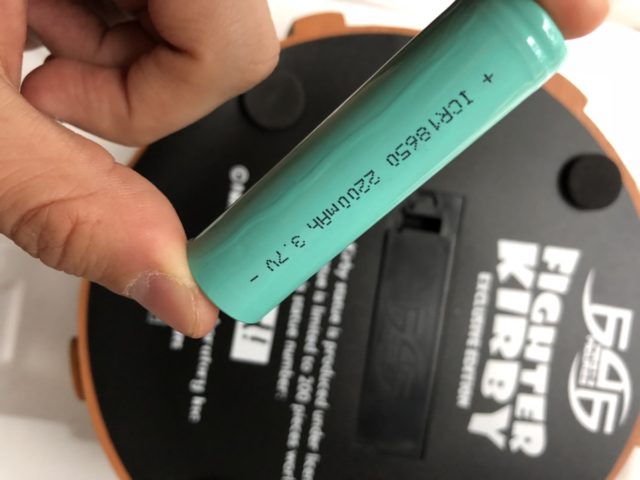 It took me a few minutes to understand how to properly install the battery into the base (no, seriously—I may have a Computer Science degree, but I'm far from a technophile), but eventually I figured it out and got Kirby's lights up and running.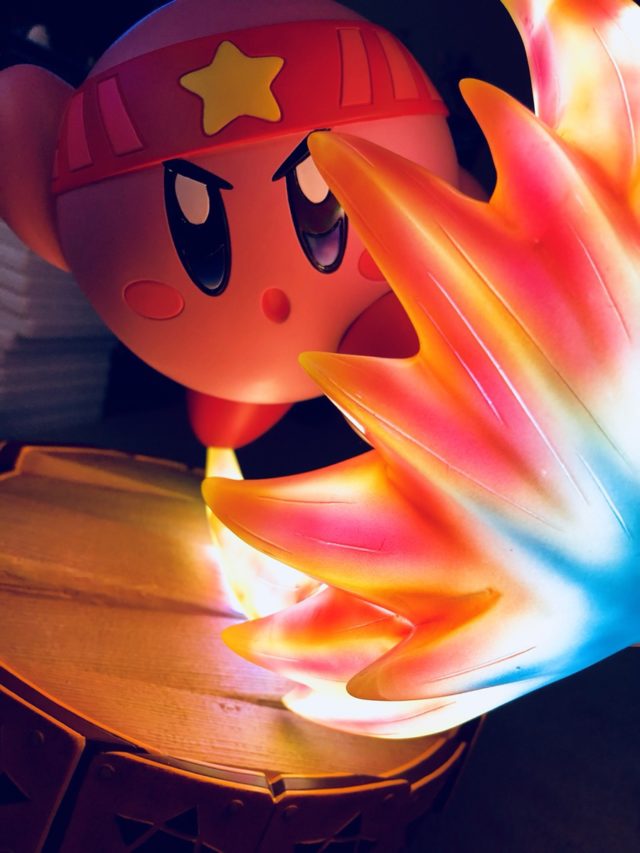 This isn't a case like the Arwing Exclusive where the lights are minor and only seen from the back—the effects piece on Fighter Kirby lights up bright and looks fabulous.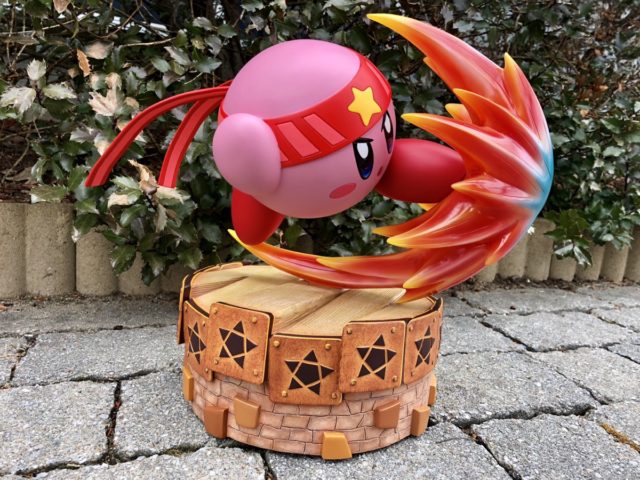 Even outside in daylight conditions, the lighting effect LEDs are bright enough to be noticeable from pretty much any angle. Nicely implemented!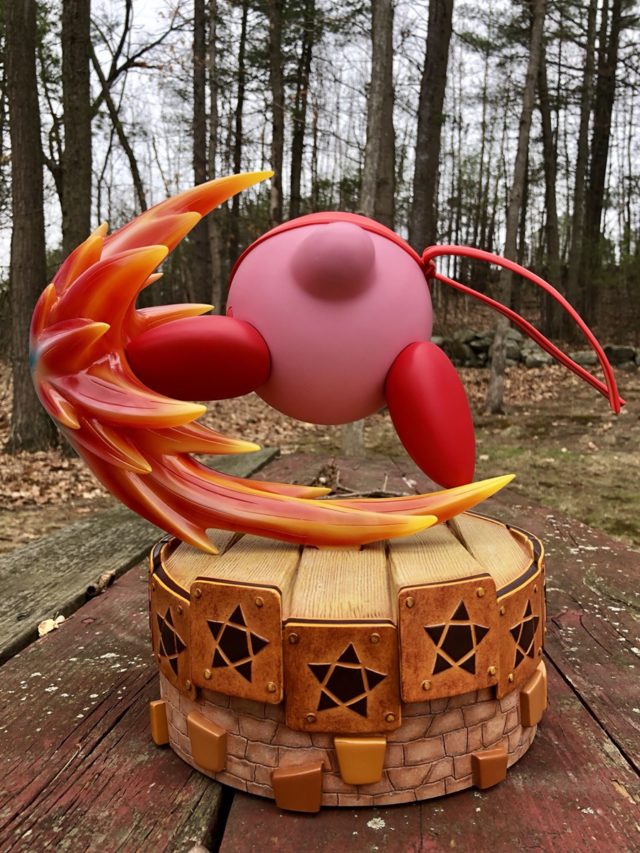 I really like how F4F managed to give this statue a real sense of motion with the dynamic pose. I can feel the action of Fighter Kirby scooting forward to land his karate kick (just as Kirby has on me in Smash Bros. thousands of times over the years).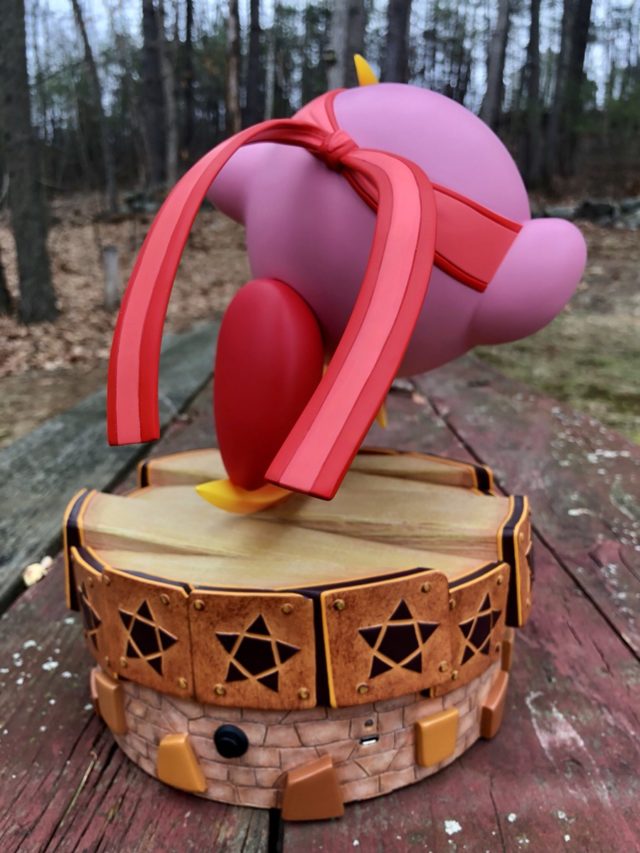 A couple people reported that they had difficult attaching the headband pin into their Fighter Kirby statue, but mine popped right in seamlessly. Use caution and no excessive force attaching yours and it shouldn't be a problem.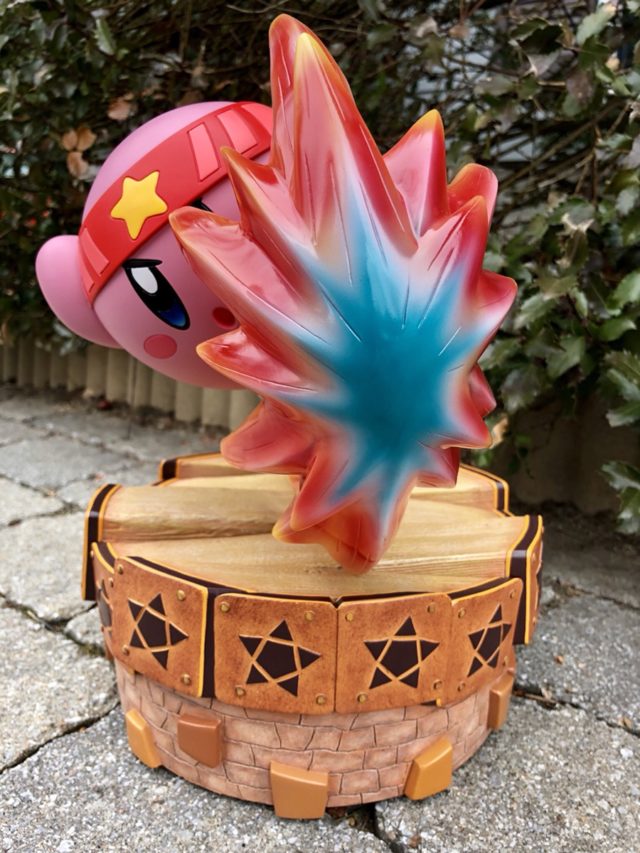 I'm a total mark for effects pieces, so I was always going to like the Fighter Kirby effects piece. That said, it's particularly well done, with several "layers" of colors cascading out from it. Even when it's not lit up, it's opaque enough that it doesn't look out of place.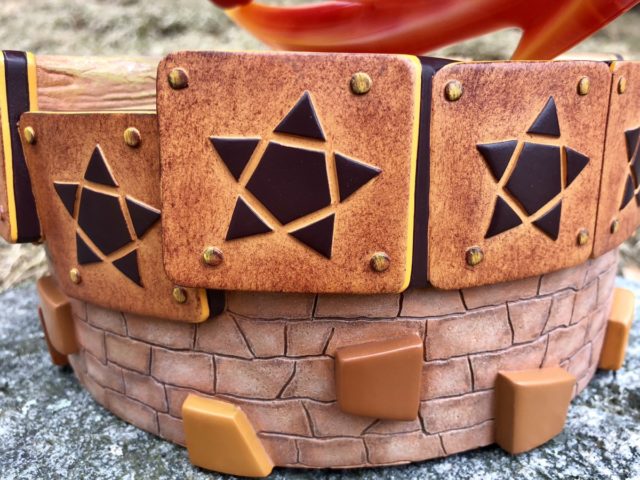 Even the base for this piece is quite lovely. It's nothing flashy, but the various wood and stone textures on the base look realistic and are a nice complement to Kirby's cartoon style. The juxtaposition works really, really well.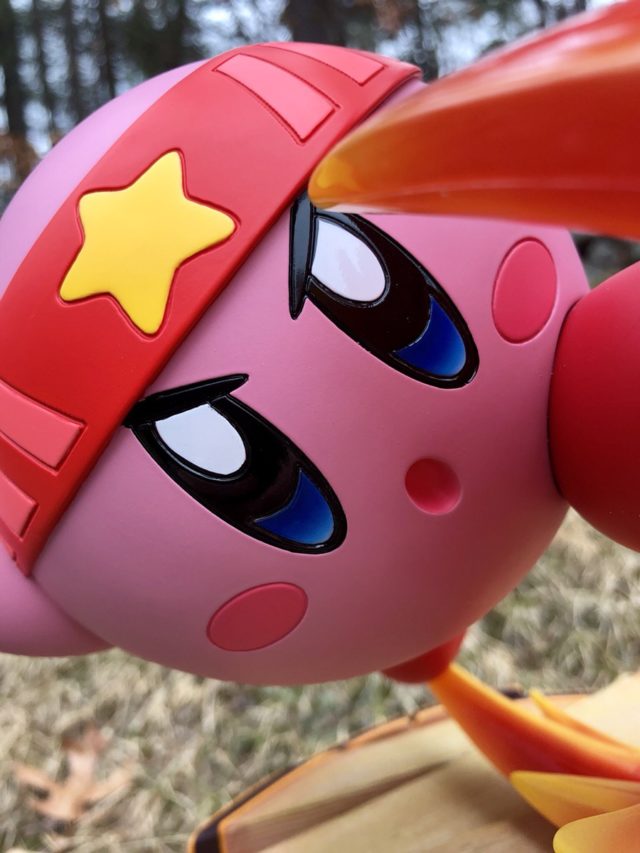 The gradient-like blue paint on Kirby's eyes also came out extraordinarily well, and is a real eye-grabber (no pun intended).
The Wrong:
As is ordinarily the case from F4F, I've got very little to complain about as far as this statue goes. The paintwork is totally on-point on mine, and there's not a defect or paint issue to be seen. Quality-wise, this is one of the best statues I've received from any company in months.
If I had to have any complaint at all about this piece, it would be that I don't really like the way that the "LED dots" are so apparent when turned on and viewed from a certain angle. This isn't a big issue for me, but some folks more OCD than me (if such fellows exist) may be bothered by this.
I know some collectors complained about the EL electronics for EX Ornstein's lightning spear and said that they would have preferred LEDs, but I think the "dots" would have ultimately distracted and disappointed folks.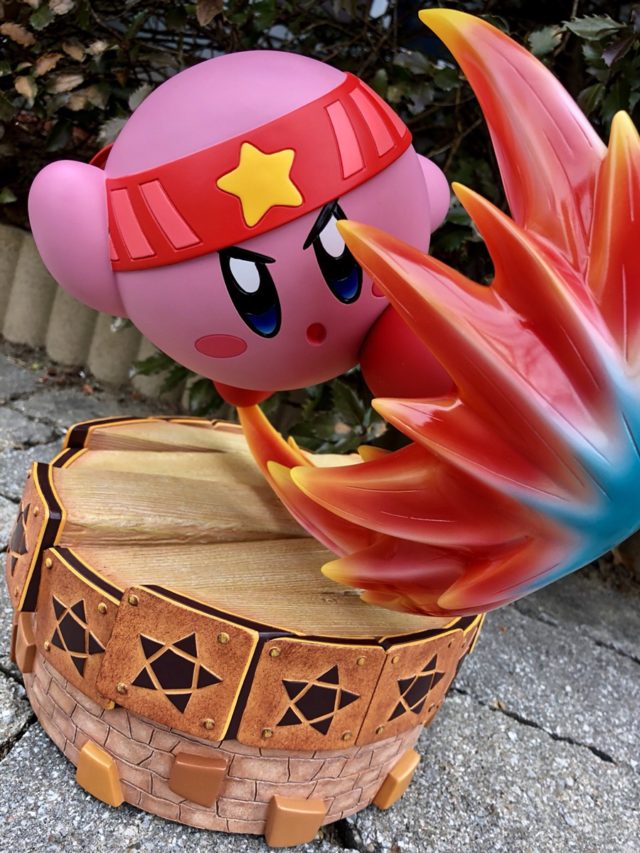 Overall: If anyone asks me why First4Figures is consistently my favorite company these days, Fighter Kirby EX is a concrete example that I can point to as an explanation. While the basic design here is simplistic, F4F has executed it to perfection. The sculpting, colors and proportions on Kirby are all phenomenal, the light-up effect is bright and wonderfully eye-catching, the base adds the perfect amount of detailing, and even the art box is beautiful. This is a triumph—easily my favorite new statue that I've had in-hand from any company for a long time.
GRADE: A+