If there's a prize to be won for the ugliest (in a good way) statue that First4Figures debuted today at New York Comic Con 2017, I think there's a pretty decisive winner. F4F has inched into the anime statue market slowly with the recent release of their Saitama statue and pre-order for Mugen of Samurai Champloo fame, but at NYCC 2017 they fully unveiled their first anime mega-blockbuster statue: the F4F Berserk Guts Statue! This is gonna be a big deal…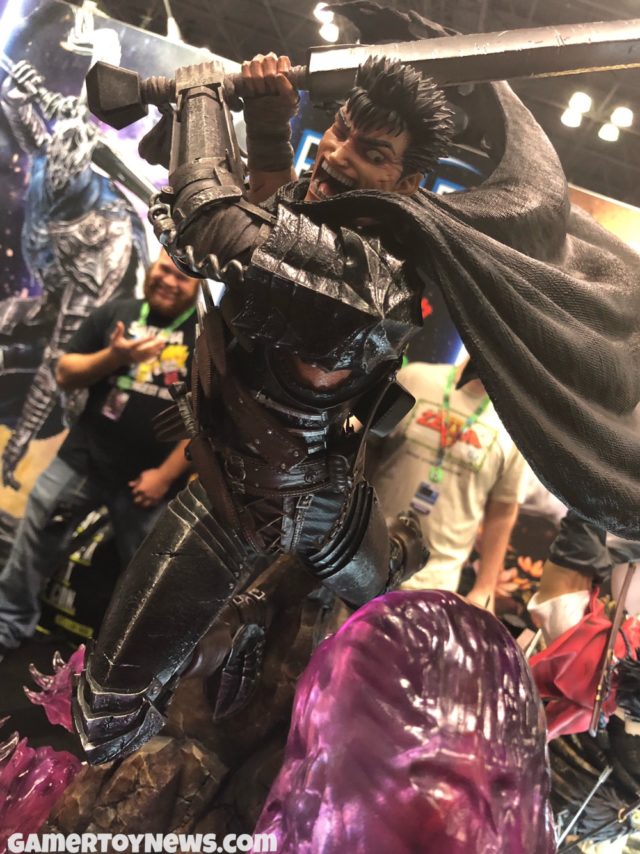 Ultra-bloody, crazy-violent anime isn't really my jam, but I want First4Figures to take the anime statues market by storm, so I rejoiced when they announced the license for the ridiculously popular "Berserk" anime.
And now, after ages of seeing impossible hints, sneak peeks and unpainted prototypes, F4F finally dropped the curtain on the fully-painted Berserk Guts Statue prototype today. Let's check out the hi-res pics…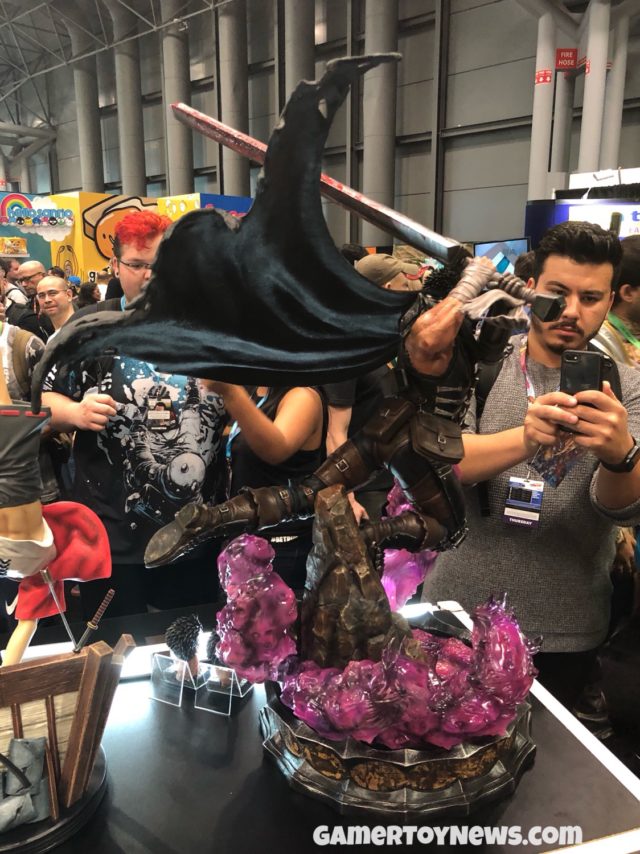 While Prime 1 Studio went the "Museum Pose" route with their Guts statue, First4Figures' Guts is anything but "museum". This is action posed Guts, dynamically leaping in mid-battle with his cape flowing behind him!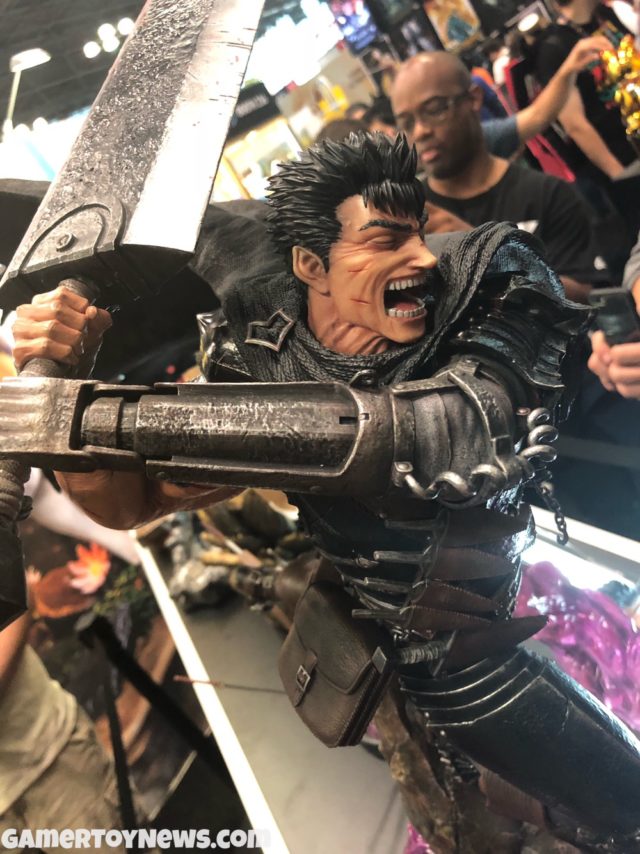 Guts won't win any "most handsome anime character" awards (that's for sure), but I do think First 4 Figures nailed his likeness. The yelling head seems the most appropriate one to me, given the pose, but if you don't like it, perhaps you'll like…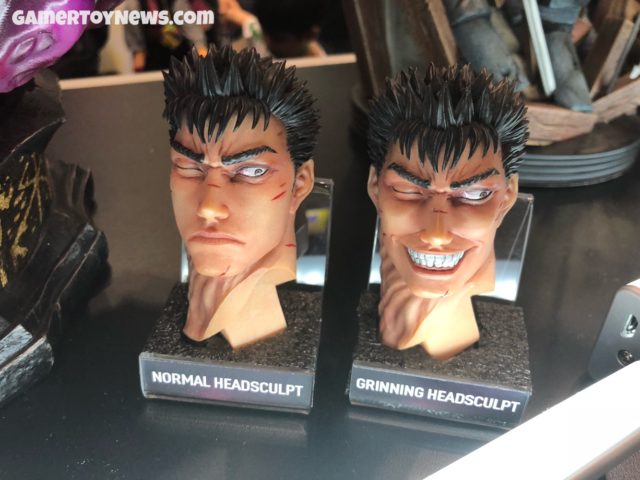 …one of these. The Guts Exclusive Statue will come with not one, not two, but three head sculpts! Depending on your mood, you can alter Guts' mood so that he's jumping into battle all maniacal and grinning, or all stoic and expression-free. Cool beans.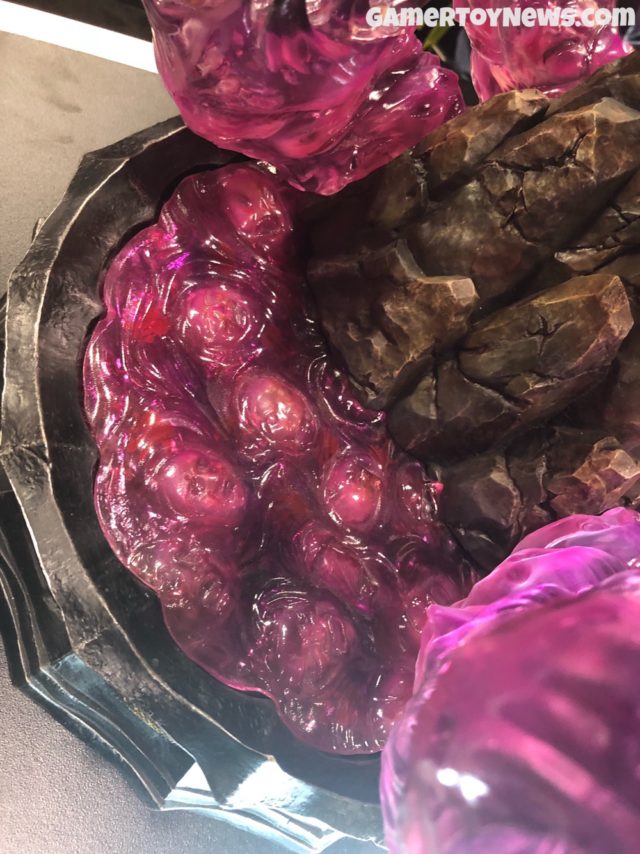 And speaking of cool: let's talk about the huge, elaborate base for the exclusive version of Guts.
There was a lot of complaining about the base for Guts when it was shown in unpainted form, but now that we see it cast in clear purple/pink…? The word "badass" sprints to mind.
From his giant, bloody sword to the horrific visage of the "souls" surrounding the translucent base of the exclusive, this piece is destined to put First 4 Figures on the map as far as high-end anime statues go. I'm greatly anticipating seeing the sales and reception when this piece launches for pre-order in the winter!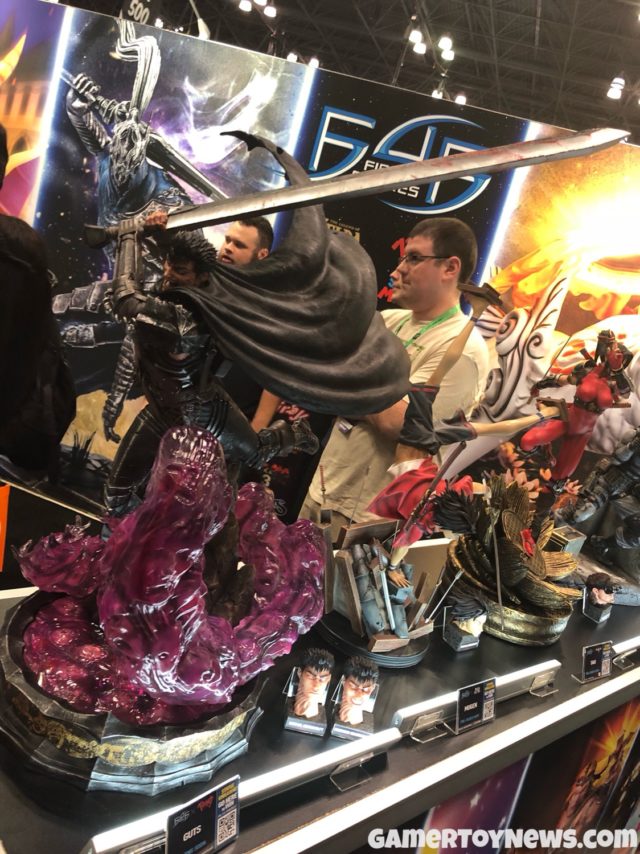 Let's finish up with a few more photos I snapped of the Guts statue at New York Comic Con 2017…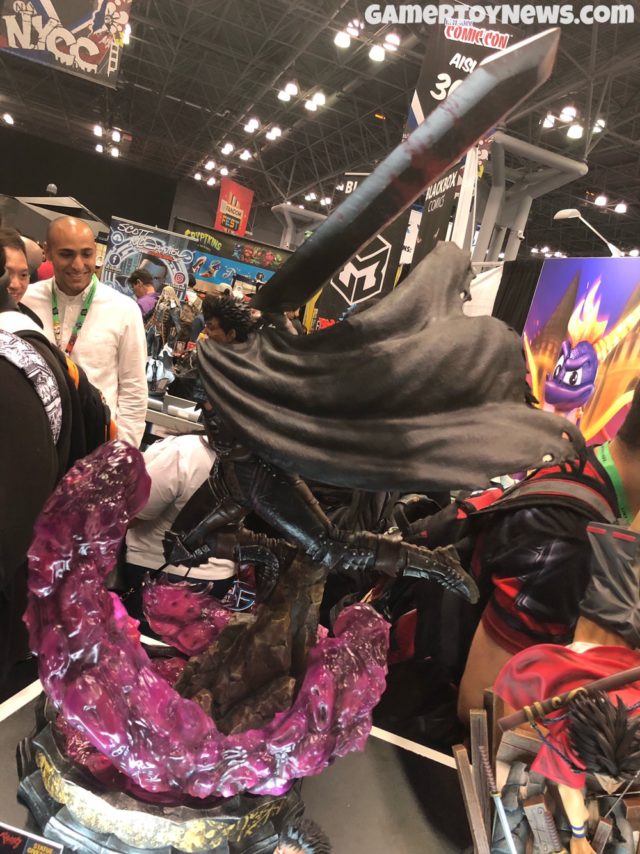 We don't have an exact pre-order date for Guts yet (beyond "coming soon"), but it's anticipated that he'll be up for sale before the end of the year. Stay tuned to this page and also the Gamer Toy News Facebook and Twitter Pages for updates on Guts, the Berserk statue line, and First 4 Figures in general.
Now that he's been fully revealed, does First4Figures have your $500+ locked in with the first entry in their Berserk line of statues? How do you think this compares to the competition's take on Guts? Leave a reply and let us know! Also, feel free to drop by our Gamer Toy Alliance Facebook group, where we talk all video game toys and collectibles, all the time!