When Mattel announced their acquisition of the master license for Halo toys and figures last winter, I genuinely believed that a rejuvenation of Halo as a toy brand was impending. Things haven't exactly worked out that way, with only two new figures released since last summer and zero in the pipeline. And unfortunately, not only is the Mattel Halo Fred 6″ figure expensive and hard to find (as he's packed at just one per case alongside Kelly in the Wave 1 revision box), he's also one of the worst quality figures I've purchased in years…
The Right:
With the limited distribution that the first wave of Mattel Halo 6″ Collector Series figures received last year (barely getting stocked at major toy retailers at all), I was seriously concerned that we might not get
any
more Halo 5: Guardians figures released in the 6″ Collector Series–much less a complete Blue Team.
So the fact that Mattel committed to releasing Fred and Linda at all is a major "Right" in my book. We may never get Buck, Vale and Tanaka as Mattel 6″ figures to complete Fireteam Osiris, but at least we got the full lineup of Blue Team!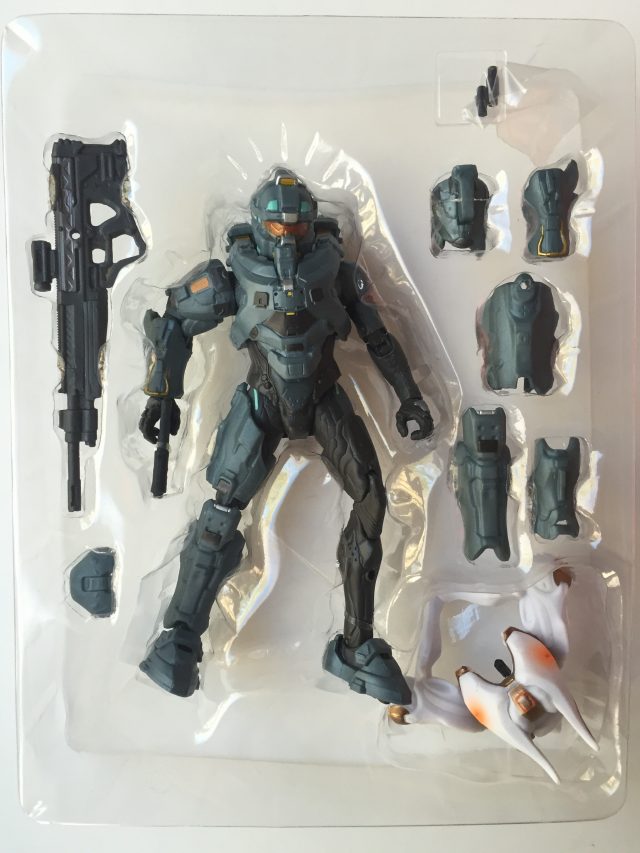 Also going solidly in "The Right" is Mattel's surprise decision to pack new Crawler Snipe Build-A-Figure parts in with Fred and Kelly, which can be combined with the BAF pieces from Master Chief, Spartan Locke, Elite Zealot and Helioskrill Spartan to build a Promethean Crawler Snipe figure!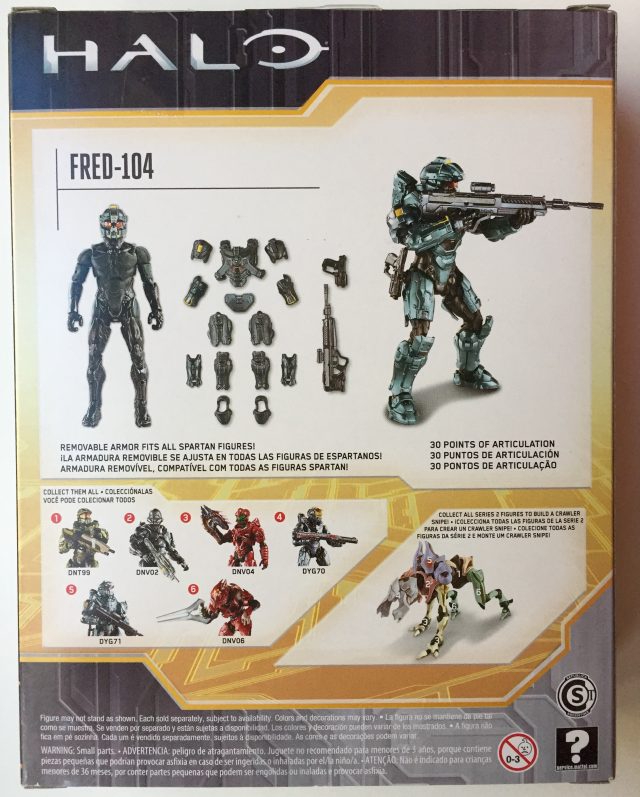 I'm bummed that I'd need to buy four figures I already have again to build the Snipe Crawler without giving up my Alpha Crawler, but giving us new Build-A-Figure parts at all with Kelly and Fred is going above and beyond. I wish the rest of this line showed this level of effort. Bravo, Mattel.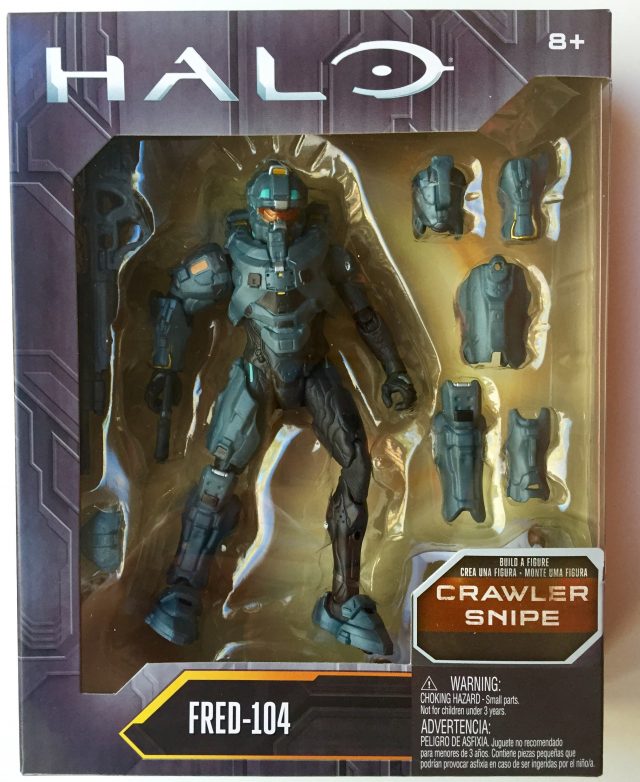 Along with the Crawler Snipe Build-A-Figure part, Fred gets both a rifle and a pistol. I appreciate that we're getting two weapons with every Mattel Spartan, unlike the one gun McFarlane Toys gave to their Halo figures. In addition, the paint deco on the rifle looks good (though not as good as on some classic McFarlane figures).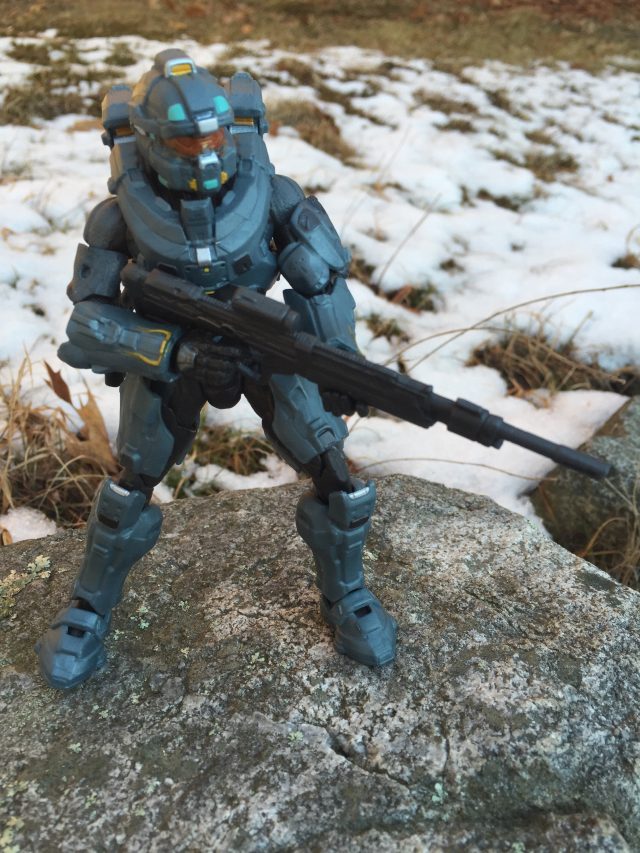 If you've purchased any of the previous Mattel 6″ Halo Spartans, you know exactly what to expect from the articulation. Whereas the McFarlane Halo 5 figures were basically beautiful statues, there figures have standard super-articulation (including ankle rockers) and can be put into loads of poses.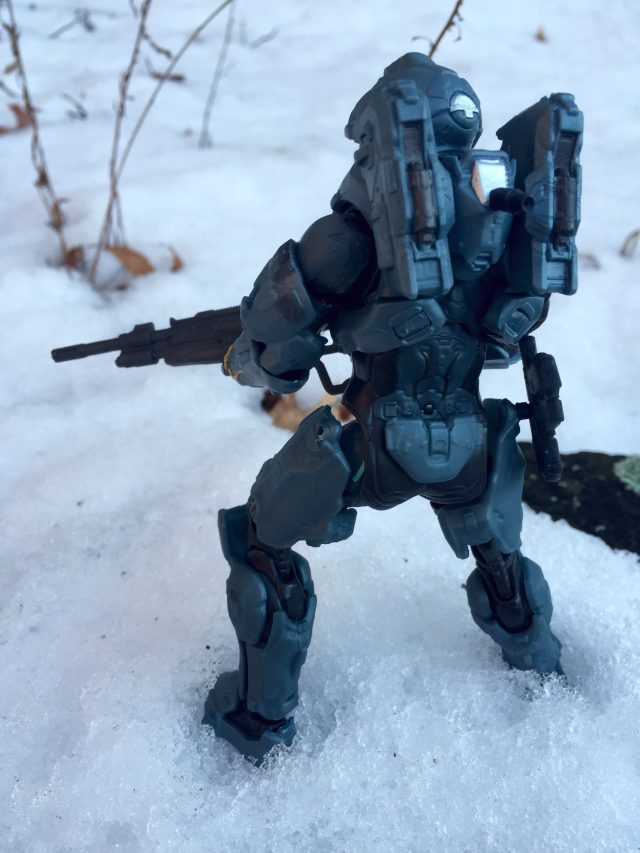 While the chunky armor–and some QC issues–limit the ways to effectively pose this Spartan Fred action figure, I can't fault Mattel for giving these figures the deepest articulation scheme we've seen for Halo toys in years.
The Wrong:
Most collectors hoped that it wouldn't be the case, but alas: just like the previous wave of Halo Mattel 6″ figures released last June, the paint apps on Frederic-104 are still minimal. There's absolutely no paint wash on the figure, and the dark blue plastic that Fred's armor is cast in doesn't look metallic at all. Rather than. Rather than being encased in metal armor, Fred is another Spartan who clearly looks like a PVC toy.
Now, because of the fact that Fred's armor is dark blue, he doesn't look quite as awful as poor Linda does due to the omission of a paint wash, but he's still clearly not a battle-tested Spartan at all.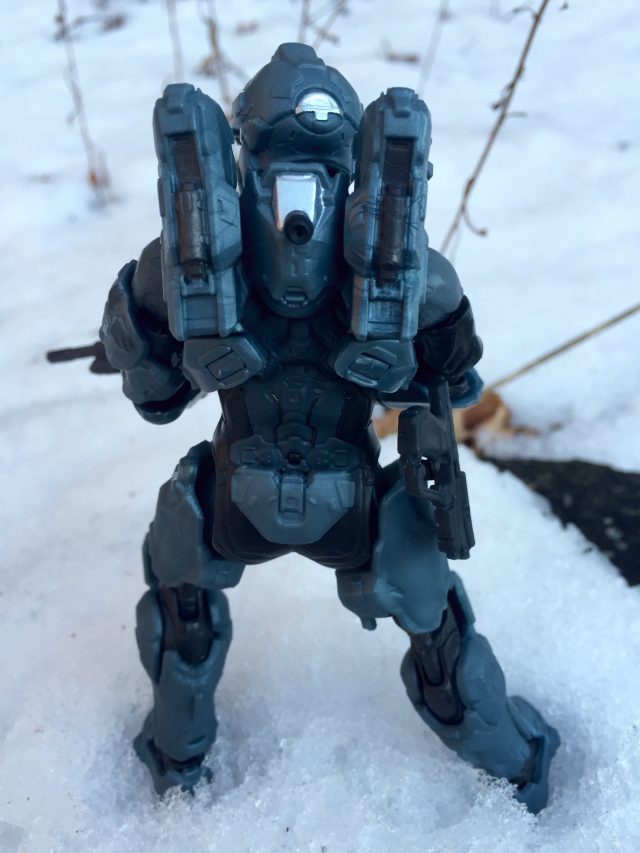 I complained about quality control on several of the Wave 1 figures, but these latest releases bring the QC problems to a whole new level. So far, in fact, that Fred-104 falls out of "The Wrong" and into…
The Ridiculous:
I'm just going to come right out and say it: the QC on this Halo Fred figure? It's garbage.
If you've ever touched a Bobblehead, then you know what to expect from this Spartan Fred six inch figure. No, it's not Fred's head that's crazy loose–it's his whole upper body.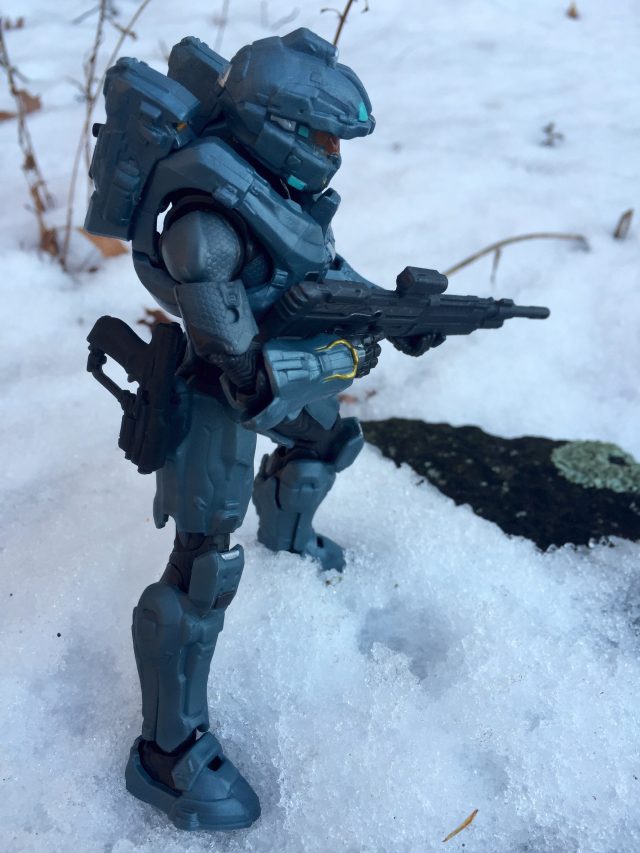 The upper torso ball-joint on the Spartan Fred figure is the loosest and most wobbly I've ever seen on a collector's figure in my life (and I buy a lot of figures). If you touch or move this action figure at all, the upper body literally shakes back and forth like a Bobblehead, and it makes posing this figure a complete nightmare and completely not fun.
Even worse, the plastic used on the Halo Fred-104 figure seems to actually be cheaper and more rubbery than on the earlier figures. His right shoulder armor piece constantly falls off no matter what I do (which is why you'll notice it missing in most photos), and getting a solid two-handed pose is all-but-impossible.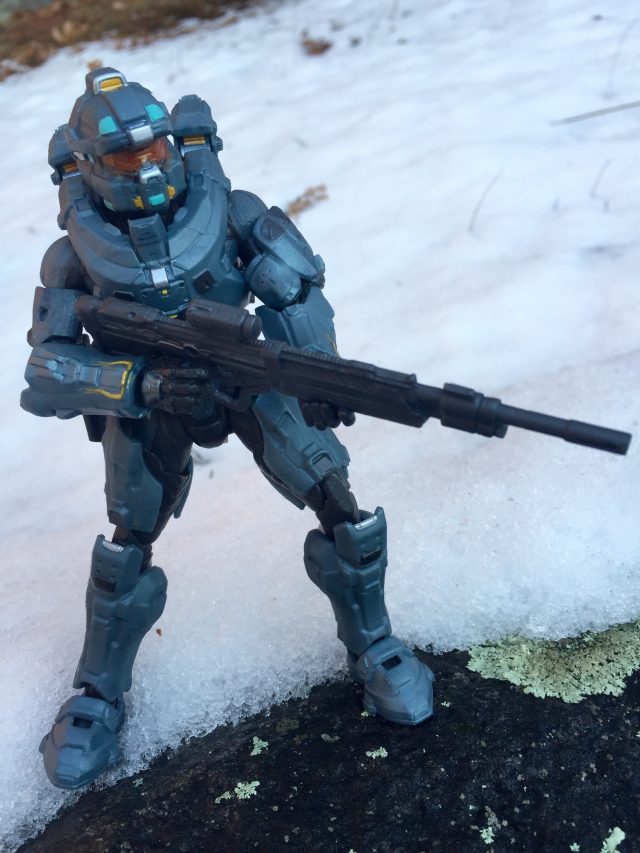 Overall: As grateful as I am that Mattel is completing the Spartan Blue Team from Halo 5, the quality control on this Mattel Fred-104 figure is absolutely abysmal. Not only is he lacking a paint wash like all of Mattel's first series of Halo figures, but his upper body is ludicrously loose, and the plastic used for his armor and hands is so rubbery his armor and guns keep coming loose. This feels like a complete rush job from Mattel, and I'm desperately hoping for better things in 2017.
GRADE: D