Ever since I caught my first unexpected glimpse at a line of Diamond Select Toys Kingdom Hearts Figures at New York Toy Fair 2017, I've been actively anticipating the line hitting stores. And now, ten months later, the time is upon us: the first Kingdom Hearts Select wave of figures are now available and shipping, including this DST Master Form Sora figure that's the subject of today's review! Is this Kingdom Hearts figure everything I'd hoped for?
The Right:
Kingdom Hearts Select Series 1 isn't just rolling out to comic book and specialty stores this month like most Diamond Select Toys lines do—it's being released at all the usual suspects, as well as Target, Toys R Us, Walgreens and GameStop stores.
And not only are all those stores supporting the line, but each has their own exclusive variant (or figure in the case of Walgreens' Pluto)! Bravo to DST for not only getting these toys into a lot of stores, but also for giving each something unique to increase the amount of figures out there to jumpstart the line.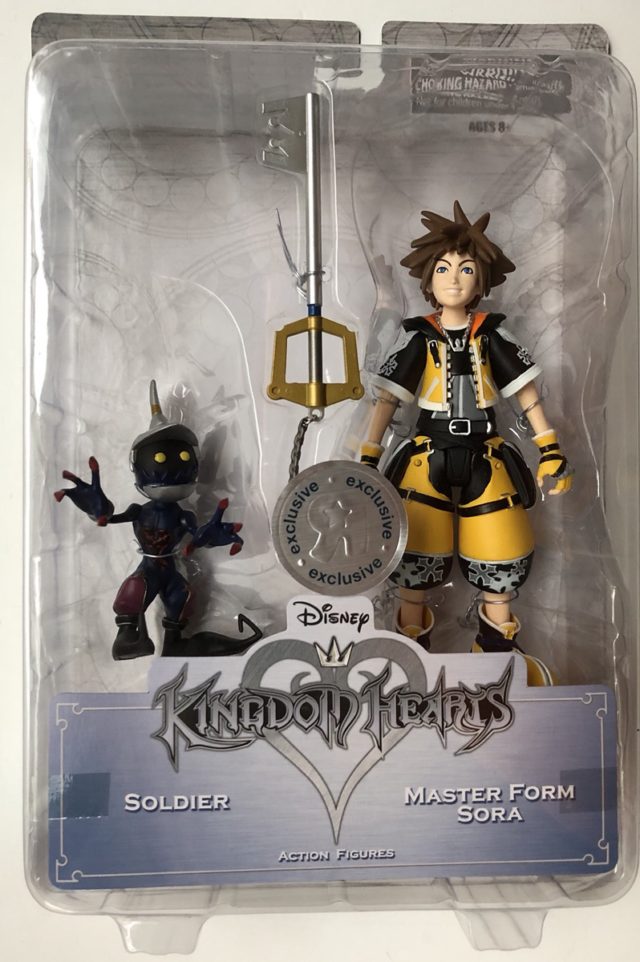 The figure I'm reviewing today is the Toys R Us Exclusive Master Form Sora action figure (AKA "Yellow Sora"), my favorite of Sora's three "Drive Forms" that debuted in Kingdom Hearts II.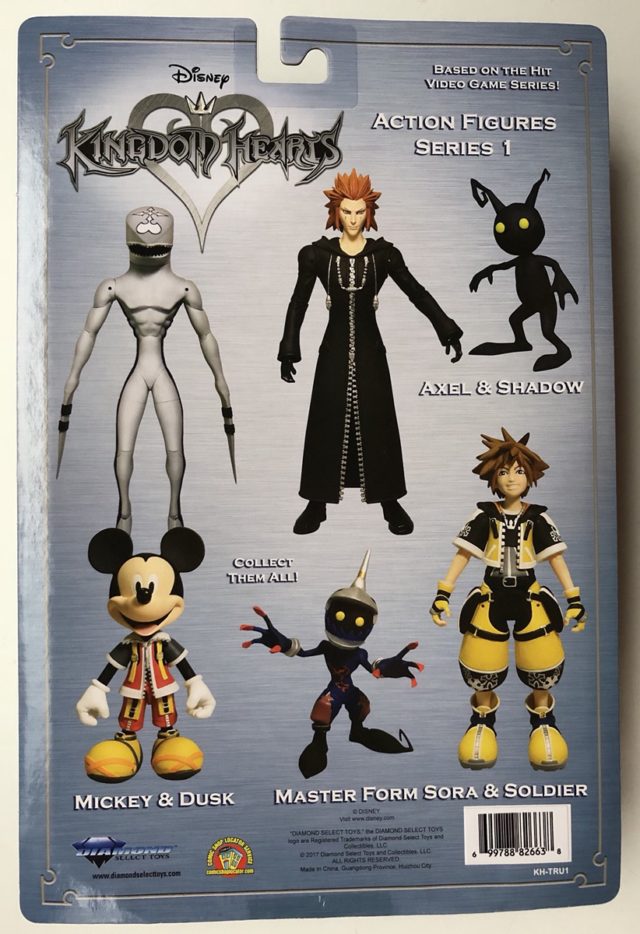 Whereas the mass-release Sora figure that's now available for order comes with a Dusk and a Heartless Soldier for $24.99 MSRP, this exclusive repaint version eschews the Dusk figure and drops the price to a low $14.99.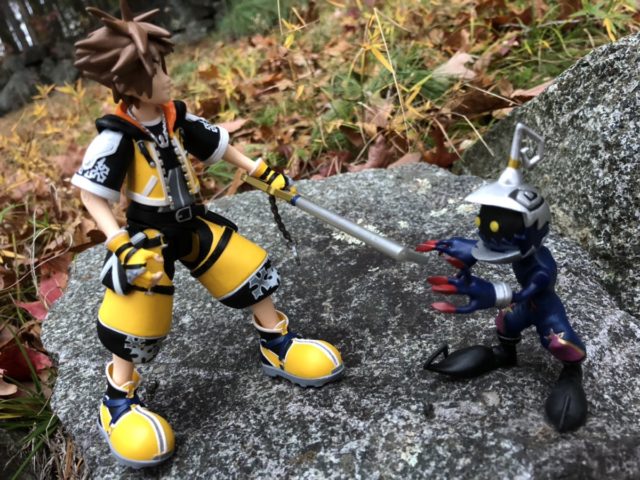 $15 is a very fair price for what we're getting in this pack, and a price that parents and kids are much more likely to jump on than the $25 of the regular release sets. In addition, it means completists can get the Sora variants without dropping $25 per set. This is a smart move by Diamond Select that earns a thumbs up.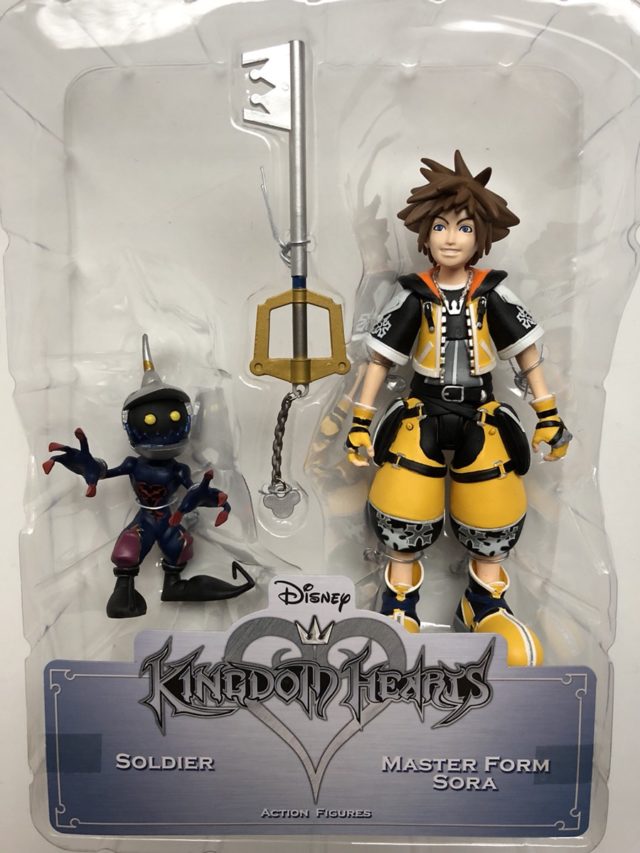 Master Form Sora Select comes with two accessories: a standard Keyblade and a Heartless Soldier. Both of these accessories are available with the standard version as well, so the only thing that's exclusive here is the paint.
That's not necessarily a bad thing, though, since I love the yellow and black color scheme of Master Form Sora. Sora's costume is extremely complicated and heavy on details, but DST did a stellar job in capturing the plethora of sculpting and paint details on this design.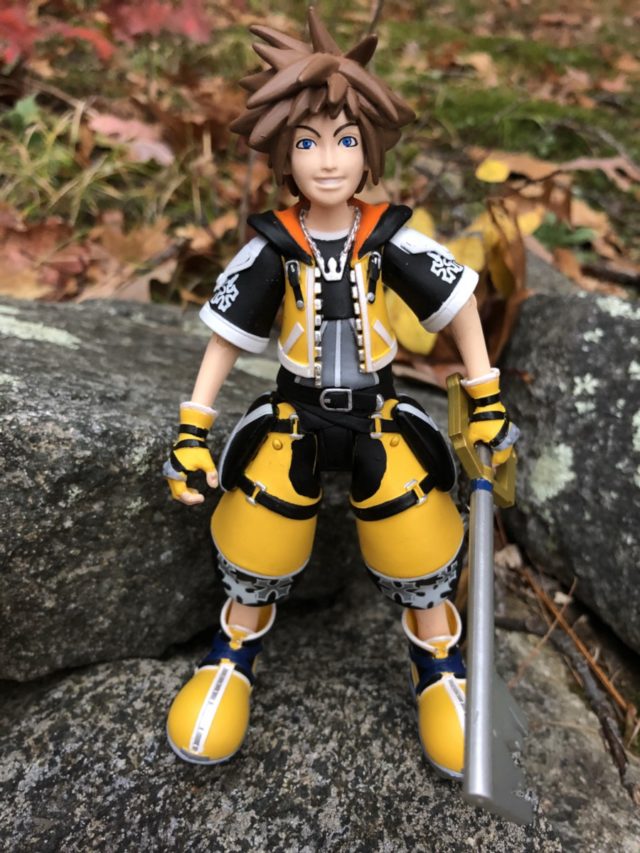 All of the buckles, zippers, decorations and straps that make Sora's outfit so unique are present and expertly rendered here. From a sculpting perspective, Diamond Select Toys has created a real knockout here. And while I'll be critiquing the paint apps in a bit, DST deserves applause for the sheer amount of paint hits present on this action figure.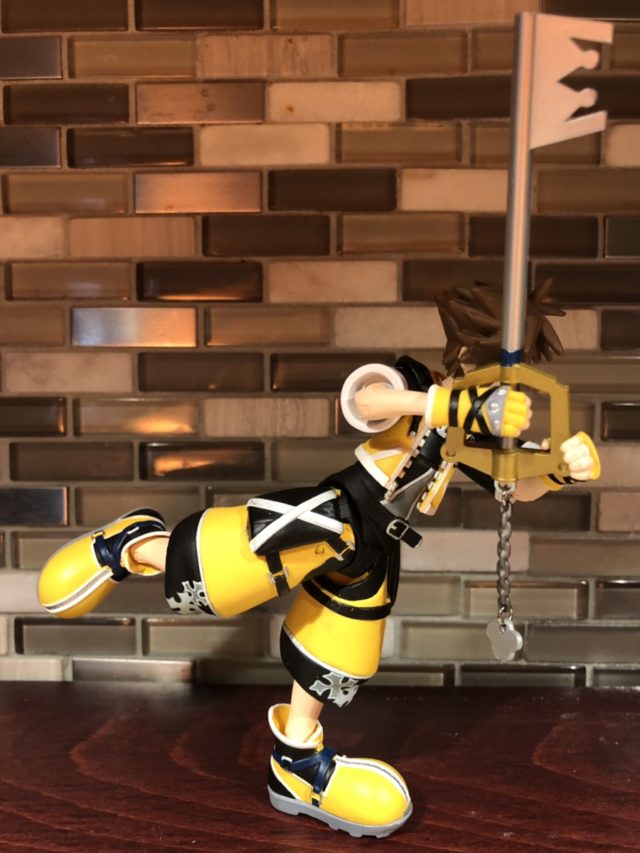 Master Form Sora's articulation is also solid, although certainly not up to SH Figuarts or Marvel Legends standards. Sora features a ball-jointed head, ball-hinge shoulders, hinged elbows, swivel wrists and waist, swivel-hinge hips (with a lot of limitations), and swivel-hinge knees and feet.
While the articulation scheme isn't perfect, it is good enough to get Sora into various poses, including decent Keyblade-wielding poses utilizing both hands and even running poses on one foot.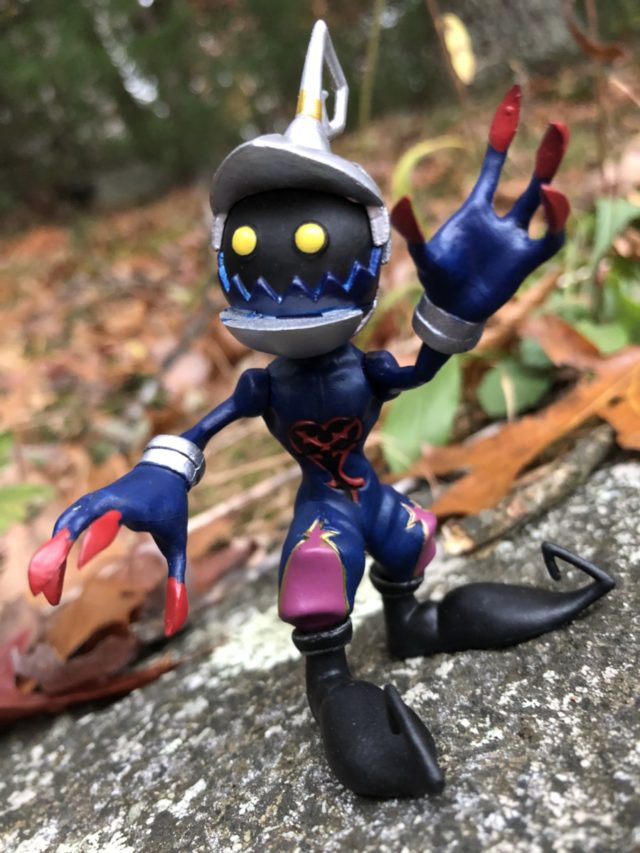 The Heartless Soldier figure packed in is all-around outstanding. The sculpt and paint are both top-notch, and the swivel heads and arms are plenty of articulation for this character. I'm excited to build a little army of these soldiers as I collect the various forms of Sora.
The Wrong:
I really do like this first wave of Diamond Select Kingdom Hearts figures—but make no mistake, there's definitely room for improvement in future series.
I actually waited for my Toys R Us to get a second shipment in of their exclusive Master Form Sora Select figure before buying mine. Why? Because I had to rifle through around a dozen yellow Sora figures before I found one where I felt like the paint apps were good enough to buy.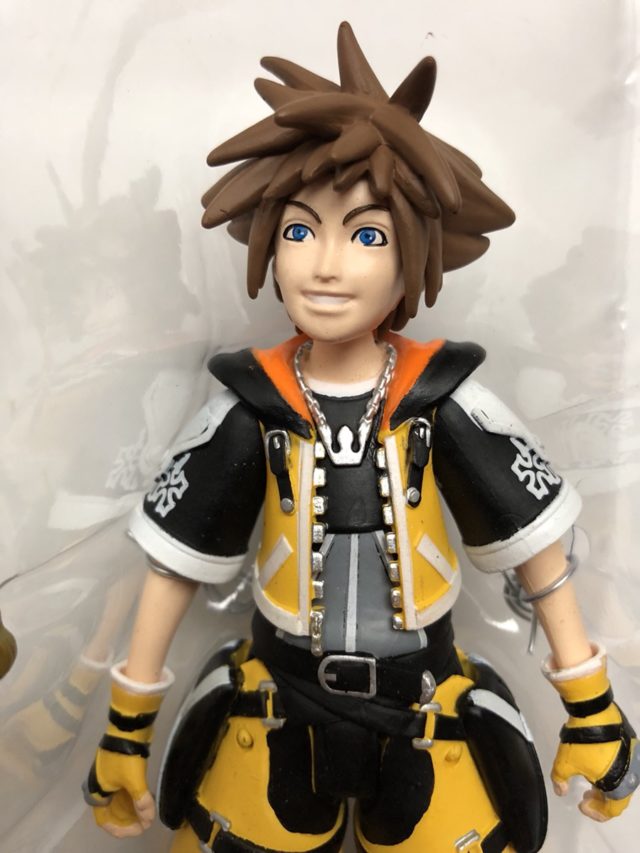 Pretty much everywhere on this figure you can find areas where the paint apps are uneven and colors are bleeding into one another. From a few feet away you don't really notice, but up close, this Sora's paint deco is a mess. I have dozens of Marvel Select Diamond Select Toys figures with beautiful paint jobs, and the QC on Master Form Sora's paint is not the norm.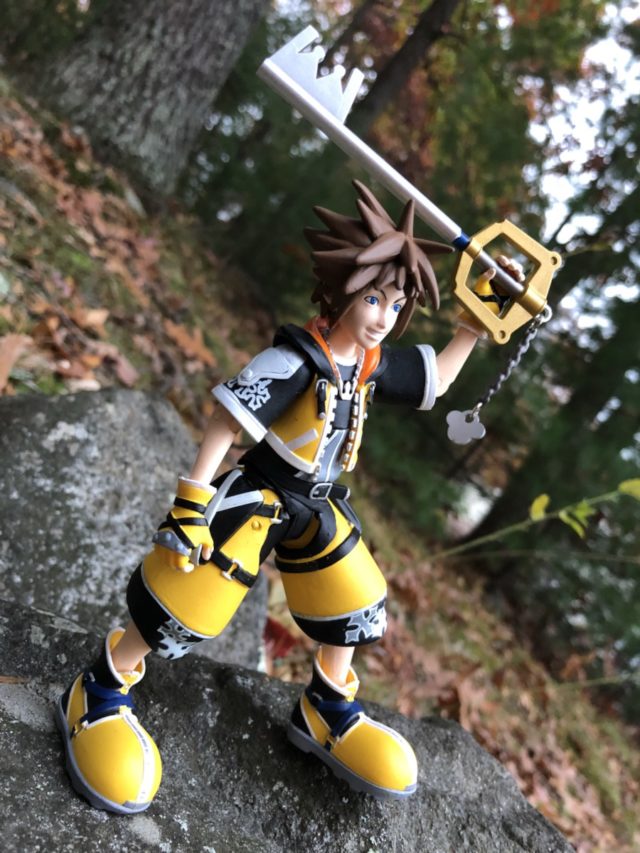 Some of the articulation on the figure is similarly "not quite there". Because of where the lateral hinges on the hips are placed, Sora's legs can only be spread the slightest degree. His legs move forward and back for running just fine,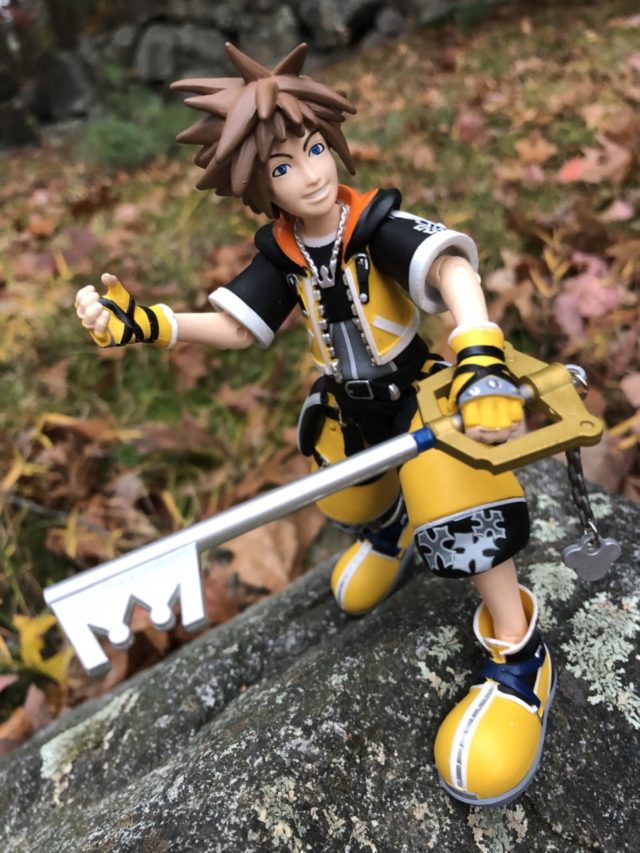 Perhaps the hardest flaw of all for me to get past with this yellow Sora, however, is the fact that DST botched what the Master Form is all about: dual Keyblade swords.
While I understand that Diamond Select may not have been ready to bust out a levitating effects piece just yet, the whole gimmick of the Master Drive Form is that Sora gets two swords. So not only does Sora not have any way of levitating a second Keyblade—he doesn't have one at all.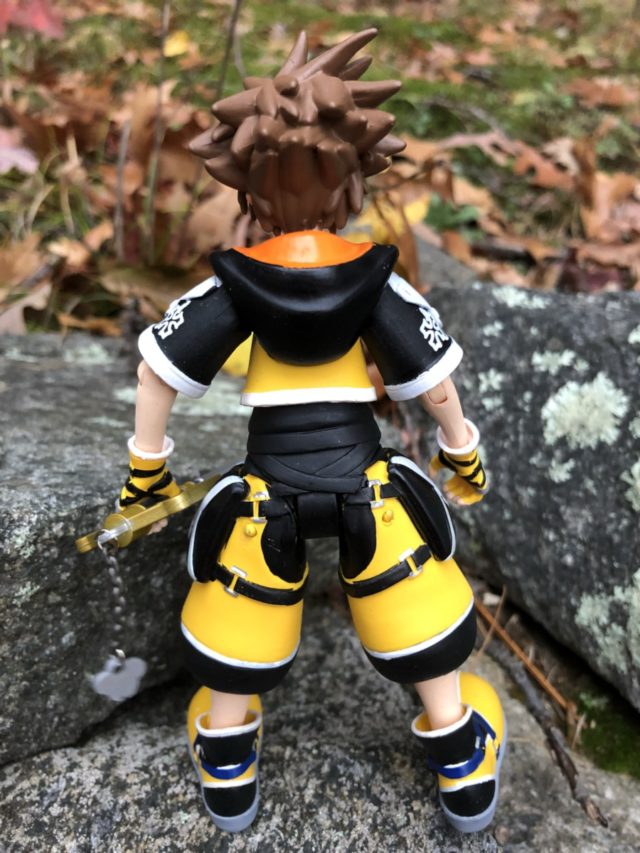 This release just doesn't make sense to me. I can understand wanting an easy repaint variant to give out as an exclusive, but in this instance I don't think the Sora Master Form was done justice. I hope we see a really clever redo of this figure down the road.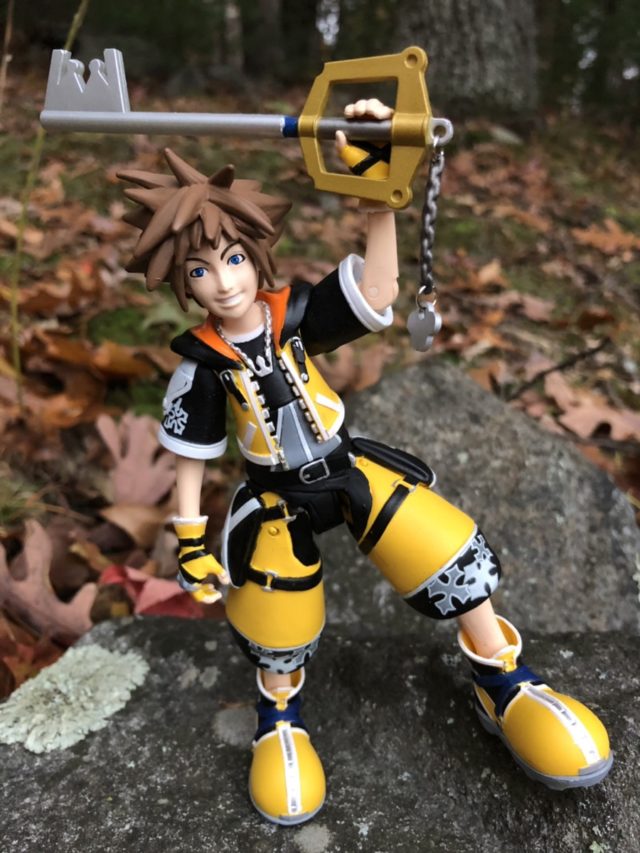 Overall: While Kingdom Hearts is near and dear to my heart and I especially love Sora's Master Form, I just can't give this Kingdom Hearts Select Master Form Sora figure the 'A++' I'd love to. The articulation on the figure is "good" but too restricted by the sculpt to be "great".
There's tons of beautiful paint details, but the actual paint apps are very sloppy on the over a dozen of this figure I've seen in person. And the lack of a second Keyblade for a Form which the whole gimmick for is that it gives Sora two swords is just bizarre.
I like this Kingdom Hearts Select Master Form Sora figure and am glad that I bought it, but I hope we see improved quality control, slightly tweaked articulation and better thought-out accessories in future waves.
GRADE: B