Oddly enough, actually seeing the final prototypes and placing pre-orders is no longer my favorite part of First 4 Figures' Reservation Fridays. Don't get me wrong–I love adding to my collection–but what I'm enjoying just as much these days is hearing about all of the work and development that go into each statue! And now that the F4F Dark Souls Ornstein Exclusive statue is finally available for order, the latest in the Making of series of video has been posted: the Ornstein documentary! Don't have time to watch it but want the content? I've got you covered…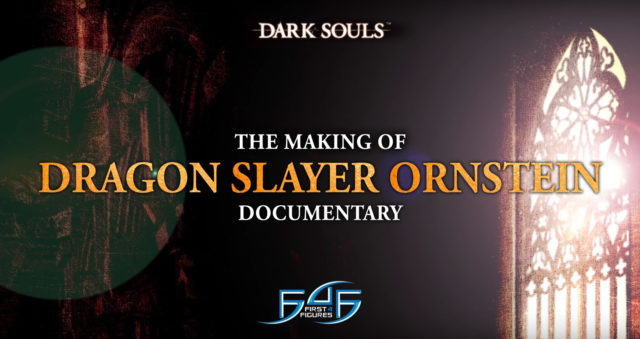 If you have just over an hour you're not using and you haven't done so already, you should probably go watch the First4Figures Making of Ornstein Documentary video right now. In fact, I'll pop it right below this next paragraph so that you can do so at your leisure!
But if you don't have an hour to spare–or you're not into videos (believe me, I understand–I hate hated videos before the rise of F4F) and just want to know most of the information from the show, then read on for my recap of what was said…
"What is your first impression when seeing the Dark Souls Ornstein Statue?"
Alex: "Majestic… with brute force."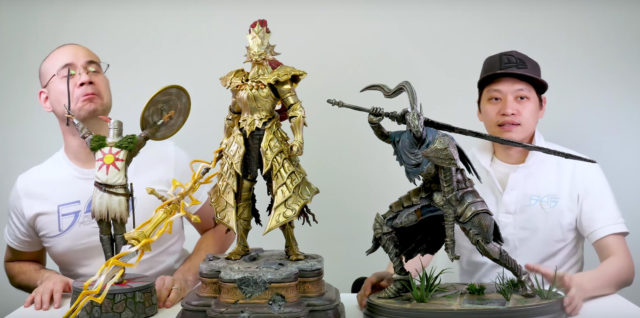 "Did you ever consider making this a Smough & Ornstein Statue, or was it always planned to be a singular statue of Ornstein alone?"
F4F definitely wanted to first concentrate on Ornstein before thinking about Smough because Ornstein finished much higher in the early Dark Souls character polls posted in the Facebook club
Smough would likely need to be in a different scale or some sort of compact pose in order to be done, as the character is absolutely massive
It made sense to make Ornstein first alone because he's a fan-favorite character, and also because of pricing considerations
Smough was not considered at all when the decision was made to make a solo Ornstein statue
"What was the most important aspect when deciding on a pose for this statue?"
The Ornstein F4F statue has been posed with the head staring straight into the camera but the body at an angle–Orny is very slightly turning his head to give the piece a sense of movement
Alex didn't want this statue to just be a stiff-looking museum pose, but also didn't want a dynamic pose that would eat up more space since this statue already pushes the boundaries of collector display space do to the gigantic spear
Chosen pose is regal and has a sense of power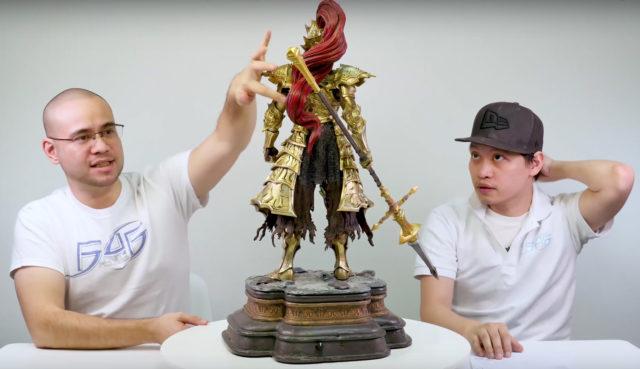 "What are some of the most significant details of this 1/4 Ornstein statue?"
Players likely did not have much chance to really take in and absorb the amount of detail in Orny's character design while actually playing the Dark Souls video game
Ornstein's armor isn't clean–you can see little scuffs and cuts on the armor; Ornstein has been through wars and lived to tell the tale
You can see the different angles of Ornstein's individual fingers on his hands
There's a black wash to highlight each strand of the spiraling hair on Orny's head
Even Ornstein's shoes have layering in them!
There's a lot of detail on this piece to take in if you have it in your collection–without having to worry about being killed by Orny while doing so!
"What are the chances of getting a scaled-down Smough as a companion piece?"
In order to have a Smough statue that's in-scale to an Ornstein statue, F4F would likely have to release a new Ornstein figure that's only about 11″-12″ tall in some sort of diorama with Smough; a 1/4 Smough to scale with this Ornstein statue would be astronomically expensive and space consumptive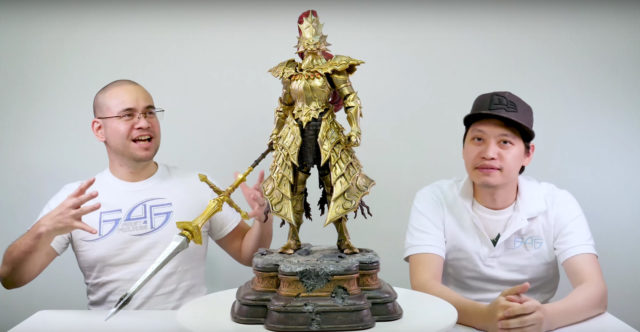 "What's being done to prevent breakage, such as what occurred with the plume on the Artorias Statue?"
First 4 Figures has learned from the shipping problems with Artorias, so Ornstein will ship with both the hair and the spear as separate pieces to prevent breakage issues
Alex will also do the drop test at the factory, as always, to ensure that the packaging for Orny is sufficiently protective
"Was the First 4 Figures Ornstein Statue created utilizing any existing 3-D models?"
Nope—the statue was designed from scratch using Z-Brush to do the 3-D modeling
Ornstein was sculpted digitally by "AJ", a sculptor Alex has worked with for years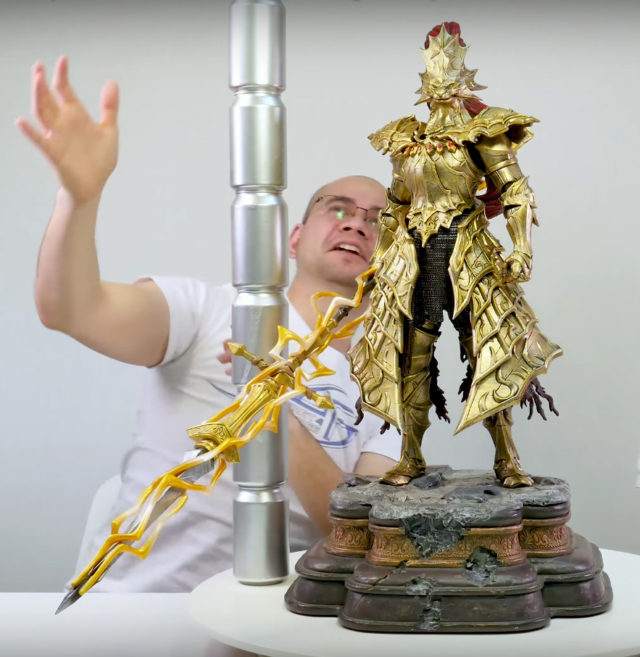 "What is your favorite aspect of Ornstein's design and why?"
Alex: The uniqueness of the design and the lion head (representing the animalistic, alpha part of him); Functionally, the clever layering of the armor
Chock: Likes everything about the character design; Thinks that this piece really needs a complementary Smough (Rally the Fans!)
"What was the inspiration for the base?"
It made perfect sense to F4F to use the broken pillars from the game as the base
Wanted the base to be relevant to the character but not overpowering
Functionally, Ornstein needed to have a tall base because of his spear—without the base's added height, the pose wouldn't be possible
Alex thinks this is the perfect base
If a 1:4 Smough were ever made, he could also have a much shorter base so the statue wouldn't have to be quite as massive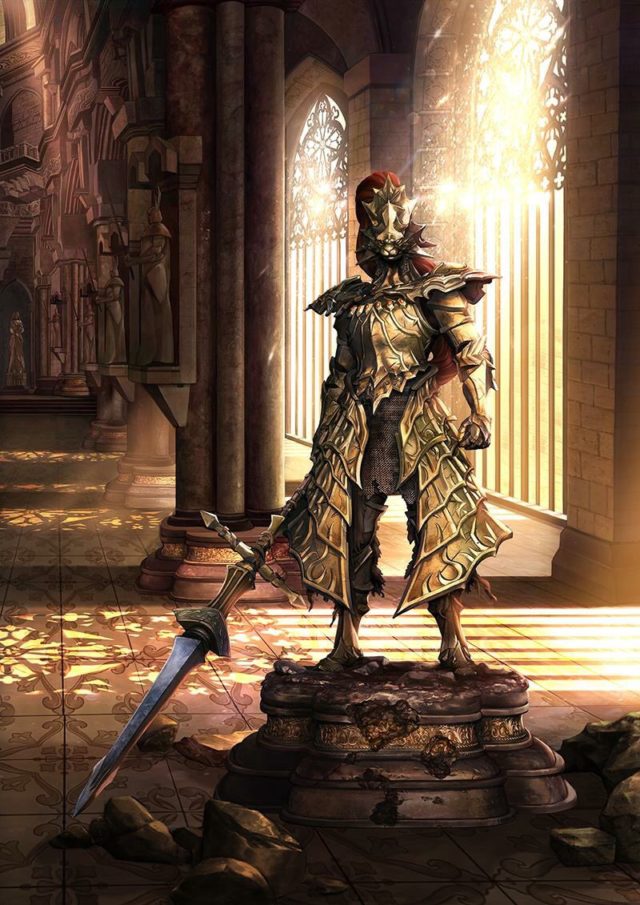 "What's special about the F4F Ornstein Exclusive Edition?"
The Exclusive Version comes with a beautiful complementary art print of Ornstein, where Ornstein is posed in exactly the same way as on the actual statue. In addition, an exclusive right arm with lightning spear is also included with the Exclusive Version. This lightning spear was very tough to develop, and is a primary reason this statue has taken so long to go up for sale. The finished lightning effect will have to be done in PVC instead of resin.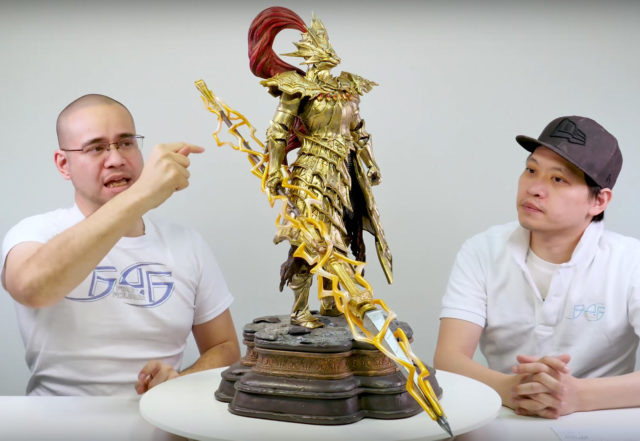 The lightning spear has a wire running through each section—it was an engineering nightmare. The statue will come with a rechargeable, replaceable battery.
The EL lighting integrated will allow for one continuous line of lighting at the cost of being less bright than LEDs. First4Figures went this route because it was important to avoid LED "dots" throughout the lightning.  The EL lighting gives the feeling of electrical current throughout the spear (although it's hard to see during the day).
…And that's all! If you want to watch the video itself, it's posted near the top of this article. And if you want to order the statue after seeing or reading about its creation, the Exclusive Ornstein statue is up for order on the F4F website for two weeks only! Don't miss it!