If someone held me at bow-and-arrow-point and demanded to know what my favorite collectibles company going today is, I wouldn't have to think very much before replying "First 4 Figures". First4Figures has been making high-end video game statues and collectibles for over a decade now, and the various resin Sega and Nintendo statues I have from them are among my absolute favorite toys that I own. But F4F is trying something new in 2017, as they jump into the PVC statue market with their 10″ Legend of Zelda Breath of the Wild Link statue. Does the trademark F4F quality carry over to this new style? Read on for my review…
The Right:
Maybe it's that I'll always be a kid at heart, but I've never been able to get into "mature"-rated games like Dark Souls  in the same manner as I have the various Nintendo franchises. Hey, what can I say? My heart belongs to Nintendo.
And as such, I've got a special place compartment in my Nintendo-owned heart for the company that produces the best Nintendo collectibles ever made: First 4 Figures.
I got a little bit jumpy (and insane) today looking out the window every time I heard a car to see if it was the UPS truck with my F4F Breath of the Wild Link statue, but after looking out the window about three hundred times (no, seriously) it finally was. Was Link worth the wait? Let's take a look…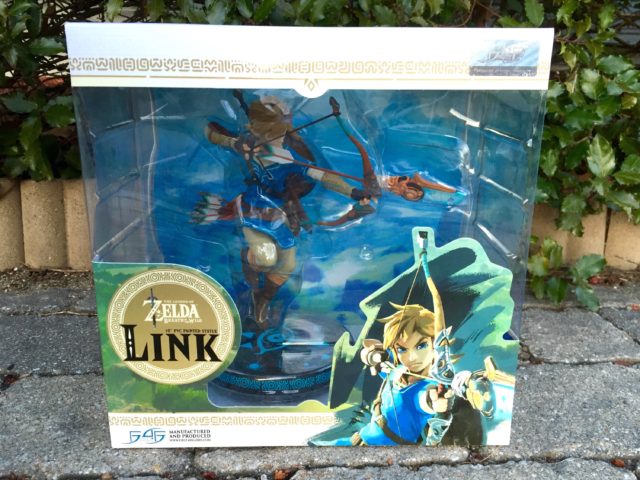 While most First 4 Figures statues are made of resin and come in styrofoam shells with some assembly required, the F4F Link Breath of the Wild statue is made of PVC plastic and comes in one solid piece, so for the first time ever, a F4F Nintendo statue is able to come window boxed!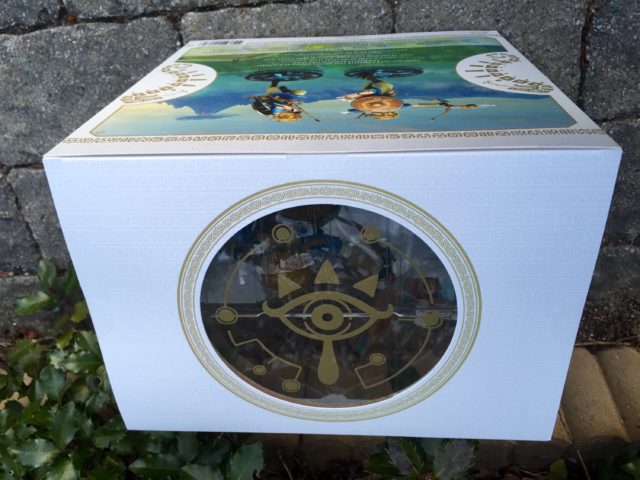 With windows on the front, top and both sides of the box, you can see almost (more on that later) every angle of this statue without even opening it up! The Sheikah Eye on the top window is lots of fun, and I love that mint-in-box collectors can see and appreciate most of the statue without even opening it.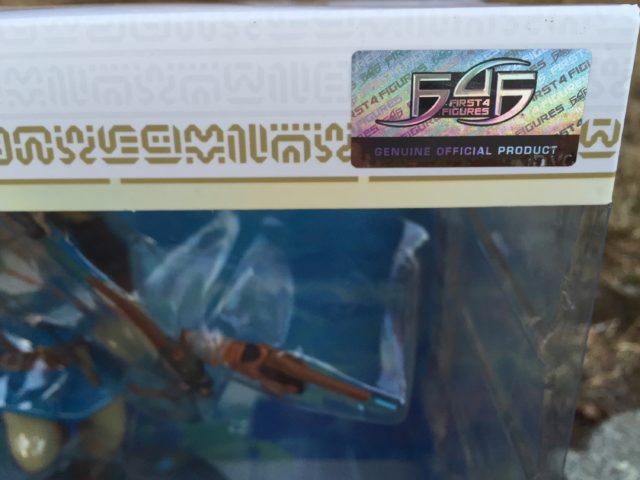 Notice the awesome "First 4 Figures Genuine Official Product" Hologram Sticker on the front of the box. This holographic sticker not only looks super-cool, but it's also going to help prevent this statue from being bootlegged overseas, as these sorts of stickers are very difficult for knockoff factories to get right.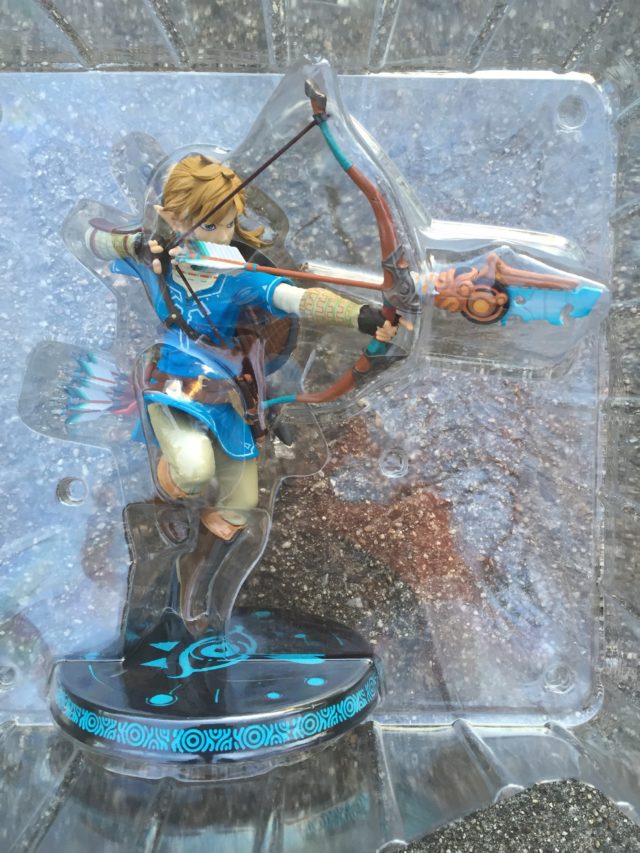 The Link Breath of the Wild figure itself is held in place by a clear plastic tray, the kind that fans of various Kotobukiya, Megahouse and Bandai Japan statues are intimately familiar with. Clear and sturdy, you can see through the shell easily and it keeps Link safe and sound, fulfilling both its purposes perfectly.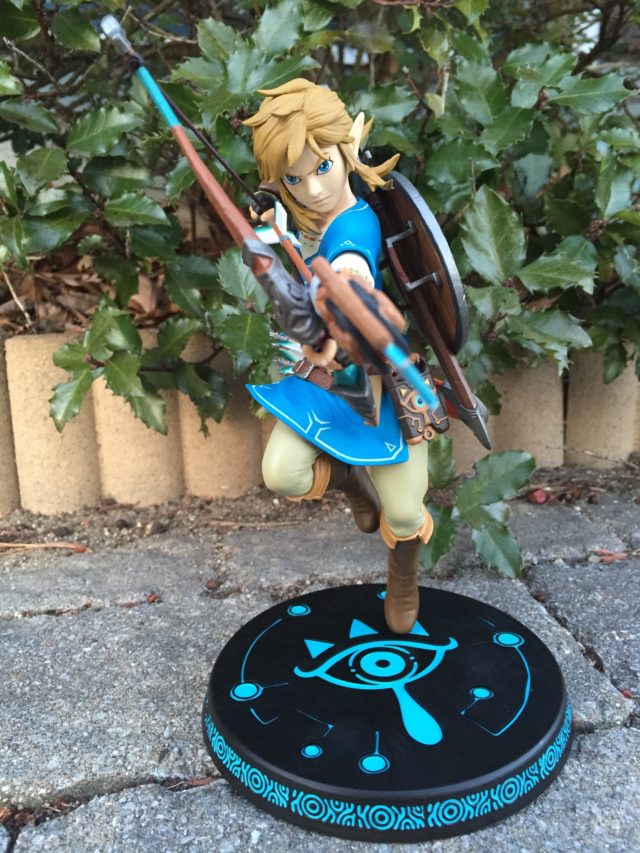 Of course, for all that I've written so far, I haven't even talked about the actual Link statue yet at all. But make no mistake–this Link figure is a real beauty (though I imagine Link might object to being called a beauty). I had some concerns about the paint quality not being as good on a PVC statue as they are on the usual F4F resin statues, but having Link in hand proves that that fear was unfounded.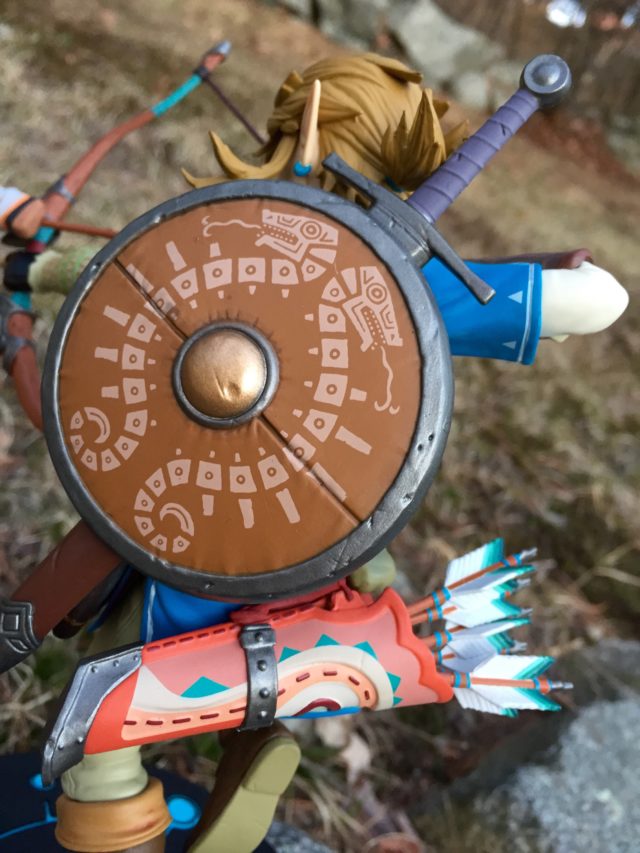 The colors on Link are bright and rich, and the paint applications are absolutely top-notch. The paint deco on this figure is as good as on any plastic statue I own from any other collectibles company out there.
From the details designs on his tunic to the decorations on his shield and quiver, the paint apps on this figure are simply exquisite. The paintwork on this figure is every bit as good as that on the high-end First 4 Figures statues–and perhaps even a bit better than on some of them, honestly.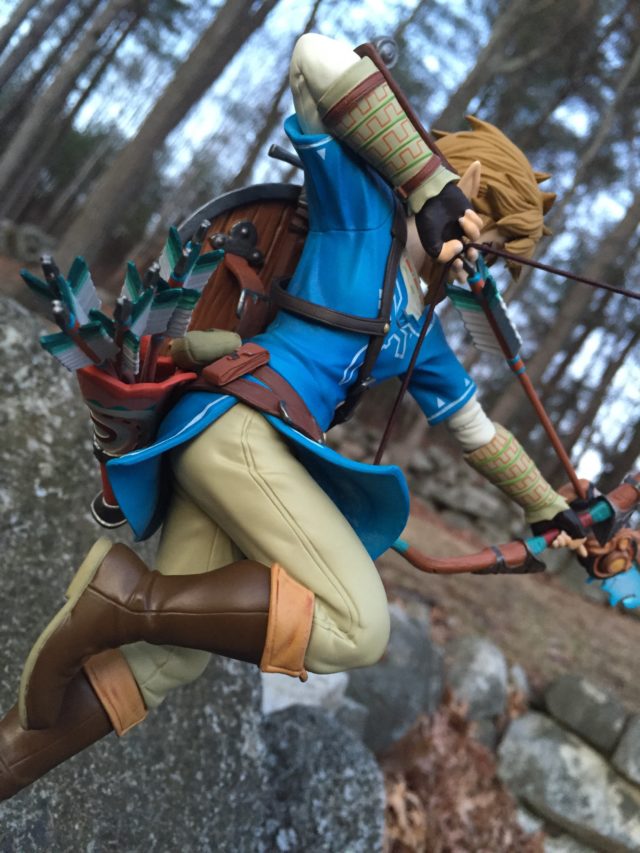 Also, for those worries about potential quality control issues with the statue itself–I'm happy to report that this figure feels fully sturdy and well-made. There's no evidence that any part of this BOTW Link figure is in danger of developing any kind of issues whatsoever. QC-wise, this piece is a dream.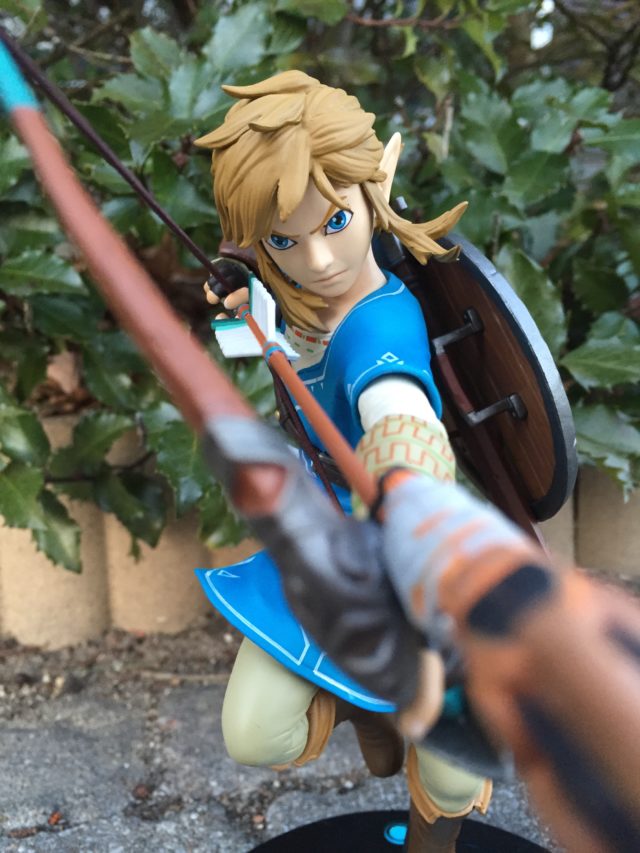 The most important characteristic of this statue–at least in my opinion–is the face. And in that department, F4F has absolutely nailed Link. There's so much life in Link's eyes, and the shape and portions of his face are captured here just perfectly. It's probably heresy to say such a thing, but I think the face on this Link is actually better than the face on my Link on Epona statue!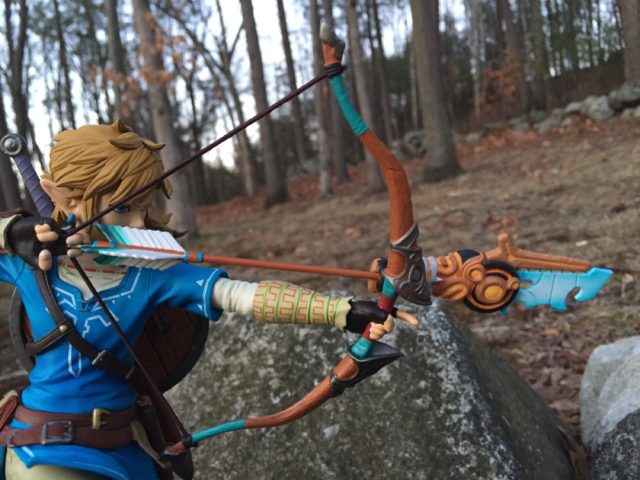 I've remained as spoiler-free as possible regarding Breath of the Wild, but one thing I have picked up from the various toys and collectibles for the game is that Link is (as usual) an archer.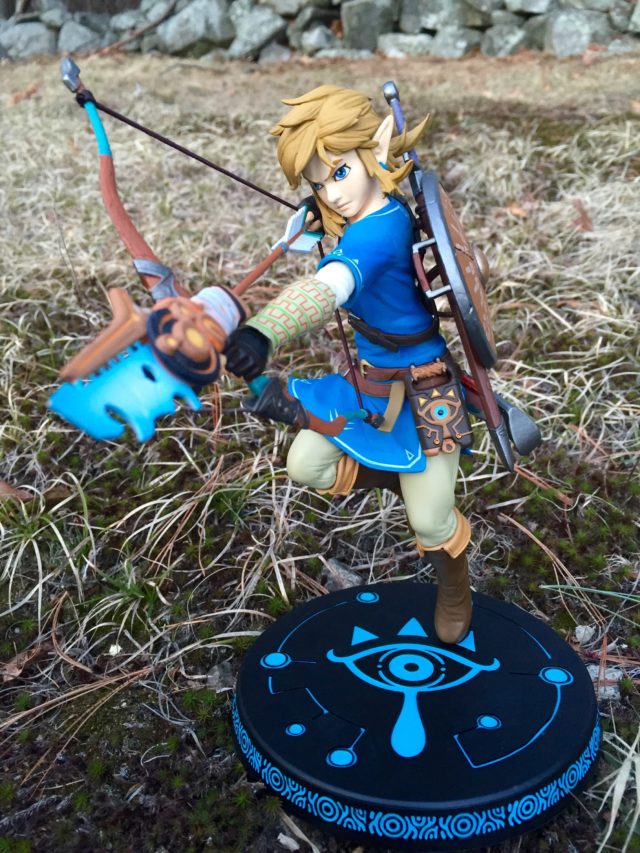 That said, unlike usual, Link's bow and arrow are really colorful and interestingly designed this time. I don't know just yet exactly why they're designed the way they are, but the sharp sculpting and paint color choices on the bow and arrow really make them pop far more than on the Nintendo Amiibo version of this statue.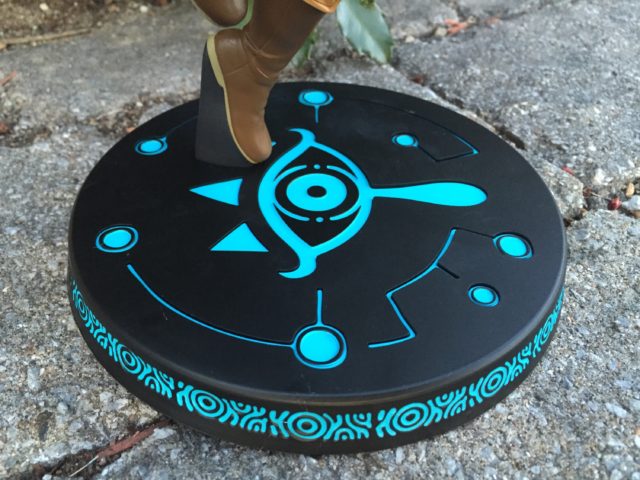 The base is simplistic, but also nicely detailed. It's a black disc that has the Sheikah Eye and various other designs (writing?) on the top and running around the outside edge. The bright blue contrasts the black plastic nicely, making a visually compelling base out of what could easily have been a very boring one.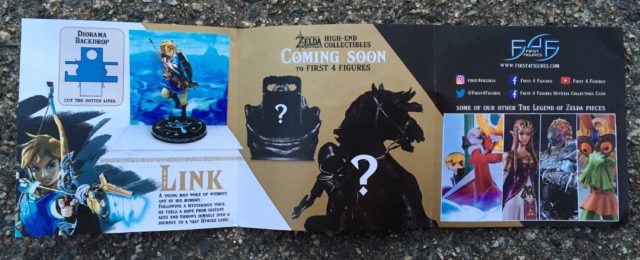 As a nice bonus, a little booklet comes with the figure that advertises other F4F Zelda products and their various social media pages.

There's also a code for 500 reward points on the back of the booklet–but you can't have it! It's mine! (No, really–you can't have it. I already used the code. Go ahead and try if you'd like, though.)
The Wrong:
Regular readers of my blogs know that it is extremely rare for me to have nothing to nitpick in a toy review, regardless of how good a figure or collectible may be. Few things in this life are perfect, particularly in the collectibles. That said, this F4F BOTW Link comes dangerously close to perfection, and the gripes that I do have come down to my own personal preferences.
As far as the actual design of this statue goes, I love Link's pose and the base–but I'm not altogether in love with how Link is connected to that base: a black plastic "riser" that provides physical support to the figure to keep it standing upright.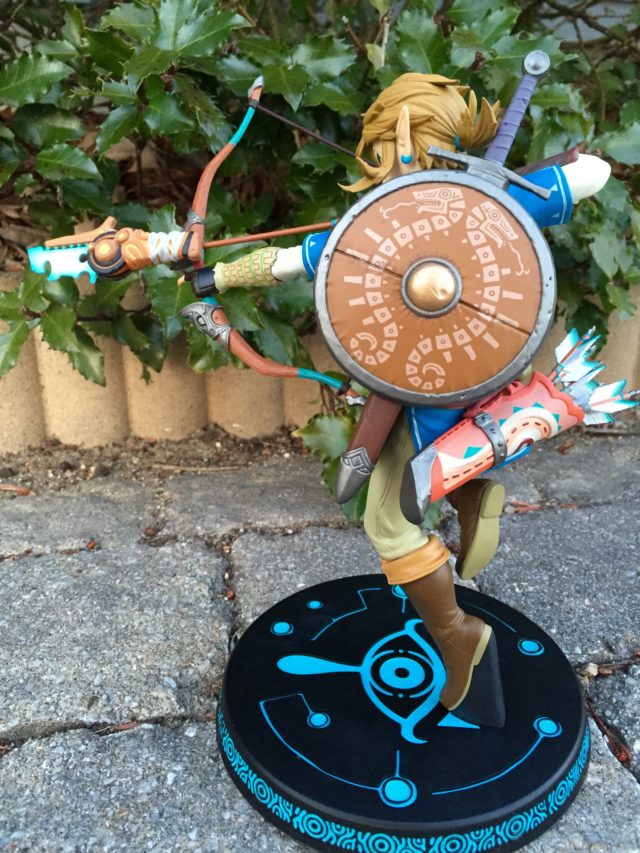 I fully understand the rationale behind having the solid plastic there to prevent the figure from warping and tilting over time, but having a colored piece of plastic rising up out of the base to support Link hurts the illusion of the statue for me just a little bit.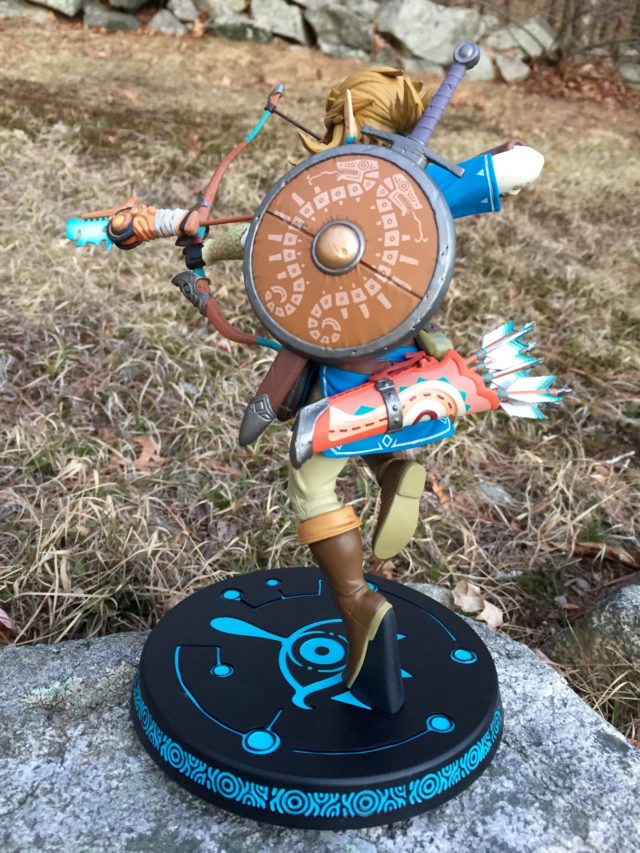 Clear plastic would breaks the illusion for me even more, so my preferred workaround would have been either some sort of thick connection to the bottom of Link's foot that plugs into the base fully, or else to modify the base with environmental debris or something to hide the support (if Nintendo would have allowed such a thing–which I gather they would not).
There's no denying that the black support looks better than the ugly cloud on the Amiibo version, though, that's for sure!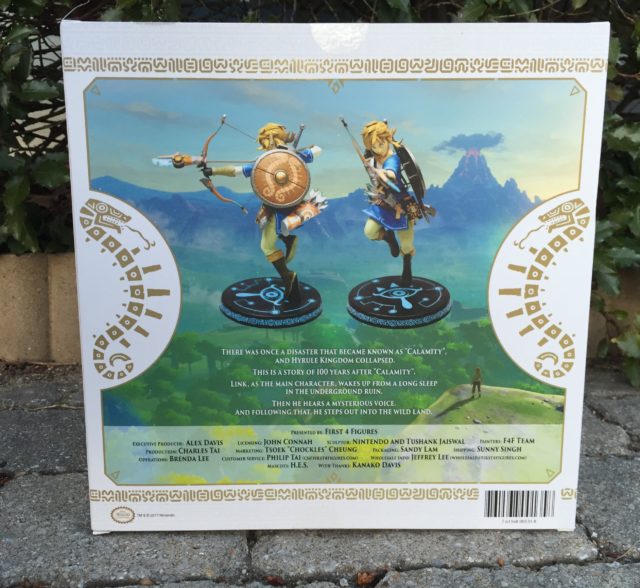 The one other aspect of this release that bugs me is the back of the box. It's really generic and uninteresting, and I wonder if having an actual fourth window side of the box (like Funko Dorbz figures have) so that you could actually see the back of the statue wouldn't be better than a printed box back that just shows a photo of the back of the statue.
This is the most minor of gripes, but the packaging for this F4F Breath of the Wild Link statue is otherwise so gorgeous that the back of the box being so average is genuinely a bit disappointing.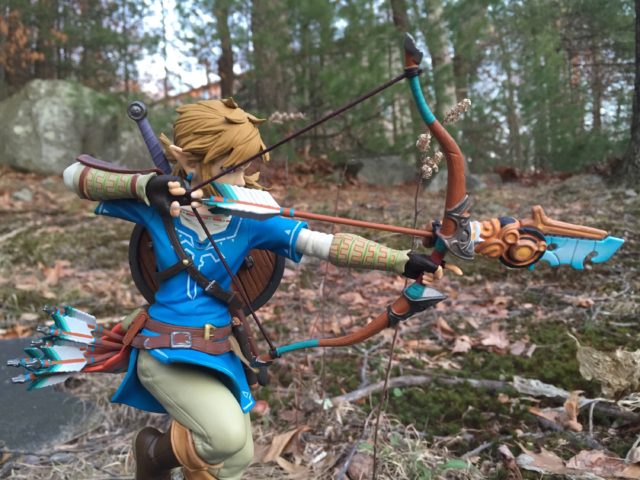 Overall: First4Figures is my favorite collectibles company on Earth right now and their first Nintendo PVC figure is a wonderful example of why. F4F doesn't stumble out of the gate at all with the switch to PVC for this figure from prior resin Zelda statues–this BOTW Link statue is an incredible achievement that looks positively amazing and is even more captivating in-hand than it was in photos and videos. This statue was well worth it's $89 price-tag, and I am anxiously awaiting an announcement as to what's next for this spectacular new line of F4F PVC statues.
GRADE: A