When First 4 Figures revealed their 1/4 Metal Gear Solid Snake statue yesterday–the first statue in their MGS line of high-end resin statues–it stirred up a lot of discussion and emotion from fans (to say the least). But there's no collectibles company on Earth that's more open to hearing feedback and making changes to improve a product than F4F, and just one day after revealing the prototype, First 4 Figures has announced proposed revisions are underway on their Metal Gear Solid statue of Snake that goes up for order next week!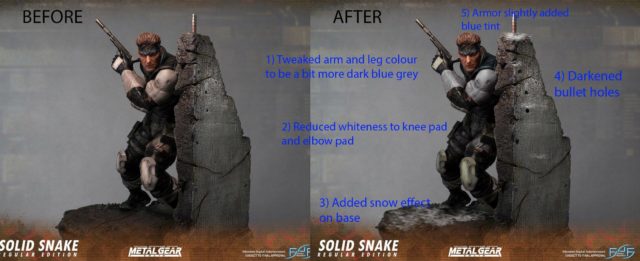 I was pretty busy doing coverage of the tsunami of Star Wars news and events that was Force Friday II yesterday, so I missed the weekly F4F Q&A (I'll still post a recap in a few days) and the subsequent reveal of the Snake Metal Gear Solid statue.
By the time I got around to checking in, social media was already going bananas with dozens (maybe hundreds) of collectors voicing their feedback and what they liked–and didn't like–about the Snake statue. First4Figures wasn't sitting around idly following their big reveal, though–they were hard at work actively looking at how to revise and improve the hotly-debated statue, and even creating mockups of what the changes might look like!

The four main changes that F4F is planning to make to the statue–all of which are subject to licensor approval–are as follows:
1) Instead of a Silencer, Snake will be wielding his trusty, iconic SOCOM from the first Metal Gear Solid video game.
2) Snake will have thinner arms that won't be super-muscular anymore.
3) Snake's head will be revised to be mullet-less, as he appeared in most of MGS 1.
4) The colors on the statue are being changed with a snow effect added to the base, darker bullet holes in the wall, a slightly blue tint added to Snake's armor, a darker grey-blue paint for Snake's arms and legs, and less whiteness on his knee and elbow pads.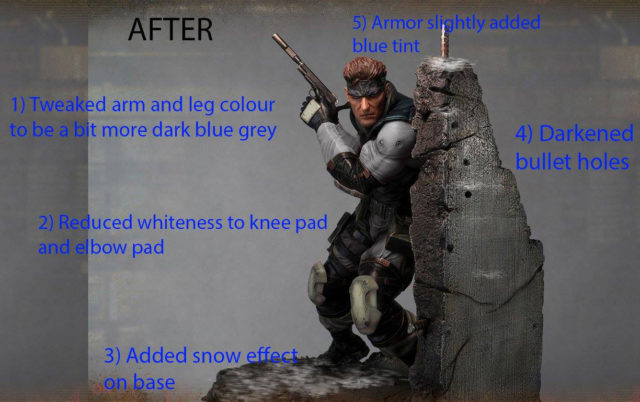 In order to accommodate all of these  proposed changes to the Metal Gear Solid 1/4 Snake statue, the planned two-week pre-order period opening on September 5th will be shortened to three days, with pre-orders re-opening for another eleven days down the line after approvals are (theoretically) made and the physical prototype can be fully revised.
It's undecided at this time whether the "Super Exclusive"-like translucent Snake Stealth Camouflage Version statue will only be available during the three days of pre-orders in September, or if it will also be available temporarily during the later round. Pre-orders will also be available only in person exclusively at New York Comic Con 2017's F4F booth, from October 5th-8th 2017.
Keep in mind, all of the possible revisions discussed here must be approved by Konami or they will not go into effect.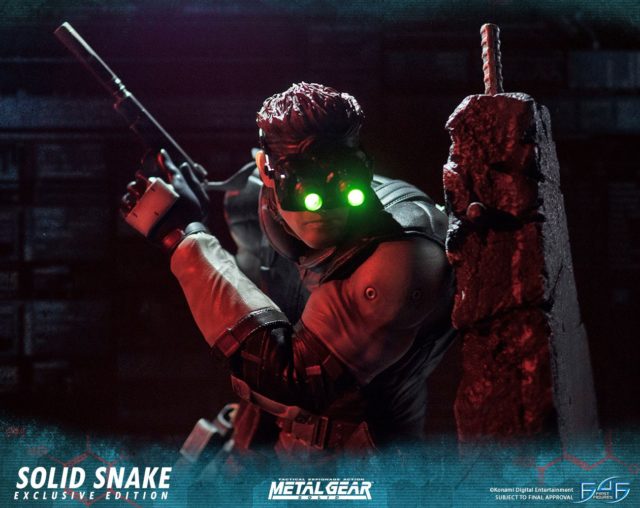 The Exclusive Day One Edition Snake Metal Gear Solid statue will go up for order on Tuesday, September 5th. I'll post an update when the second round of pre-orders are announced (hopefully) later in 2017.
What do you think about the proposed changes to this statue, MGS fans? Will making these revisions to the piece perfect it and earn your dollars, or are there still other issues that you have with First 4 Figures' first foray into the Metal Gear Solid world?