Last year, First4Figures began their anime line with the Saitama statue from One-Punch Man. The anime-themed series has gotten off to a bit of a slow start ever since, but F4F is ready to kick things into high gear in the remaining months of 2017! Cowboy Bebop, Berserk, Fullmetal Alchemist and more are on the way, but this week, hip-hop anime sensation Samurai Champloo takes center stage: the Exclusive and Day One versions of the First 4 Figures Mugen statue goes up for order this week!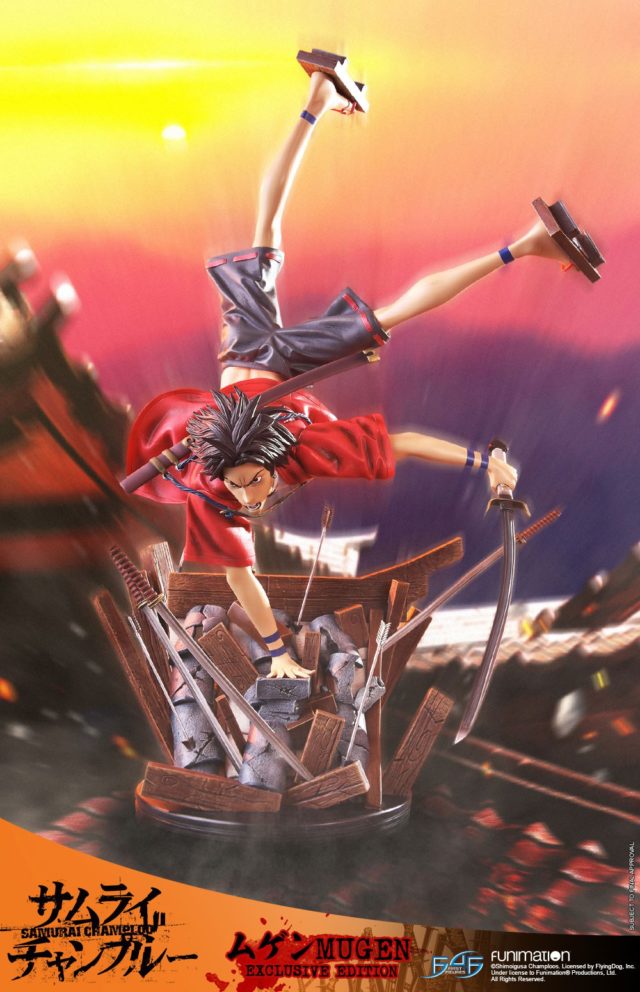 "How limited is the Exclusive Edition? Will I have to rush to order it on August 15th?"
First 4 Figures has a two-week order window to order the exclusive versions of their statues. The exclusive Mugen Samurai Champloo statue will be available for two weeks, beginning August 15th, 2017. After two weeks ends, any additional orders for the exclusive edition will go into a Wait List which will only be fulfilled when people with confirmed orders cancel their orders.
"What's different about the Exclusive edition?"
The Exclusive version available only directly from the F4F website will feature four additional die-cast swords that can be added to the Edo-period roof base, as well as an alternate interchangeable angry/yelling head for the Mugen statue that can be swapped out for the regular head (both heads are included).
"What's different about the Day One edition, and how long will it be available?"
The Day One Edition is available for only 24 hours, beginning when orders open on Tuesday, August 15th. The Mugen Day One Edition includes everything that the exclusive edition comes with, as well as an additional art card signed by First 4 Figures CEO Alex Davis, a holographic sticker inside the box and a bonus extra 450 Reward Points.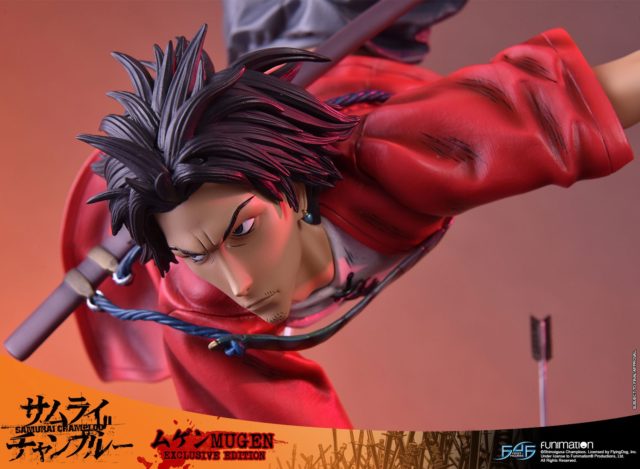 "When does the pre-order window open?"
Pre-orders will open on August 15th 2017 at the following time: 8:00am (California), 11:00am (New York), 4:00pm (London), 5:00pm (Germany), 11:00pm (Hong Kong). If you're not in one of these regions, you'll have to adjust to see when the statue launches locally for you.
"Are low numbers available for this statue?"
YES! Because this is the first statue released in the new Samurai Champloo series, all numbers from #3 and up are up for grabs! The earlier that you place your pre-order for Mugen, the lower your number will be. After you authenticate your statue once it's received, you'll get the same number for all the rest of the characters in the series such as Jin and Fuu as long as you continue to pre-order each one directly from F4F.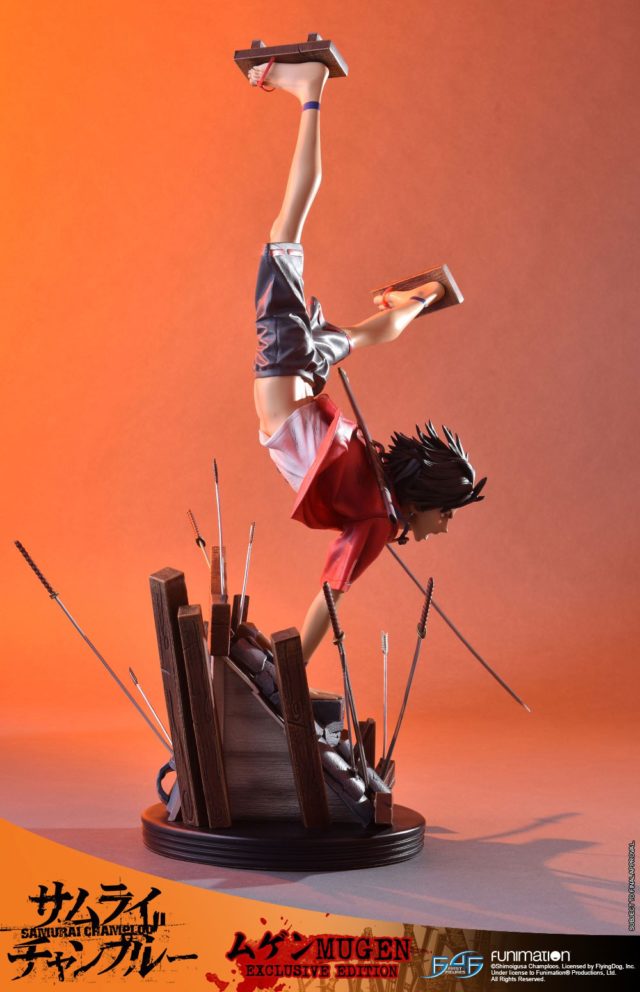 "How much does the First 4 Figures Mugen statue cost?"
Both the regular and exclusive versions of the Samurai Champloo Mugen F4F statue are priced at $449.99.
"What are the dimensions of this polystone resin Samurai Champloo statue?"
Mugen is 24″ tall, 16″ wide and 14″ deep. He weighs 4.59 kg (about 10.1 pounds).
"Why are the regular and exclusion editions the same price?"
The exclusive is priced the same as the regular to give collectors an incentive to buy directly from F4F instead of from another store that carries the regular editions of their statues. F4F makes very little on sales through other retailers, so they're spoiling us with extras as incentive for us to buy the Exclusive directly.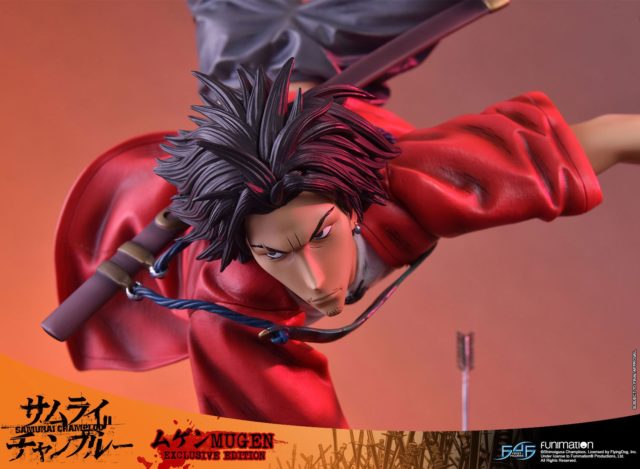 "Will I be charged outright for the entire statue when I order?"
Nope! You'll only be charged the non-refundable deposit (NRD), which is usually around 10% of the total price ($45 in this case). Then you'll either pay for the remainder of the balance (including shipping) at once when Mugen is ready to ship, or in several monthly payments if you choose a Flexipay option.
"What if I want to pay for the entire Mugen statue at once up-front?"
You can arrange making a full payment for the Mugen statue by contacting F4F CS using the Contact Form located on the website.
"Are Payment Plans available for Mugen, and if so, what do they cost?"
Yes–4-month, 7-month and 9-month Flexipay payment plans for Mugen are available. With the 4-month plan, you'll be charged four times for around $101, and with the 7-month plan, you'll be charged for around $58 seven times. For the 4-month and 7-month plans, the first payment will be charged exactly one month after the end of the two-week order window, and will occur every month thereafter until the statue is paid off.
The new 9-month plan debuts with this statue, and you'll be charged nine times for $45 each.With the 9-month Flexiplay plan, you'll be charged your first payment immediately after the two-week pre-order period closes so that F4F can got into production faster without the longer payment plan causing any delays.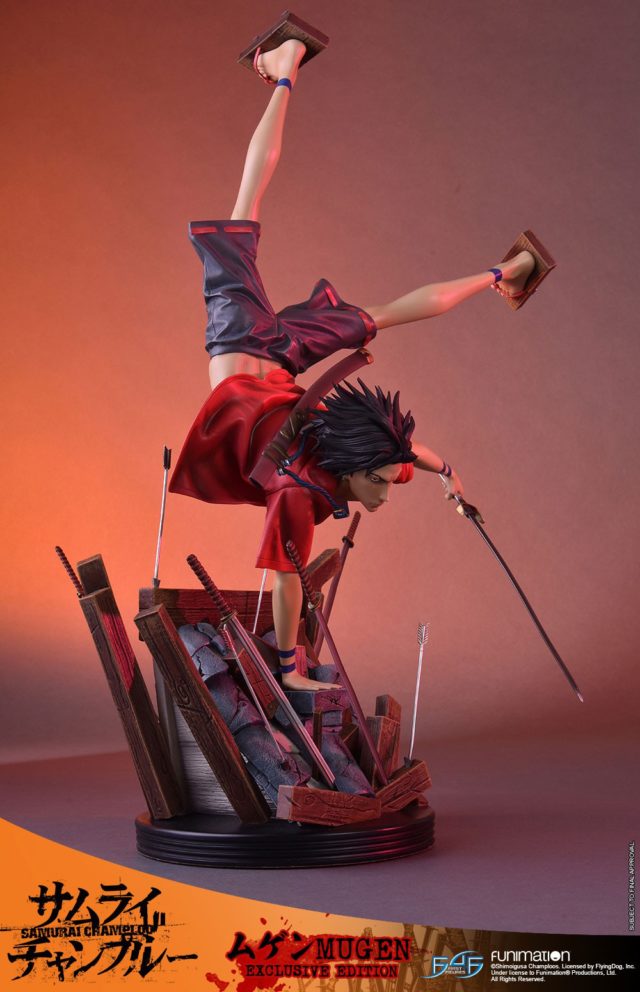 "Can I order Mugen using PayPal?"
Yes, PayPal is available as a payment method but requires more manual processing and more waiting for you. Because of this F4F request that IF you can pay the DEPOSIT by Credit Card or Visa/Mastercard Debit, you do so and secure your order normally through the website. You can then contact CS any time before Mugen ships to have your payment type changed to PayPal for further payments. Flexi-Pay is NOT available, PayPal payments (excluding deposit) can only be made in full.
PayPal payments for deposits are currently unavailable through the First4Figures website shopping cart. This is something that is being worked on, but in the meantime the process is as follows:
Select 'Request PayPal Payment'
Include "Mugen Exclusive" or "Mugen Regular" in the message field, depending on which version you want.
Include the KEYWORD in the message field
The KEYWORD will be revealed during the live stream in the F4F CC Facebook Group's PINNED POST once Mugen is live on the website.
Exact use of spelling, capital letters etc. is not vital, as long as your intention is clear and the keyword is included your order will be secured. Please avoid sending multiple emails unless absolutely necessary, as this slows down Customer Service post-launch.
Note that PayPal orders may take several days to be acknowledged via a reply email, but rest assured your place in line is secured by the date stamp of when your email was received by CS.
"If I order using PayPal, can I still get a low number for Mugen?"
Yep!! The time stamp of when you sent the E-Mail is what is used in determining what number you'll receive. The earlier you send in your E-Mail after orders officially open, the lower the number on the Mugen that you'll receive.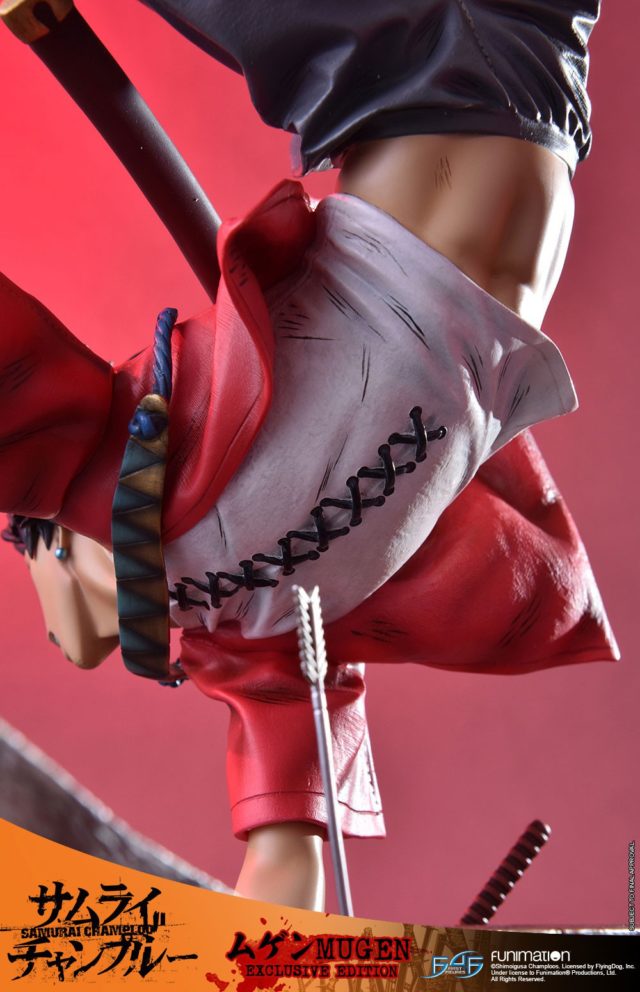 "Why is the First4Figures Samurai Champloo Mugen statue so much more expensive than the PVC statues from other companies?"
Most anime figures and statues released by other companies are PVC statues with an open edition size, whereas this version of Mugen is much larger and more detailed and is a highly-limited limited polystone resin statue.
"What makes resin statues so much more expensive than PVC statues?"
The expense with non-PVC statues comes from the fact that resin statues are fairly small limited edition pieces (whereas PVC figures are produced in tens of thousands), require extremely expensive production (factory workers' wages in particular have exploded in the past few years), and are far larger, much heavier and vastly more detailed than PVC figures.
If you're looking to get into collecting high-end resin statues, F4F is one of the cheapest companies around cost-wise and one of the best companies around quality-wise, so you've picked a great place to start.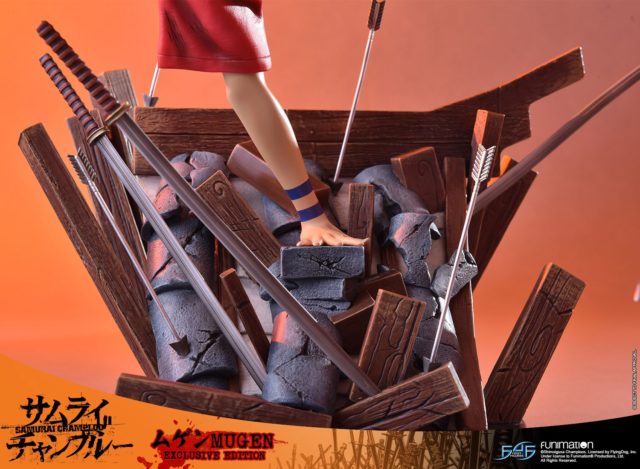 "What are the shipping rates for this statue and when is shipping charged?"
Shipping is charged along with your final payment for a statue. First4 Figures has now released the full chart of international shipping rates, which you can see below: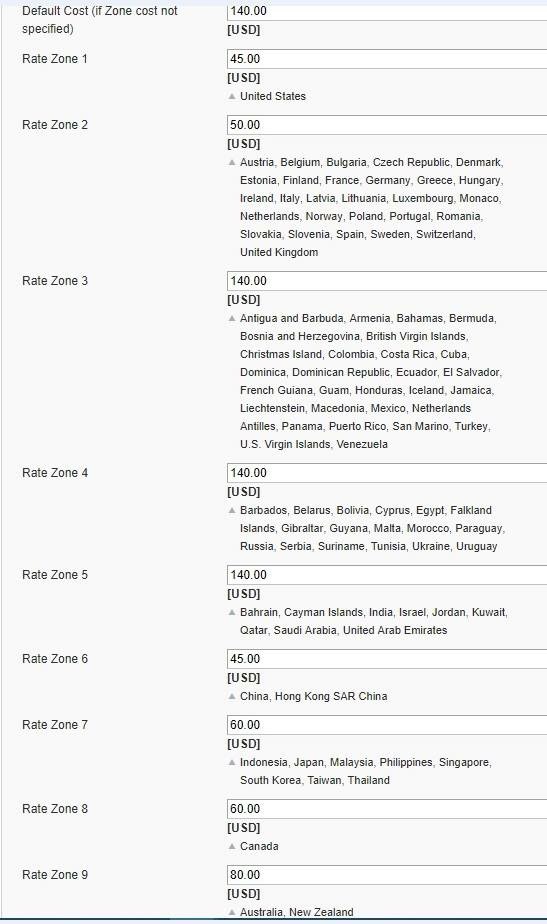 "Is First4Figures working on any additional statues of characters from Samurai Champloo?"
Yes!! First 4 Figures has confirmed that both Jin and Fuu are currently in development. The 3-D model of Jin is already complete, and F4F is ready to move forward with him as long as Mugen sells well. Jin is planned to go up for order about six months after Mugen if all goes well.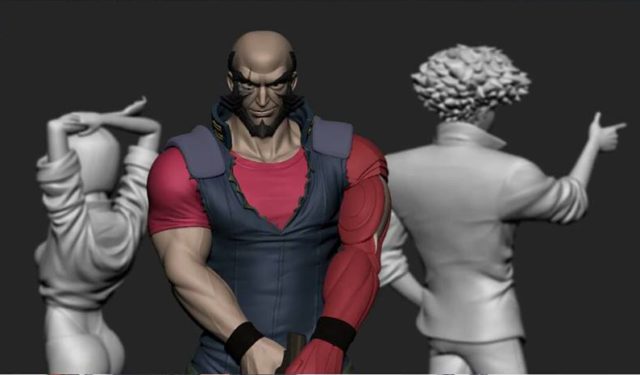 "What other anime series will First 4 Figures be producing statues from?"
First4Figures has announced that they will also be producing statues from One Punch Man, Gurren Lagann, Fullmetal Alchemist, Cowboy Bebop and Berserk. Mugen is the second anime statue ever produced by F4F, with Saitama from One Punch Man (shipping soon) being the first.
"What's this about Cowboy Bebop? What Cowboy Bebop statues are planned?"
All four members of the main Cowboy Bebop crew (plus Ein the Corgi) are planned for release. The F4F Jet statue is scheduled to go up for pre-order in Q4 2017, with Spike and Faye already deep in development to follow. Ed & Ein will come together to complete the crew.
"When will the Samurai Champloo Mugen F4F statue be released and ship out?"
The statue is currently estimated to ship out in Q2 2018 (April to June 2018).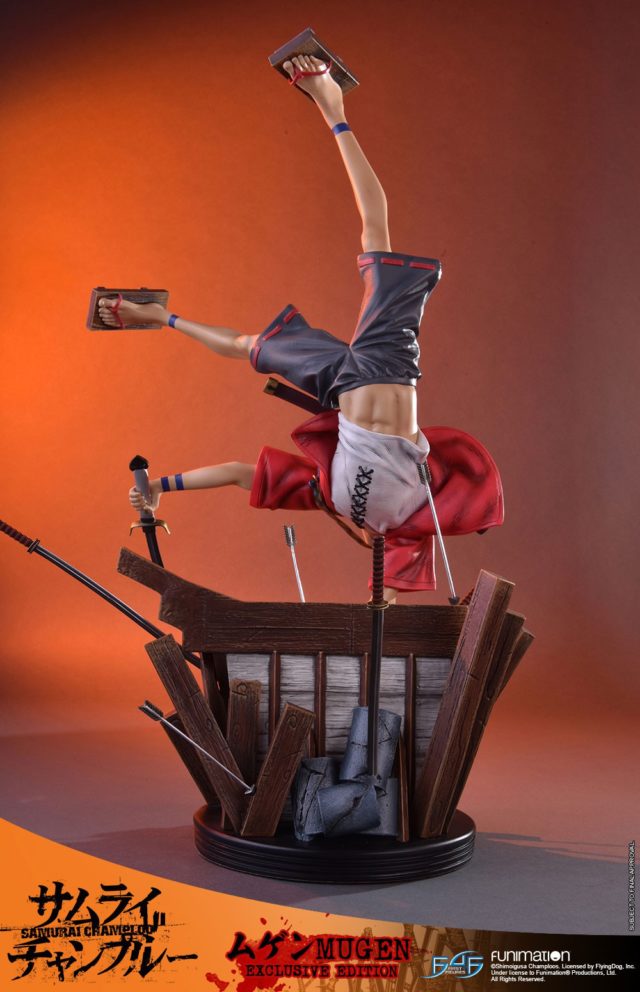 "So where can I order the Exclusive version from again?"
The Exclusive and Day One editions of the Mugen Samurai Champloo statue will be available only via the official First4Figures website from Tuesday, August 15th 2017 to Tuesday, August 29th 2017.
If anyone has any further questions regarding the launch for this sculpture that I didn't answer here, please feel free to leave a comment and I'll do my best to answer your question myself or get you the information that you're looking for. And if you're interested in seeing our future articles, updates and Q&A recaps on First 4 Figures statues, please be sure to follow the Gamer Toy News Facebook Page and Twitter Feed!