The longest-running weekly Q&A live chat with a statue company ever continued this week with the 8/11/17 First 4 Figures Q&A #32! I've been pretty busy the past month reporting on my other blogs about various collectibles shown at San Diego Comic Con 2017, but I finally got some free time this week to tune in and hear Alex Davis and Tsoek Cheung discuss the upcoming blind pre-order for their Bowser statue, tease big news at New York Comic Con 2017, fully reveal the Samurai Champloo Mugen statue going up for order next week and more!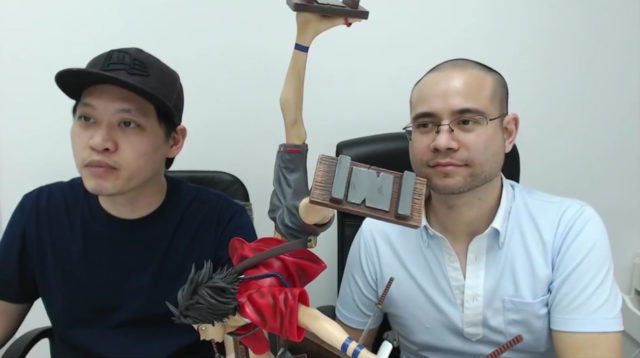 On Samurai Champloo Mugen:
Mugen's base is Edo-period architectural roof; nice weight to it; F4F's most dynamic base to date
First4Figures Mugen is their most dynamic statue ever made–doing break-dancing fighting moves on top of a roof
Very rare to do statue looking downward–will look awesome on top of a detolf or other tall shelf
Comes with five die-cast arrow to attach to the roof base
The Exclusive Mugen also comes with four die-cast swords for the base and an extra interchangeable angry head
If Mugen does well, Samurai Champloo Jin and Fuu should follow six months apart each, completing the team in about 1.5 years
Jin is completed in 3-D form right now and F4F is almost ready to hit the button and go forward on him soon if Mugen does well
Samurai Champloo Mugen statue release estimate is Q2 2018
You can hit up CS using the Contact Form (here) if you want to pay in full for Mugen in advance
Both the regular and exclusive versions of Mugen will be priced at $449.99
The non-refundable deposit on Mugen will be $45 (10% of the total cost)
4-Month and 7-Month payment plans are available. 4-Month plans will have four $101 payments; 7-month plans will have seven $58 payments. Shipping will be added to the final payment.

On the Bowser Blind Pre-Order:
The First4Figures Bowser blind pre-order will be open for a two-week window–numbers for the statue will not be determined during the blind PO
During the blind pre-order period, Bowser will not be revealed in full. Likely to be a darkened silhouette with a "?" on it, along with the price and dimensions
Blind PO is being done to allow 12-month payment plan because fans asked for it–no penalty for cancellations when Bowser is fully revealed
For numbering purposes, Bowser is part of the Mario series that began with Tanooki Mario
F4F doesn't necessarily want to do a blind pre-order like this, as it requires a lot of extra effort and coordination, but they're doing it for us collectors
The blind pre-order will only be open for two weeks because F4F needs to start taking money for the 12-month payment plan–leaving the PO window open longer would delay things and defeat the purpose
How legacy numbering will work hasn't been figured out yet–may or may not be a "fight to the death" between Cat Mario and Lucky Cat Mario owners
Choosing the special feature(s) for the Bowser Exclusive Version was easy
Blind pre-orders will not automatically be Day One editions–collectors will have to log back in on actual PO Tuesday to confirm their order for the Day One Edition
On Anime Lines:
First4Figures plans to space anime character releases out so as not to have too many payments overlapping and crushing anime fans
On Zelda:
Heard back from Nintendo about Majora's Mask this week–will make changes and resubmit for approval next week
The King of Red Lions is now shipping, and is the first F4F statue with a removable, rechargeable battery
Nintendo New York will carry the KORL statue, which should be arriving soon, as their order ships along with everyone else's
Payment plan for Majora's Mask still paused until further notice
On Dark Souls:
Ornstein's pre-order is likely to open up before Bowser's
There are quite a few super-secret Dark Souls statues in development that haven't been announced yet
Dark Souls drought right now, but when it rains Dark Souls sneak peeks it will pour
Payment plans for Solaire still paused until further notice
On New York Comic Con 2017:
The next First 4 Figures PVC figure will debut at New York Comic Con 2017 in October
Lots of new statues will be shown at NYCC 2017 that have never been mentioned before!
Fans "may be surprised who's up for order after Mugen"–not 100% sure because of New York Comic Con considerations
New York Comic Con F4F booth in development now–virtual booth may be posted
Life-size Aku Aku Mask should be ready to show at NYCC 2017
On Berserk:
Guts will have some ABS/PVC parts–nothing detrimental to the product–which will be disclosed before orders open
Skull Knight statue is deep in development–Berserker Armor is being started now
Berserker Armor sneak peek likely in March 2018
On Various Nintendo Lines:
Lucky Cat Mario buyers will receive a bonus 1000 Rewards points in their F4F accounts approximately 30 days after receiving their statue as a thanks for being so patient
Bowser will be fully shown when his (non-blind) pre-order is ready to open; Mario & Yoshi will be shown after Bowser has had his spotlight
Warp Star Kirby submitted to licensor for feedback today
Alex feels bad about revealing Meta-Ridley so early. No more Metroid sneak peeks until products are closer
On Spyro The Dragon:
Cynder is deep in development and almost ready for posing now
The Spyro Exclusive Edition size is 1300! Fantastic amount of support to start the line
Ripto and Hunter are interest polls–not official TT polls
More Spyro sneak peeks throughout the rest of the year
On TTs (Temptation Thursdays):
Next week's TT #64 will be Kasumi from DOA Volleyball.
Use #F4FDOA in comments for a chance to win 500 Rewards Points next week.
TT #65 on 8/24 will be for Aika from Skies of Arcadia. The 3-D sculpt for Aika will be shown. This TT is important–fight for Aika if you want her and more Sega All-Stars!
There are still some Skies of Arcadia Vyse statues left. Pick one up before they're gone!
TT #62 for Medieval and TT #63 for Breath of Fire III are both close right now, with a little over 200 "Yes" votes for each.
TTs possible for Persona 5 and Fire Emblem–rally your fellow fans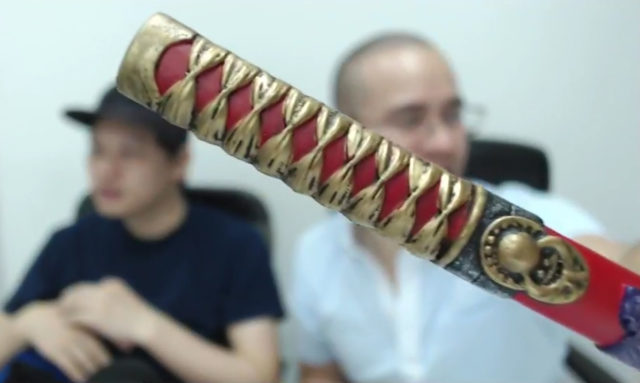 On Other Topics:
No plans for more Sonic miniature figures at this time–let's see how Sonic Mania and Sonic Forces fare
Amy Classic TT desperately needs more love and votes–please vote if you want Amy
Super Shadow and Super Silver could be a future TT–definitely not no-brainers
Metal Gear license begins with Metal Gear Solid statues and will go forward from there
You can contact CS to have Fedex waive the signature for shipments, but then F4F is not responsible if your package is lost/stolen
No news about Samurai Jack at this time–keep voting in his TT
Taki's "butt is looking tight"–factory counter sample is in
Short sword sheath for one of Taki's daggers shown
Amaterasu PVC needs at least 1,000 votes for consideration without having retail support or a new game announced