It's hard to believe, but time has flown by, and the final First 4 Figures Q&A of 2017 has arrived at last! But this episode isn't significant just because it's the last one of the year! The long, long delayed F4F Varia Suit Samus statue will go up for order one final time for Last Chance Weekend during this episode, in addition to the usual truckload of collector questions being answered!
But that's not all! Can you say "Christmas Sneak Peeks"?! It's a late Christmas present from F4F as some never-before-seen sneak peeks will be revealed to us during the livestream! And for those who can't watch the video, I'll be recapping it all here LIVE with text and screenshots on Gamer Toy News as it happens! Stay tuned for F4F Q&A #51!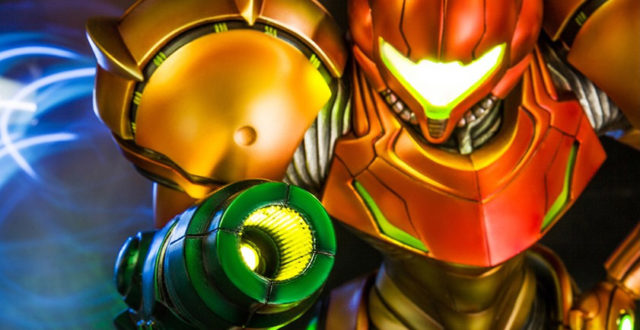 [NOTE: I'll be updating the LIVE Recap of F4F Q&A #51 as fast as my chubby fingers can move as soon as the livestream starts this morning. Keep in mind that you'll have to refresh this page in order to see the updates, though!]
On The Week in Review:
Alex has spent his entire week working with Google AdWords, so he hasn't been very active in the Facebook club this week.
Alex says that the Metal Sonic 2.0 and Modern Amy Rose polls (not TTs) didn't get much traction; Alex was hoping for more votes for both of these
Some concern that the 25th Anniversary Sonic the Hedgehog statue will be the only Sonic statue a lot of collectors buy and that less iconic characters like Amy Rose and Metal Sonic won't hit anywhere near the numbers 25th did
Is the Metal Sonic poll under-performing because the concept isn't strong, or because collector interest isn't there for him?
On Temptation Thursday Polls (TTs):
Valkyria Chronicles: Not many voters this week. Too many people on holiday? Only 86 'Yes' Votes so far. "C'mon, Sega fans!"

.hack//SIGN: Doesn't seem to have much movement. Chocks has read the comments and knows what's up–hopefully there will be a TT poll for .hack// games down the road.
Puyo Puyo TT next week; Alex doesn't think this will get much traction
Digimon TT in two weeks!! Is Digimon still relevant?
This week's hashtag is #F4FXMas! Use it for a chance to win 500 F4F Rewards Points in the new year!
Christmas Sneak Peeks:
The first 2017 Christmas Sneak Peek is Psycho Mantis!! You can even see the staples sticking out of his head!
Psycho Mantis should be up for pre-order three months after Snake reopens for orders, so likely sometime in Q2 2018. Solid Snake will reopen for orders in Early Q1 2018.
No Zelda sneak peeks for Christmas, and no new license announcements.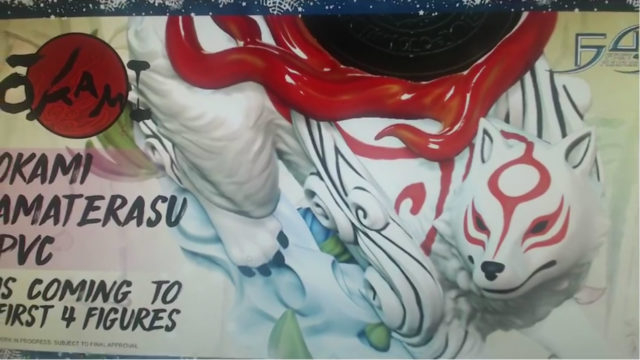 Second Christmas Sneak Peek is the Okami Amaterasu PVC statue! The fans rallied, and F4F has listened! Alex is curious to see how this sells, since it's not likely to get retail support!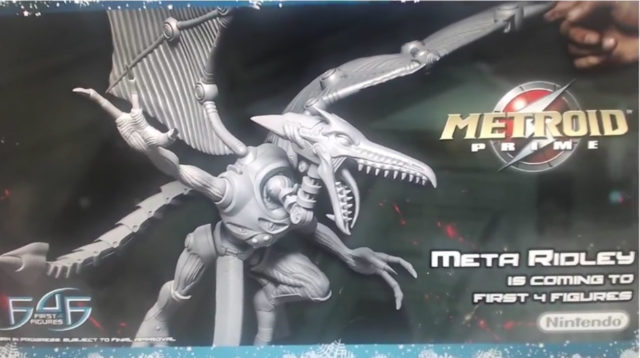 3rd Christmas 2017 Sneak Peek: It's Meta Ridley! IT'S HUGE!!! Look at the scale compared to the human hand in the photo!! Ridley is in-scale to the original Varia Suit Samus 1:6 statue F4F made back in the day (over a decade ago).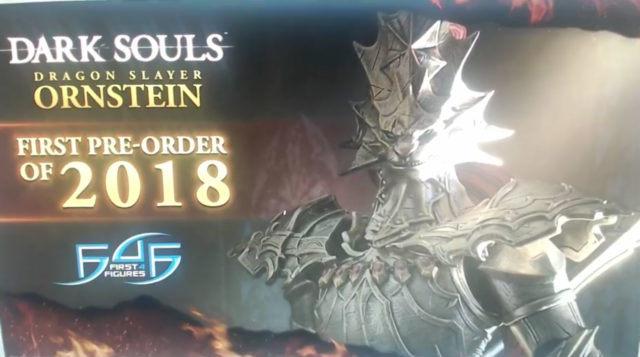 But wait… there's more?! One last bit of news before heading out for the new year: the first First 4 Figures pre-order of 2018 will be the Dragon Slayer Ornstein statue! It's your time, Dark Souls fans!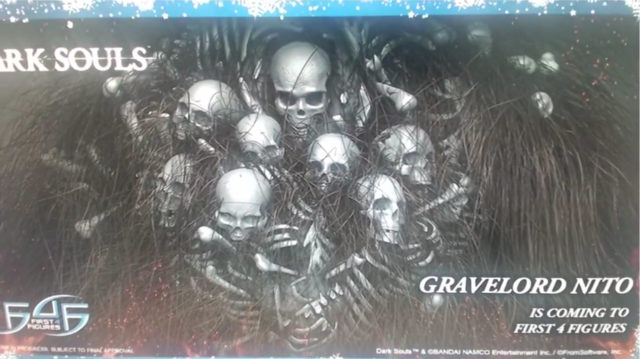 But wait, there's… EVEN MORE!! The F4F Grave Lord Nito statue teaser has been revealed as the final Sneak Peek of 2017!
On Metroid and Varia Suit Samus:
The F4F Varia Suit Samus Last Chance Weekend begins during the Q&A! This is the last chance to order the Exclusive Samus–don't miss it!
Change to the revised Varia Suit Samus statue Alex forgot to mention last week: corkscrewing lines inside of the arm cannon swirl now! This is called "rifling".
The LED on the inside of Samus' cannon is white and reflects orange coming out of the cannon–it only looks green in the video from last week, but it actually is correct.
The boosters were lit up green in the video from last week, and in production the LEDs will be authentically orange.
Varia Suit Samus will have referral links now, even though it didn't back on the old website.
Alex is really happy with the positive response to the revised Varia Suit Samus statue.
Zero idea what the dimensions for the Varia Suit Samus box are right now, even though the packaging is in development right now.
Alex doesn't know how many Wait Listed Varia Suit Samus statues have been converted, but everyone who had it on Wait List will have their order converted during Last Chance Weekend.
Estimated shipping date for Varia Suit Samus 1/4 is still Q3 2018.
It's too early to talk to Nintendo about Metroid Prime 4; have to wait
Alex can't remember why 1:1 Scale Metroid went into the Vault 7-8 years ago; if sales are great, Alex will absolutely look at bringing the Metroid out of the Vault
Varia Suit Samus and Meta Ridley will give F4F the most engineering nightmares in 2018
Morph Ball didn't get much traction from Nintendo when approached about it many years ago; may try again
We will absolutely see Meta-Ridley in 2018
Varia Suit Samus Last Chance Weekend will go live after the stream–ignore the countdown timer on the website for now
On Anime:
Is there any update on My Hero Academia? "Things move in F4F time."
No news on My Hero Academia–not something F4F has been looking into. "Let's see how things progress in the new year."
Alex is worried about the marketplace becoming crowded by the time First4Figures would get a My Hero Academia license and develop it; it takes 6 months to a year to get a license and go to first pre-order; Alex is concerned about tons of people getting the license in that time
A pose has been decided on for Berserker Armor–"and it is tight."
Jet and Spike will be shown in early 2018 at C3 if approval is granted
We can see Alphonse in early 2018; licensor is keeping the FMA line more hush-hush
On Various Topics:
F4F Admin received their official Hoodies this week for Christmas! [Mine is really purple! #F4FIsPurple!]
Shovel Knight Exclusive orders close today, but will reopen for 3 days for Last Chance Weekend on January 12th.
Chockles is staying in for New Year's Eve. No big plans!
NYCC 2017 wasn't successful, so First4Figures won't be attending any more conventions until likely GamesCom 2018.
Alex's biggest surprise of 2017 was Bowser; it's very hard to surprise Chocks.
Biggest obstacle of 2017 for F4F has been efficiency with a fast-growing team. Production efficiency may have to be improved in 2018.
Classic Crash resin is looking "super sweet; super tight". Next statues after classic Crash are in early development now.
Conker pre-order will likely be 2-3 months after the Banjo-Kazooie statue pre-order
Alex and Chock went for a nice Christmas meal–turkey!
Want Shining Force statues? "RTF: Rally the Fans!"
First batch of Majora's Mask statues may ship out before Chinese New Year, or the whole allotment may be delayed and ship afterwards
True Form Midna or Sheikah Slate "should be" up for order in Q1 2018–True Form Midna is "tough"
Alex is interested to see how Shiranui sells–not convinced that the market can support an expensive line like the Brush Gods
Spyro production expected to complete in mid-to-late Q1 2018; no shipments in March 2018; may not arrive until April/May if Spyro doesn't make it out before Chinese New Year
Bowser blew all of F4F's expectations away, but Shovel Knight was a nice surprise as well
No First4Figures Gift Cards for Rewards Points–the gift cards would be for cash equivalent instead
What's the next big step for the next evolution for F4F? Check out Alex's blog post coming up on the F4F website in a few days!
Alex and Chock will still be live-streaming during Chinese New Year next year
Alex isn't convinced that there should be another sculpt for a Phoenix Wright combo pack
No–there would never be combo packs for completely different licenses being paired together (ie Aika and Reala); doesn't make sense–you would need an Aika Combo Pack with multiple versions of Aika, not a two-pack of Aika and another character. Having a combo pack of two different characters make it worse for F4F, as then they're getting even less money from the characters due to being in combo packs.
F4F will always do whatever they can to accommodate their licenses; Alex and Chock are but humble servants
Sonic 25th is in deep production now and should wrap up before Chinese New Year
Sarah Arrington: "Please don't delete your posts!" –Chocks
Alex is going on a diet as his New Year's Resolution! Gonna get super-skinny!
Chocks' resolution is 100K members in 2018 and Streets of Rage TT
Chibiterasu is looking good
If Zero does well, maybe one more Mega Man pre-order in 2018
One more Castlevania statue in 2018 after Alucard (Dracula)
Donkey Kong statue would definitely be part of the Super Mario line and not its own line
Calamity Ganon? "RTF"
At least 15+ pre-orders in 2018
Still waiting to hear back from Yacht Club about possibility of a Player 2 Shovel Knight (Green) variant being added
Green Shovel Knight wasn't originally available on all platforms, while Ornate Armor was, which is why Player 2 Shovel Knight was Vaulted
Alex and Chocks got each other "Bromance" for Christmas
Not 100% sure if future Soul Calibur statues will switch to Soul Calibur VI designs or continue with Soul Calibur II
Ornstein Pre-Order information soon
Mecha-Sonic? "RTF"
No one so far has outright purchased a statue fully using their F4F Reward Points
PVCs are good to bring to sell at conventions and shows, as they can broaden the fan base and earn some revenue to allow First4Figures to attend cons
And if you like these recaps, please be sure to follow the Gamer Toy News Facebook Page so that you can receive notifications whenever new F4F Q&A Recaps, news, articles and photos are posted!