Just another ordinary First 4 Figures Q&A livestream…? Nope! Today's another big news day for F4F, as the logo for the SD line has been revealed, the Cowboy Bebop Jet Black and Spike Spiegel statues were fully revealed, the next figure going up for pre-orders is revealed, the Solid Snake pre-orders closed, and Last Chance Weekend orders for the Exclusive Ornstein have begun! And oh yeah–get ready, because once again, Fun Daddy Alex and Lieutenant Chockles will be answering dozens and dozens (and dozens!) of collectors' uncensored questions…

[The F4F Q&A #57 Recap is now LIVE! Please remember to refresh your screen to see the latest, as I'll be live-updating during the stream]
On The Week in Review:
This year is the 20th Anniversary of Cowboy Bebop (April 3rd)–Perfect timing for the first-ever Cowboy Bebop statues!
The next pre-order is confirmed for next week: Dark Souls SD Artorias PVC figure!
Would have liked to have the PO for Artorias SD done much closer to the release of Dark Souls Remastered, but Artorias is in production now and F4F doesn't want to underestimate the number that need to be produced (as with Fighter Kirby and Nightmare)
If you liked what you saw with the Crash Bandicoot Exclusive Packaging, you will like what you see with the Artorias SD Packaging!
Trying to reach the people who wanted the Artorias resin statue, but it was out of their price range. The original F4F Artorias statue went up for order way back in summer 2016, so there are also many collectors who weren't collecting or didn't know about the statue back then and would like an Artorias now.
The F4F SD Logo was debuted in the Facebook group today. The numbering on the logo is confusing some people, but Alex explains it for us: the "SD" stands for "Super Deformed" (of course). The "DS" in the logo represents the brand the specific PVC belongs to ("Dark Souls" in this case). The "01" after the "SD" refers to the 1st F4F SD figure released, while the "01" above the "DS" refers to the 1st figure in the Dark Souls SD line.
So, for those who who are still scratching their heads, pretend that Solaire is the 8th SD PVC statue that First4Figures produces, but only the 2nd Dark Souls figure. The numbering on the logo will say "F4F SD 08: DS 02". Make sense?
Price for Artorias? "Let's just say that it's more complicated paint-wise by a lot than BOTW Link PVC."
First 4 Figures wanted the SD concept to be accessible to Dark Souls fans who can't afford the resin statues, but didn't want to just make smaller versions of their statues (similar to what Banpresto has already done)
Alex would love to do a Berserk Guts SD–but let's see how the resin line does first
Solid Snake pre-orders have been going very well–pre-orders will be closing after the livestream, but will reopen for Last Chance Weekend in two weeks (February 23rd-26th)
Last Chance Weekend opens today for the F4F Exclusive Ornstein! "If you're on the fence–this is it!"
If there was ever a Fierce Deity Link 2.0 statue, Alex would probably go with his own concept as far as the pose goes, rather than referring to any official artwork–might like something more dynamic
Majora's Mask and Silver the Hedgehog passed the transit test and are beginning to be shipped out now
F4F made sure that the paper is taped down on Majora's Mask's packaging to make sure that the eyes don't get scratched–extra paper also around tree trunk base to make sure that the paint doesn't get rubbed off
Alex wanted the factory to reduce the shine on the Jin statue (looked too sweaty) and revise the lips on the face
As far as Chock knows, the Sonic Boom8 figures are on the boat now–Chock will show the packaging for the figures soon
Alex is absolutely thrilled with how Alucard is looking–absolutely stunning; has been refined since NYCC
"Do you give a shit about the art prints?" Alex wants to know! Do collectors actually appreciate them, or do you throw them back into the box (or the trash)? Should F4F keep including them? First4Figures puts a lot of effort into these art prints.
Didn't want to rush and put up Green Shovel Knight variant during Last Chance Weekend; will release it for pre-order later, but don't want collectors to feel obligated to buy it to keep their number for future releases like Plague Knight; will be a standalone piece that doesn't affect the numbering system
Would collectors want to see a standalone Shadow Kirby variant of Fighter Kirby, or would they be upset about a new variant that they didn't know about being announced after the original is already released?
What do members think of the weekly member stats? Should they continue, or are they a point of contention among members of the F4F OCC Facebook group? Let Alex and Chock know what you think!
An hour-and-a-half Week in Review this week: Alex and Chock went deep!
On Shovel Knight:
Shovel Knight Exclusive LE Number: 250 pieces
Ornate Armor Shovel Knight Exclusive LE Number: 200 pieces
The edition of the Ornate version has absolutely saved Shovel Knight from being a castastrophe. If there hadn't been an Ornate edition, this would have been very close to Vault material. Without the Ornate version and combo packs, Alex would have said the series was done and there wouldn't be any more releases in the Shovel Knight series.
The variant made a huge difference; future repaints such as Green P2 and a possible red Shovel Knight would really help; F4F likes to see at least 550-600 pieces sold in a line
Alex wants to be chomping at the bit to make Spector Knight and Plague Knight, but that will be dependent upon orders for Shovel Knight that don't get cancelled, as well as sales of future variant colors of Shovel Knight like Green and Red
The opportunity cost has to be considered when choosing what statues to produce, since F4F can only release so many statues in a year
On Guts/Berserk:
Alex didn't want to launch Guts too close to Ornstein, since there's a lot of crossover between the fan bases and they're both very expensive statues
A lot of back-and-forth about doing a Black-and-White Guts statue; production-wise, this type of statue is a nightmare; F4F has made samples in this style in the past
First4Figures would never make the Black and White Guts statue version at the same time as the launch of the upcoming Berserk Guts statue–it would go up for order in the future, as it would be too expensive to offer both versions at the same time
Not sure if a manga-styled Guts statue could be released at all, but if it was, it would be later
Any variant Guts Black and White statue would be a standalone piece that doesn't affect the numbering system for the Berserk line–you wouldn't need to buy "Manga" Guts to keep your number for Skull Knight and other future characters
On Conventions:
Likely will have a 42 square meter booth at GamesCom
F4F is planning to do two shows in 2018 (Ani-Com and Gamescom), using merchandise sales to claw back some of the costs of displaying at the show
If the performance at GamesCom can demonstrate that con showings work, F4F will go on the road and do more shows
F4F will never make the same mistake of showing tons of stuff that won't be available for order for months and months again–will primarily display stuff that has only been shown in photos before and has been up for pre-order by the show
The point of attending shows is to try to get access to people who have never heard of First4Figures before, so big reveals wouldn't be integral to the shows
On TT Polls (Temptation Thursdays):
Ori and the Blind Forest TT: 217 'Yes'; 214 'No'; Neck-and-neck; keep it up
Beyond Good and Evil TT: Only 76 'Yes' votes right now; doing badly
Ace Combat TT Next Week
This week's hashtag: #F4FNeooow for a chance to win 500 Reward Points
The Q&A!:
Yes there is a pose already for the Berserk armor and it looks super tight
Alex has been to Australia many years ago
Yes, we can have a Praise the Sun Solaire SD PVC
One pre-order for Soul Calibur this year because there's still a lot of backlog from statues shown at NYCC 2017
Alex will E-Mail the My Hero Academia licensor next week
The number on the bases is the rounded up number of orders placed, although F4F typically does not produce the full edition size on the base because of estimated cancellations
F4F doesn't want to raise prices on statues they think will sell badly–wants to price low to sell more
Thinking of a new Fierce Deity Link statue because of fans rallying–Alex wasn't thinking of it before
Gravelord Nito is still at the 3-D stage–concerned about making the statue bigger and deeper; cloak has to be made of cloth
Spyro will not have a Last Chance Weekend
No future plans for Katamari Damacy
Jet's facial expression is meant to be a neutral smirk and not a smile
"F4F001" would have been Alex's choice for a license plate if he couldn't have gotten "F4F", but Chockles ruined it saying it looked like "F4Fool"; maybe "F4F1" instead
Alex and Chock are both okay with pineappple on pizza
What colors of Yoshi would collectors like to see? RTF (there are definitely plans though).
Absolutely no transfer of reward points unless you can "super super super super" prove that you're related to someone–like a birth certificate
No Venom Snake statue any time soon–concentrating on MGS
If F4F was going to send a statue into space, it would be one of the Metroid gunships (of course)
Alex has become hella more aggressive since getting into the statue business at age 23
Alex loves the process of fine-tuning to build a better business
Laser eye surgery for Alex? Alex isn't sure he could stay still for the local anesthetic on his eye, and is concerned about the long-term repercussions; convince Alex that he won't piss himself and shit himself in terror
Alex would most look forward to making Joker from Persona 5
Has thought about making 2.0 versions of OOT Link
Sonic and Tails diorama development is going well
Shrianui will be more expensive than Amaterasu–much more difficult to produce
It's still possible to get low numbers from a Wait List conversion if someone with a low number cancels
F4F will never be "big potatoes"–want to be interested in the community and not "Corporate"
You cannot use Reward Points for a payment on a statue that you've already ordered. The system does not work like that.
Guts' hand-wrap will be fixed, but not before the pre-order launch
Being "small potatoes" is about feeling, not their size
F4F stock isn't publicly traded–doesn't want all their financial information available so folks can see how "small potatoes" they are
If Alex could make any anime statues without having the fans in mind, it would be Princess Mononoke
F4F hasn't considered making a life-size Triforce
Yakuza will probably be part of the Sega All-Stars line
Alex would do statues with tasteful nudity
Stealth OG Snake and Mugen Edition Sizes next week
Would love to make a statue for To The Moon

Alex prefers Gong Xi Fa Cai; while Chock prefers Gung Hay Fat Choi

Alex fashions himself more of a designer than a collector–defines himself by work, rather than by his hobbies
The non-F4F statues that Alex would most like to have are
F4F has not been convinced to make Aika yet–keep pushing!
No Mario riding Peach Combo Pack Exclusive for Mario riding Yoshi
Revisions to color of Bowser's flame haven't been made yet
Chock has bought plenty of non-F4F statues
The Big Bang Theory super, super pissed Alex off the other day (besides the fact that the show has been dead for 4 seasons). Alex is pissed that there's never a fucking F4F statue in the comic book store in the show, but there is a MF-ing 1:2 scale One2One Halo Master Chief bust.
Alex loves How I Met Your Mother; loves Better Call Saul; hasn't had time to watch Westworld; was a massive fan of Breaking Bad
PVC molds are super expensive–you need to sell thousands and thousands of PVCs to pay for the tooling; you can't make 200 pieces like for Fighter Kirby for a PVC
Skull Kid's head has a metal piece in it for production reasons–wouldn't have come out properly being made of just resin
Runescape line? RTF.
Dynamically-posed statues can be more expensive because of the packaging needing to be larger and increased effort/development time as opposed to a simple museum pose
Rider Link will be the same size as Link on Epona
True Form Midna will be 100% submitted to Nintendo next week
Dark Souls announcements are locked down for now. Nito won't even go up for order until the end of 2018 at the earliest–don't want to get into making announcements for years down the line.
First female Dark Souls statue won't be released for years down the line
F4F tries not to put pre-orders for properties with overlapping fan bases back-to-back, but everyone is different and has different preferences
No news on any kind of BOTW Link variant
Link sold probably sold three times as many pieces as Crash; tens of thousands produced
Shadow Fighter Kirby is a possibility
Alex's last vacation was to Thailand two years ago; going to see in-laws is a jail session
Cuphead: Possibility of black-and-white variants make potential Cuphead statues more interesting
Alex loved Hellblade: Senua's Sacrifice; maybe a TT sometime
Alex has read Fullmetal Alchemist; the part he most remembers is Nina ("Woof!")
F4F can't say what homunculus would be most appropriate for statue form
Pre-order date for Alphonse still hasn't been determined; final prototype not done before Chinese New Year
Alex has been working on Legend of Spyro Spyro; will concentrate on Cynder after that
No F4F representation at Dutch Comic Con
Partnership with Torch Torch has gone very well so far
Alex and Chock will still do the Q&A during Chinese New Year
Alphonse's exclusive is pretty sweet; it makes sense and is from a scene
F4F will never go back to NYCC unless they have tons of merchandise to sell; maybe NYCC 2020?
Alex has a red car that the "F4F" license plate is going onto
The next resin statue pre-order will be in three weeks (March 2nd 2018); F4F will try to have a new pre-order every two weeks for the foreseeable future
If all goes well, Alucard will go up for order next after SD Artorias
Chocks' words of wisdom for the week: "There's a saying in Chinese: If you ever get the job done, you're out of business".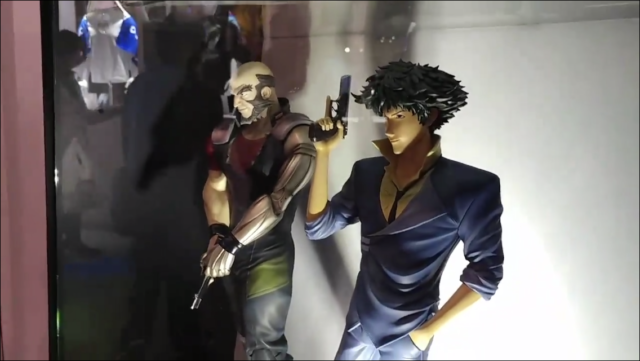 And once again, if you don't already please consider following the Gamer Toy News Facebook and/or Twitter Pages, so that we can send out alerts to your social media whenever there are big F4F announcements, new pre-orders or the latest Q&A recaps posted!