As the first two new resin First4Figures statues in quite some time arrive on doorsteps this week (Fighter Kirby and Nightmare), it's time for the first F4F pre-order of 2018! During this week's livestream, Alex & Chockles will reveal all of the details regarding the long-awaited Dark Soul Ornstein Statue pre-order (including the Exclusive Version!), answer dozens upon dozens of collectors' burning questions and more! Sit back and enjoy the LIVE F4F Q&A Recap!

On Dragon Slayer Ornstein & Dark Souls:
The Dark Souls Ornstein Exclusive pre-order will be opening up at the end of the livestream! Stay tuned as A&C will unveil the price, exclusive edition, and other details about Ornstein later on in the show…
The first wild Sif has been delivered in the wild this morning! If your Sif statue has shipped, it's time to start watching for the delivery!
Something in the Dark Souls line was approved after this week's Bandai Namco meeting; approved in 3-D to go to the physical stage
Collector feedback was to keep Gravelord Nito the same large size, but it's the sales data the Alex cares about and whether or not Nito will sell well at a super-high price (maybe around ~$900)
Ornstein will have a Last Chance Weekend in February
First 4 Figures feels they have done enough Dark Souls character interest polls that they know exactly where they're going with the lines now
Mimic is tall–will be taller than Artorias easily
Mimic's exclusive has already been decided
SD Artorias PVC pre-order will hopefully open in February–should ship much, much quicker after PO than the usual wait for a resin statue
The color Ornstein is painted in…? "Gold."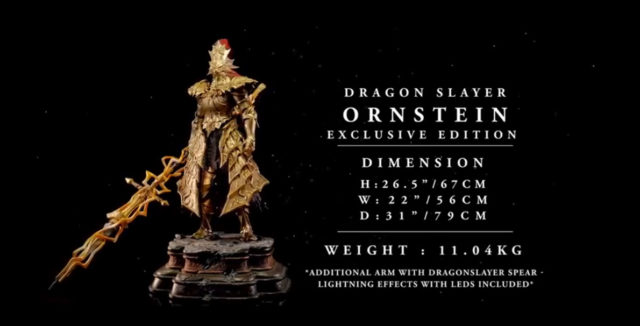 Ornstein Pre-Order Details!
Dimensions of the exclusive are 26.5″ tall, 22″ wide and 31″ deep (that's a lot of depth!). Weight 11.04 kg (or 24.3 pounds)!
The Ornstein Exclusive Edition comes with an additional arm with Dragonslayer spear that has LED lightning effects!
Ornstein Documentary in 4K quality will be posted later today–we'll be able to see all the details perfectly in that video then.
LED Lightning spear has an always-on option and also a flickering option. The exclusive edition will also include the non-LED spear that comes with the regular edition.
Engineering-wise, the LED lighting in the spear is a pain. Will be talked about in the Ornstein documentary video.
Pricing: There will be Flexipay plans up to 12 months (as always) available. MSRP is $599.99 for both the regular and the exclusive versions. The NRD on Ornstein is $60–that's all that's required to place your pre-order today.
First4Figures got the price on Ornstein down to the best they could–$600; F4F wants to be known as having value-pricing and wants people to be able to collect the entire Dark Souls line.
Ornstein exclusive will also come with an art print that will be shown in the documentary! Regular edition won't include the lightning parts for the spear, the LED effects or the art print.
There will be no ring packed in with Ornstein. F4F went overboard with Sif, which is what caused all the delays.
Reservations for Ornstein will go until 10PM HK time on Tuesday 1/16 and then the Validation period will open one hour later. If you Validate within 24 hours of validation opening, you'll get the Day One edition. You can order immediately as soon as pre-orders open–just don't forget to come back on 1/16 to Validate your pre-order!

On The Week in Review:
 January 8th was the 2-Year Anniversary of the F4F Official Collectors Club Facebook Group! Happy Birthday, F4FOCC!
Sneak Peeks of Stealth Solid Snake (both clear and neon green!) were shown off this week
Tons of photos of Majora's Mask production posted this week
Spyro packaging hasn't been approved yet and Majora's Mask packaging has, so the factory is working hard on Majora's Mask to get it shipped before Chinese New Year
If you want Life-Size Okami Prop Replicas, be sure to vote in the poll in the F4FOCC to support the idea
Soon, collectors will be able to see where they are on the F4F Reward Points Tier List–"your lifetime achievement bar"
Orders placed at one loyalty level will also earn points at the current loyalty level if you've "leveled up" since you placed your order for a statue
F4F met with Ubisoft on Monday–Ubisoft heard about First4Figures because of the Crash Bandicoot PVC–a successful ambassador piece!
Alex went to the factory this week to approve Silver the Hedgehog, but did not approve it–something was wrong with the assembly, so Alex will go back again until the factory gets Silver right
Alex will never delegate giving out the final A-OK on factories shipping out statues until he's approved them because he's "the one who'll get it in the ass" if things go wrong
On Temptation Thursday (TT) Polls:
Digimon (Game Series) TT First Day Results: Currently 144 'Yes' votes to 195 votes for 'No'. Not even close between Pokemon and Digimon. Share this out to Digimon gamers out there if you want to rally for Digimon!
Puyo Puyo TT: Up to 34 votes for 'yes'. F4F didn't touch this topic when they met with Sega. =P
Lost Odyssey the XBox 360 game will be next week's TT
Kenshin the anime will be the TT in two weeks
#SAVEYAKUZA: Alex is starting to think about and will move straight ahead with the Kiryu Kazuma statue from Yakuza if it reaches 500 votes; hopefully the Aika and Reala TTs will do as well
F4F doesn't touch any licenses now by chance–all licenses that First 4 Figures is going after now is influenced by the fans and the club
This week's hashtag is #F4FORNY
Alex would like to see "higher" vote numbers for Aika than Yakuza, since Kiryu has combo pack potential and a new Yakuza game coming out as a tie-in
On Anime:
Nothing to report on My Hero Academia right now; but it's hard to ignore all the voices in the club
"Looking really closely at Yu Gi Oh" (Hmm…)
Guts pre-order will probably be in about a month and a half or so
Alphonse will be "massive", but it's tougher to throw out sneak peeks with anime licenses–will post sneaks as soon as they get official confirmation from licensor that they can post them out
Edward Elric has pretty much already gotten 3-D approval
Sonic would most likely follow Genos in the One Punch Man line
On Various Topics:
Alex and Chockles like to pop at least one F4F Q&A attending cherry each week
Shovel Knight Last Chance Weekend starts during the Q&A this week! There's no news on the green Player 2 Shovel Knight variant right now, so it's possible that F4F will go back and do it later (or maybe not)
There's a crazy-sounding alarm going on in the background and Alex would prefer not to burn to death while streaming, but the alarm doesn't seem to be in the F4F Building, so the Q&A will continue
Alex has to win an auction to use the license plate "F4F"–please don't try to outbid him. =P
Maybe down the line F4F can release an opposing "bookend" statue to use as the other side "against" Snake
Alex would love to make Vagrant Story statues but know that they wouldn't sell because of obscurity of the franchise
Alex has been busting out a digital piano lately to play the Zelda score–his favorite video game soundtrack
Banjo-Kazooie sneak peeks are on lockdown until Q2 2018
Last Chance Weekends aren't going anywhere–accessibility is important to First 4 Figures; availability for the exclusives is still incredibly limited despite the extra 3 days to pre-order; not focusing on making low numbers as the reason to buy an F4F statue
Original Sonic the Hedgehog statue edition size says 2000, but F4F only made around 1000 of the statue; only around 150 of the stated 250 edition size of Gravity Suit Samus were produced
Alex won't go into production to fill in 100 pieces or so that weren't produced for statues like Zant
Crystal Dragon pre-order "soon"-ish but not "soon"; Sparx not even at the physical stage yet
Have thought about having a sliding scale of pricing for getting more niche statues produced, but the current system isn't set up for that
Grayfox has been kicking Alex's ass, but Alex has just about taken him out now
F4F chooses whether or not to make characters in PVC based on the potential quantity sold–niche characters can't sell enough in order to make up for the PVC tooling cost; chose to make BOTW Link as a PVC in order to get huge quantities made in time for the video game
Mario on Yoshi submitted to Nintendo today and looking "t-t-tight!"; may be only Mario pre-order in 2018
No more Life Size pieces to announce right now beyond Aku Aku Mask and Sheikah Slate
"I Am Setsuna"? Rally the fans during #F4Fundays
Continue the Starfox Line? "RTF" (Rally the Fans)
Tingle is in the Vault; did poorly in an unofficial TT done in the club
"Overlord"? RTF.
"A lot" of Legend of Zelda statues are in the Vault, and will most likely never come out
Alex is very "flowery" and "patient" and "understanding" when working with the factories and artists… or not. Is actually hyper-critical because he has to be.
Nothing to say about Persona 5 right now, but the conversation with SEGA has come up–nothing to confirm; these things take a long time
Looking at "Beyond Good and Evil", but nowhere near the poll numbers needed yet
Snake will probably be back up for order toward the end of the month; clear Stealth version will likely not be available at all again
F4F is mainly considering more Metroid series from the Prime series, but if there's enough rallying, other games can be considered
F4F may do both Soul Calibur II and Soul Calibur VI Mitsurugi statues–combo pack (?)
There will probably be only one new Soul Calibur statue in 2018 with so many statues coming up for pre-order
Yoshi's Story statue? RTF.
Alex always looks for inspiration for statues everywhere, but having the best statue for a property in the world isn't enough if nobody knows about it to buy it, so it's always important to check now with the club to see if people would buy it–guesswork is eliminated now
Haven't looked at plush for Okami or Okamiden–focusing on Dark Souls plushies for now
Looking at Donkey Kong before any potential Luigi statue
Alex Davis could not potentially win the #F4FLikes F4F 'Likes' Points giveaway–even though the selection process is random and Alex always participates, he can't win because he's staff (according to Chockles)
King Dedede TT poll will happen after the Warp Star Kirby hype
There is an amazing Solid Snake statue in the Vault
Check back for Ornate Plate Shovel Knight edition size next week
Alex has never broken one of his statues in a rage (but someone else has broken one of his statues!)
Koopalings? RTF.
Kingdom Hearts license denied
Alex's favorite statue in the Vault is the Pokemon statue
Chocks and Alex seems a little overwhelmed by my master list of in-development F4F statues. (Sorry, guys!)
Trying to go to two pre-orders in a month, but not confident that the back-end can get it done just yet
Will never do dual pre-orders at the same time again
Death doesn't have a chance Alex in a game of Soul Calibur II! Alex chooses Nightmare: "Down Forward Y, hit Y–Dead."
Alex Vaulted Pit because he didn't think there were enough fans wanting Kid Icarus. Want more statues or Kid Icarus statues? RTF.
Alex thinks the statue industry will cease to exist in 7-8 years when the 3-D Printers really come into power; this is why Alex is thinking about the F4F brand beyond statues right now
Unlikely for Spyro statue to ship out before Chinese New Year–focusing primarily on Majora's Mask right now
Assembly of the foot on Silver was not correct at the factory, which is why Alex didn't approve the statues
Alex saw True Form Midna prototype today: "Not good enough."
Nothing to say about War right now
Chances of Yakuza pre-order this year are getting better and better
Fate of Ms. Pac-Man? Line confirmed dead. RIP.
Metroid Prime 3 Gunship? In the Vault. RTF.
Haven't thought about Metroid bosses beyond Meta-Ridley
Earthworm Jim TT number isn't high enough, and Alex hasn't been able to find out who the licensor is for the franchise
Phoenix Wright is at the physical stage now–likely wouldn't go back and redo it now to add a potential pianist variant
Female One Punch Man statues? RTF. "Saitama didn't set the world on fire–let's see how Genos goes."
No news on Samurai Jack
"Many thoughts" on Fierce Deity Link 2.0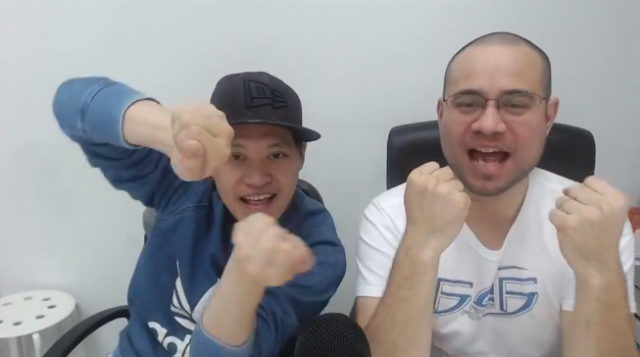 And remember, if you like these recaps, please consider showing your support by following the Gamer Toy News Facebook and/or Twitter Page so that we can send you alerts whenever new First4Figures recaps, photos, news and articles are posted!
What's your favorite thing that you learned this week, F4Fans?