While many collectibles companies have already shut down their news cycles for the year, First4Figures is blazing straight ahead with their milestone 50th weekly Q&A livestream! This week, along with the usual house-full of collectors that will be answered, we'll finally get an updated look at the F4F Varia Suit Samus statue that's been a year and a half in the making. In addition, not only is the F4F Aku Aku Mask Exclusive Last Chance Weekend ordering opening up today, but Alex and Chockles actually have one more secret to share regarding the Aku Aku Mask! What could it be? Find out in the F4F Q&A #50 LIVE Recap…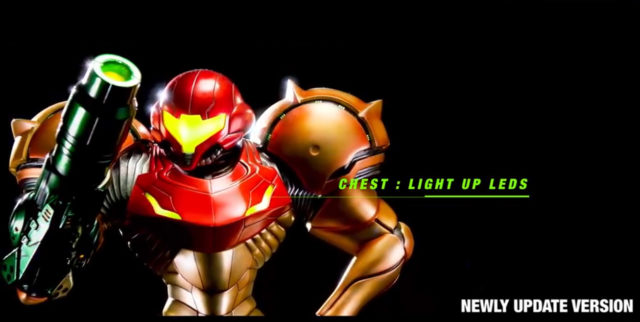 [The F4F LIVE Recap #50 is currently being recorded live. Be sure to refresh every few minutes during the show, as I'll be updating this article in real-time as expediently as possible.]
On Shovel Knight:
Validation Day for Shovel Knight went incredibly smoothly
Shovel Knight fits directly into a detolf with no problems
Pre-orders for Gold Shovel Knight and the Combo Pack close after the end of the Q&A today and there will not be a Last Chance Weekend for either–get those orders in if you want them!
F4F will ask the club if they want the Player 2 Green Shovel Knight after they get feedback from Yacht Club about whether or not this variant would be possible
F4F still wants to do some niche pieces like Shovel Knight. Being able to do Combo Packs helps make niche lines go from "not viable" to "viable".
On Revised Varia Suit Samus:
The revises Varia Suit Samus statue has now been revealed! The additions and revisions include the following–
Chest LEDs
Shoulder Armor LEDs
Extra Lights in Arm Cannon
Booster LEDs
Thigh/Calf LEDs
Increased Accuracy for Arm Joint
More Accurate Sculpted Back to Statue
The price has been increased due to all of the added lights, which were complicated and expensive to add to the piece.
Last Chance Weekend Order for Varia Suit Samus will be next weekend only, from December 29th to January 2nd!
Those who already placed orders or Wait List orders have the price locked in–there's nothing you need to do except pay the balance of the statue!
All preexisting Wait Lists are being blanket converted to full-fledged confirmed orders at the original price–that price is locked in.
Full refunds will be issues for any cancellations through the end of Last Chance Weekend (January 2nd 2018), even if someone cancelled months ago.
New price-tag because of the difficult engineering and statue production cost inflation over the last two years. Original price was $384.99 (regular) / $429.99 (exclusive). The new pricing for the First 4 Figures Varia Suit Samus statue is $444.99 (regular version) / $489.99 (exclusive version) during Last Chance Weekend.
12 month Flexipay plans available for Last Chance Weekend, but existing orders cannot switch over to the longer payment plan unless they cancel their order and re-buy the statue at the increased price.
Estimated Ship Date for Varia Suit Samus: Q3 2018, but may slip to Q4 2018.
On Temptation Thursdays (TTs):
NiGHTS Reala TT Vote: Chock is surprised by the amount of support and number of people coming in to vote for Reala. The TT poll shows the actual 3-D Print of Reala and not just a render.
.hack//SIGN Tsukasa TT Vote: Chocks has seen the comments–the .hack// game series can be revisited down the line for another Temptation Thursday poll, but this vote was for the anime. Tsukasa did very badly in the poll–less than 100 'Yes' votes so far.
Valkyria Chronicles TT is coming up next week!
This week's hashtag is #F4FValk
King Dedede TT can be done once Warp Star Kirby is closer to coming out–there's a King Dedede statue in the vault right now.
Seven Deadly Sins anime would be considered for a TT.
On Anime:
Two pre-orders for Fullmetal Alchemist statues in 2018: "for sure".
Still no updates on Gurren Lagann Kamina statue. Still waiting to hear back from licensor.
If everything goes smoothly, Jet and Spike statues will both be displayed at C3 in Hong Kong (February 10-12, 2018) at the Sunrise booth!
Jet and Guts pre-orders should be in Q1, with Alphone pre-order in Q2.
Genos is pretty much done now and ready to submit for approval. Jin still has some work to be done.
There may be a new anime license that F4F has secured that we don't know about (!!!!!!) [Editor's Note: My Hero Academia? Please…?]
Alphonse statue has had approval to move along to paint stage–is making progress but taking time.
Alex is concerned that My Hero Academia marketplace may be crowded very soon
On Crash Bandicoot:
F4F isn't really looking into a low-poly Crash Bandicoot statue as a PVC or resin right now. More likely that we would get a Crash Racing PVC statue than a low-poly Crash–making a PVC product that bombs would be a big problem for F4F. It would take a lot of resin successes to make up for a PVC failure.
Coco hasn't been met with much enthusiasm that Alex has seen.
Neo-Cortex and Crash Resin V2 are both based on the classic Crash Bandicoot games.
Gold Aku Aku Mask Edition Size: 250 Pieces! Super Low!
Aku Aku Mask Surprise: It has a sensor to make the "Ooga-Booga!" voice sound effect! This is included with the Aku Aku Mask Exclusive edition (which starts for Last Chance Weekend today!) and the Gold Aku Aku Mask at no added cost!
F4F License with Activision had to be amended to include sound. Alex wasn't sure if this was going to be possible or not–it was a very complicated process legally to add the voice effect/sound to the statue.
First 4 Figures is always willing to pay 5 to give the customers 20, even though the sound effects royalties added to the cost of the Aku Aku mask (value!).
On Various Topics:
US shipments for Fighter Kirby and Nightmare will be arriving next week
Metal Gear Solid Snake's pouches and bags have been made less colorful.
There may or may not be Christmas Sneak Peeks this year–it's 50/50. F4F played most of their hand at NYCC 2017 this year, so there isn't much that's already approved to show.
Zero is having some slight refinements done. His thighs are being thickened up before he can go up for pre-order. Extra-thick!
Dante's eyes have just finished undergoing revisions.
Hopefully F4F will be able to increase pre-orders to two POs per month in the second half of 2018 so more new statues can be produced in a year.
Okami bust is being produced by the same factory as Silver and Sonic–should be starting production now.
Will run a poll to see if collectors want a First 4 Figures book with early concepts and such.
Alex's favorite F4F statue of 2017? Majora's Mask… but they're all his favorite.
Alex is going to pause any questions about the First 4 Figures year-in-review until he makes his official post in just over a week.
F4F loves every company: "Square… I love you. Why you no love me?"
No Fire Emblem statues right now: Every single item Nintendo makes for Nintendo needs to be uber-justified, because there's a limited number of Nintendo statues that F4F has the opportunity to make each year.
Elite Knight is not high on F4F's list.
First 4 Figures isn't comfortable teasing the first Dark Souls II or III statue until they're further along in development.
F4F Meeting with SEGA in the beginning of January 2018.
Modern Metal Sonic design is still being worked on. Mario on Yoshi, Sonic & Tails are looking very nice.
Alex will create a poll tonight to see if Sonic fans would be up for a Modern Amy Rose statue, since Amy is much more relevant to the modern Sonic games that than the classic ones.
Amaterasu LSB taking a long time in production won't affect the Shiranui pre-order date.
Dark Souls Mimic statue has been submitted to licensor, and is working on requested changes now.
Alex expects to definitely hit 50K members in the F4F OCC Facebook Group next year.
Maybe 3-5 Christmas Sneak Peeks if First4Figures can get it done.
No Validate button for Varia Suit Samus–there's never a reason to Validate for Last Chance Weekend, and there is no Last Chance Weekend Day One Edition
Chocks buys what he wants throughout the year–doesn't have any Christmas wishes
No word on Ripto or Hunter Spyro statues right now
Alex and Chock don't play Christmas songs at work
What independent games would collectors like to see statues of after Shovel Knight?
If fans demonstrate a demand for a Kameo Elements of Power license, it would be easy for F4F to make that a reality
Alex and Chocks have a prediction list of how statues will fare. Chocks thinks that there's been more risky launches than non-risky, stable launches in 2017.
If you cancel your existing Varia Suit Samus statue to switch to a payment plan during Last Chance Weekend, you'll lose your low number and have to pay the higher price
Metal Sonic was Chocks' first F4F statue. He had Ryo and Metal Sonic statues before being hired, and has Prince, Dipp, Solaire, Crash, Sif, King of Red Lions, Bowser and more owned or on order now.
Nothing to report with regard to more Zelda BOTW PVC statues at this time
There will be a Tekken Law Last Chance Weekend, but not sure when yet
Chocks is too competitive–he won't even let Alex win at Rock-Paper-Scissors as a Christmas miracle.
Alex hasn't tried for a license from Square in 7-8 years; has been friend-zoned as far as Pokemon goes
Modern Metal Sonic would be next in the Modern Sonic line after Silver if F4F can get it going, but still in the design stage. Trying to get the ball rolling now–been on pause for too long.
F4F could look into mixed media statues, but plush statues are really unlikely.
Almost have Mario on Yoshi nailed down–hopefully will be able to show something in early 2018.
No chance for Kingdom Hearts statues in 2018–Alex doesn't see it happening.
There's a 1:1 scale Metroid statue in the Vault.
1/4 scale seems to be the best value for the money right now and the industry standard right now.
F4F needs to do a few more #F4Fundays in the Facebook group to see if they'll continue or not.
Fierce Deity Link PVC is unlikely; resin 1/4 FDL is more on Alex's radar.
Banjo and Conker PVCs could be possible if the resins sell really well.
Finishing touches being put on Alucard–early Q1 PO before Zero likely.
Niche PVCs of smaller characters (like Banjo-Kazooie Jingos) can't be done. It costs $30,000-$50,000 just to make the molds for PVCs–it's just not viable. PVCs do not work with smaller or less popular items–those work better with resin because there's not astronomically high production costs.
"Who Dat Who Dat?" It's Dora the Explorer!
Stay tuned as the LIVE Recap of the 50th Anniversary First 4 Figures Q&A Recap continues…
And remember, if you want to get updates and alerts on all the latest F4F news, articles and Q&A recaps as they're posted, you can follow the Gamer Toy News Facebook or Twitter Page!