It's the day after Thanksgiving in the United States, so millions of Americans are chilling at home today. But the hard-working heroes at F4F (almost) never take a vacation, and they're back today with the 46th edition of the F4F Q&A with Alex & Chockles! And since I've got the day off myself, I thought I'd try something I haven't done before: I'll be live-updating the recap today, in which the First 4 Figures Aku Aku Mask goes up for order, we'll have the usual dozens of questions answered in the Q&A and more!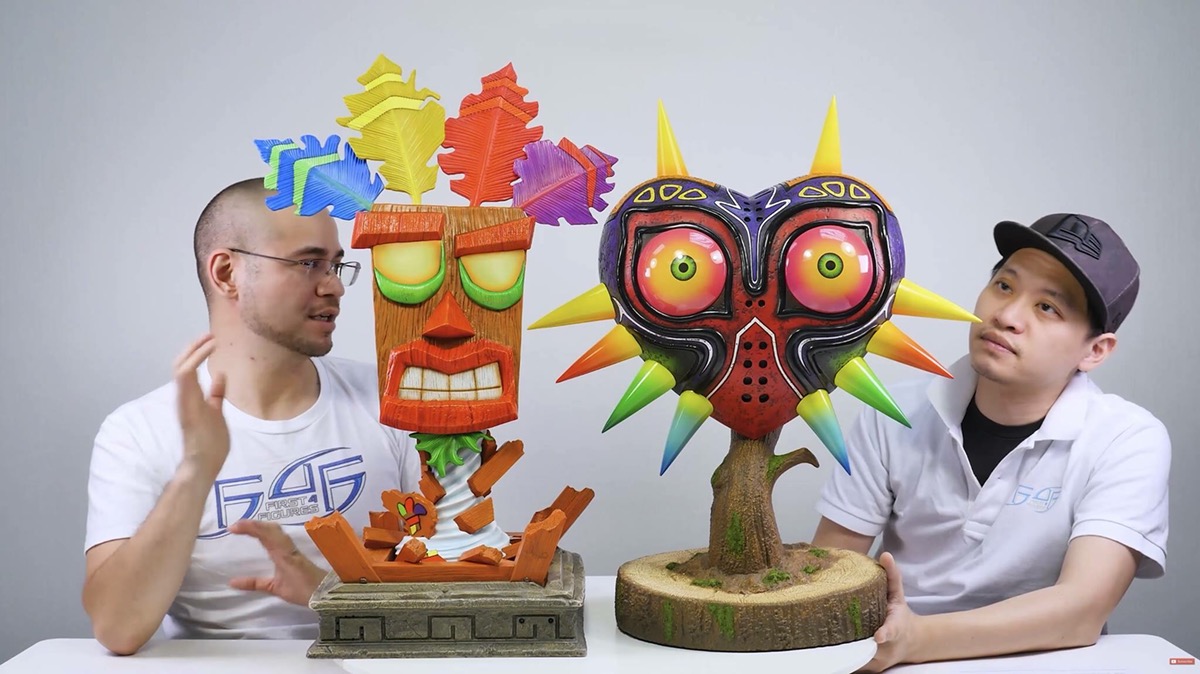 [I'll be updating this post every few minutes while the Q&A is going on. This is my first attempt at transcribing the live-stream while it's going on, so there may be hiccups. Keep refreshing and stay tuned!]
On Temptation Thursdays:
894 'Yes' votes for Pokémon. "How come we haven't reached over 1,000 'Yes' votes yet?"
TMNT TT is neck-and-neck. 45.5% Yes (261 votes) right now. This is what Chocks expected, but Alex thought Ninja Turtles would do better since TMNT is popular outside of the group.
Alex thought Arcade TMNT TT would have fared better because of people just thinking of Teenage Mutant Ninja Turtles in general and not just the arcade version
This week's hashtag is #F4FMana
Next week's TT is Secret of Mana
Who would collectors want as the character for a Resident Evil TT?
.hack TT being added to the list
On Aku Aku Mask Prop Replica Pre-Order:
Aku Aku Mask Exclusive cost: $384.99 total; $38 non-refundable deposit when ordering
Regular version has no lights; Aku Aku Mask EX has light-up eyes
Gold Aku Aku Mask Variant Statue also available! Also $384.99. Only available for 8 days!
Combo Pack for regular and golden Aku Aku Mask variant is available! If you validate Day One, you'd get Day One Editions of both. Combo pack is $699.99–a $70 savings.
This is the start of an an all-new line with low numbers available: the Crash Bandicoot Life-Size Prop Line
If this does well, the Uka Uka Mask will follow and the numbering from Aku Aku will carry over
The numbering from the Aku Aku Mask statue will not carry over to resin Crash statues of characters like Neo-Cortex and Classic Crash himself
12-month Flexipay plan is available for the Aku Aku Mask, but First 4 Figures is aiming to have the mask ready for order in 8-9 months
Those who have a 12-Month Flexipay will have to wait until their payment plan is complete before their Aku Aku Mask ships, or else they can remove the payment plan once the replica ships and pay the remainder of the balance to have their statue ship in 4-5 days
This is the first non-blind pre-order to offer the one year payment plan, but all statues from now on will have the one year option
4-month, 7-month and 9-month Flexipay plans are all also still available
Have mainly just changed colors of feathers and crate and added a bit more detail to the feathers since the Aku Aku Mask statue debuted at NYCC 2017
All those who order during Reservation Weekend won't automatically get Day One Edition Aku Aku Mask–you need to come back and validate on Tuesday 11/28/2017 to guarantee your Day One bonus points and signed Alex Davis art card; the advantage of ordering early is that you'll have a quicker time securing a low number on Tuesday at 11PM HK time since your order will already by placed
Updated versions of all web browsers–not just Firefox–should work for validation on Tuesday
If you don't validate your order, you won't get Aku Aku Day One Edition automatically. Your number will be immediately slotted in right after those who did validate for the Day One Edition.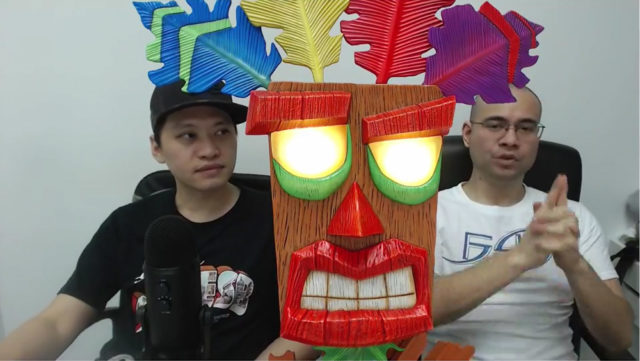 On Zelda:
There will be a sizable time gap between True Form Midna and Rider Link pre-orders
Confirmed that authenticated Zelda/Ganon's Puppet Zelda numbers will carry over for True Form Midna; will be a race for securing numbers like Lucky Cat Mario/Cat Mario were for Bowser
Majora's Mask will hopefully be ready to shipped around April if it's ready before Chinese New Year; if it misses Chinese New Year it may be significantly later
On Dark Souls:
No unannounced Dark Souls lines in development right now–just plush, SD vinyl figures, Dark Souls 1:4, Dark Souls II 1:4 and Dark Souls III 1:4 lines
On Anime:
The licensor for Akira said they weren't interested when first approached by F4F. May try again in the future once First4Figures is more established with anime statue lines.
My Hero Academia can have a multi-character poll later; currently has 658 'Yes' votes; "Interesting"
Licensing is typically more tricky for anime licenses than for video game ones; "a bit of a minefield"
On the 35,000 Members Reveal:
Jeff and Chock have been staying up late working hard to get the Aku Aku Mask photos ready for today's pre-order launch; 35K video temporarily on backburner
Someone has suggested every possible license since the F4FCC opened, so yes, someone has guesses the 35K Announcement
The 35K Reveal will rock some peoples' socks off and makes other say "Meh"
35K Reveal will probably be next Friday if everything goes smoothly and the video is approved–just make sure the CC has over 35,000 members next Friday
On Various Topics:
The last time Chocks did any running was in his dreams
"Add A Payment Plan" option won't be added to the site anytime soon
Chock can't skateboard–it's hard
Let Alex know if Darksiders 1/6 statues riding horses are okay
Want to do more pre-orders in 2018 than 2017
One more statue will be up for pre-order in 2017
Sif drop-test video with Alex won't be posted because it didn't pass that test; has successfully passed the test since but Alex didn't do that test and video it
Vacuum pump used when casting the resin for statues to remove all the bubbles; putty used to fill in the remaining holes
Dredd vs. Death was Alex's favorite piece to have made; made Alex more adventurous and ambitious with designs
Tekken Law is going into production–confirmed; will go into production next year
"Would people actually want a First4Figures Art Book?"; coffee table-style book with hi-res images; would we want text and pictures or just pictures?; will make a poll
Going to get back to work on card-holders again
Website isn't set up for Black Friday deals this year; will set it up for them in 2018
There won't be a 40K license reveal
First4Figures typically has about 30% of pre-orders cancelled, so usually only produce about 80% of an edition size to compensate for cancellations; in-stock Flexipay will allow more of the edition size to be produced since F4F can plan on selling more in-stock statues
Price range for Shiranui will most likely be under $500; trying to keep below this
Chibiterasu will be smaller in scale than the other Okami statues but will be more of a diorama piece
Modern Sonic line will be on hiatus after Silver the Hedgehog; need to see more rallying
Chocks and Alex think most members of the F4FCC prefer classic to modern Sonic statues
Sonic & Tails diorama Tails statue won't have both tails visible, since he's in motion
Haven't nailed down supplier yet for First 4 Figures T-Shirts
Companies deny licensees licenses for a multitude of reasons; can be because they don't have resources to deal with merchandising, don't want to work with companies from another country, don't want merchandise, etc.
2018 will start with First4Figures hiring an additional guy for website development; will lead to "a shitload of updates" to the front-end of the site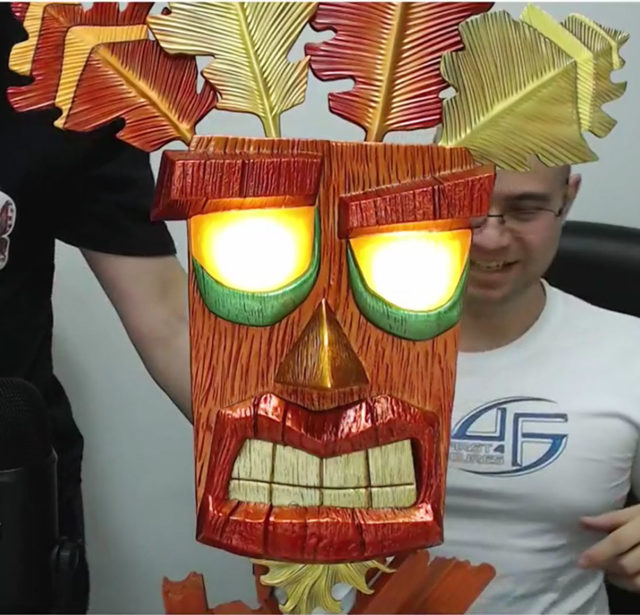 If you guys like our F4F Q&A Recaps, FAQs and other articles, please be sure to 'Like' Gamer Toy News on Facebook to show your support and get alerts whenever new updates go live.
How do you guys like the live recap of the Q&A? Would you like to see the Q&A done in this manner more frequently, or do you not care if it comes a bit later on?