Thanks to the maelstrom of activity that was the massive rally behind My Hero Academia, the week has flown by and it's time for the weekly First 4 Figures Q&A Recap once again! In the F4F Q&A #44 Recap, we learn the answers to a variety of questions, including: What's the next expected pre-order? Will Varia Suit Samus cost more during Last Chance Weekend? Who would win between Alex and Chock in Rock-Paper-Scissors? And oh yeah—did someone say "Pokémon"?!

On Temptation Thursdays (TTs):
My Hero Academia TT: 570+ 'Yes' votes in a week! Surprised Alex but not Chock [or me!].
It was nice to see the rallying in the group for My Hero Academia; different type of rallying than Persona 5
It's tough when there are back-to-back TTs that do amazingly well
With 52 possible TTs per year and hence 52 possible licenses, First 4 Figures needs to prioritize; can't acquire every license that passes the vote threshold
550 'Yes' votes is too easy—750 is the new 550
First 4 Figures can't do every license—there will be disappointments; not just about hitting the requisite number of 'Yes' votes anymore
Will keep doing TTs each week—great data for prioritizing licenses now; let the most-wanted TTs rise to the top
F4F is small potatoes: don't have the time and resources to make statues for all the licenses meeting the requisite number of TT votes
Next week's TT will be Pokémon (!!!!!)
In two weeks, classic video game style Teenage Mutant Ninja Turtles Arcade TT poll
TMNT poll specifically for the Arcade Game style—not Comic, movie, or TV cartoon style
Looking into classic video game TMNT because no resin statues of this version exist
In 3 Weeks: Secret of Mana TT Poll
Cuphead: TTs never die. Need to see if people remember this game months or a year from now and keep pushing for it.
Future TTs for Modern Tails, Star Fox characters, and F-Zero still being planned/considered
Chocks is gonna rally for Streets of Rage and be upset
On Pokemon:
Alex has been dreaming of doing Pokémon statues for many years—but is that what collectors want? The Pokémon TT will show whether or not it is.
Maybe having hard data from a successful TT will help First 4 Figures to acquire the Pokémon license?
The Pokemon statue that's in the vault looks awesome
This week's hashtag is #F4FPokemon
On Sonic the Hedgehog:
GNF Toys going ahead behind the scenes with more Sonic characters—hopefully can talk about them in a few months
F4F can do a poll to see what size collectors would like for the Boom8 series—would be nice to get fan feedback to send back to GNF in Korea
Robotnik statue sold terrible—no chance for a Christmas variant
Chockles has been playing classic Sonic the Hedgehog games (not Sonic Mania) for research purposes—cool stuff coming for Sonic in 2018
On Crash Bandicoot:
First4Figures believes Aku Aku Mask will be the next pre-order; not 100% yet
Aku Aku Mask pre-order still needs approval
Golden Aku Aku Mask Variant? "Wait and see."
Aku Aku Mask Numbers are in a completely different series from the PVC and resin Crash Bandicoot statues
On Nintendo:
Last Chance Weekend for Varia Suit Samus statue confirmed—pre-production has now started
Varia Suit Samus statues will probably be around $50-$60 more expensive during Last Chance Weekend
Those currently on the Wait List for Varia Suit Samus will not have to pay the increased price
Kid Icarus statue is in the vault
Donkey Kong is already on the list of things to talk to Nintendo  about, regardless of Bowser sales numbers
Chances of Fire Emblem Echoes statues: "Very, Very Slim"—rally the fans and prove it to Alex if you think he's wrong about the support not being there
The Bowser pre-order will be going on until 11/17; then will pause until 12/1 Last Chance Weekend
On Anime:
Alex and Chock will watch My Hero Academia as part of consideration of looking into the license
All Might TT was very, very impressive
Cowboy Bebop Jet Black pre-order will be around the end of 2017/start of 2018
One Punch Man Genos Statue is almost finished and should be ready to submit to license for 3-D approval in the next two weeks
Gurren Lagann Kamina Head has been updated, but Alex still isn't happy with it—hope to be ready to submit for approval soon
Yu-Gi-Oh Update: Licensing is slow as molasses; negotiations with legal team now
More Berserk characters absolutely coming in the future after Guts
Alex goes back and forth on whether or not to take doing Attack on Titan statues seriously
Alex feels the Attack on Titan marketplace is quite crowded; five resin statues for the franchise in existence is worse than none (like for Cowboy Bebop)
First4Figures would be more interested in doing statues for the Seven Deadly Sins than Fairy Tail because Fairy Tail statues already exist
On Flexipay and Edition Size Caps:
In-Stock Flexipay options likely to launch on the First 4 Figures website next week
F4F has zero plans for capping edition sizes—about meeting demand, not being flipper-friendly
Aftermarket prices don't factor into decision-making on edition sizes whatsoever
First4Figures cares about making sure that people who want to pre-order get to pre-order
Want to make pre-orders 100% accessible—will absolutely never cap anything
On The Legend of Zelda:
A 1/4 Happy Mask Salesman would seem pretty random at a much larger size than the other existing Majora's Mask statues [Fierce Deity Link and Skull Kid]
Question Posed: Do collectors not want Happy Mask Salesman in the same scale as the other two Majora's Mask statues?
There will be no reissue of the F4F Wolf Link & Midna Statue ever; haven't thought about creating a new version
No True Form Midna Sneak Peeks right now
Majora's Mask Final Edition Size will be revealed in next week's Q&A
Alex would consider a 1:4 scale Legend of Zelda "All-Stars" line of statues as the new standard scale in the future
F4F wanted to include an art print with Majora's Mask, but are not allowed to include unofficial artwork with any Nintendo statue
On Various Topics:
Persona 5 ball is in F4F's court and very high on priority list—too much support to ignore
Persona 5 wins the official "Fastest Multi-Poll Winner" award
Chockles schooled Alex in Street Fighter and whipped his ass every time
Concept for 35K Reveal Video started yesterday
Katamari Damacy statues are in production and coming along very nicely
Bald guy with no ears teaser posted this week is Devil May Cry Dante
Next PVCs Released will be SD Dark Souls; being molded right now
Samples of Sif should hit the F4F office next week
Sif should arrive to customers around the end of December—Contact CS if worried about Sif arriving during the holidays to have your shipment held
The Mega Man Zero pre-order will most likely be in early December 2017
Alex speaks Mandarin and not Cantonese
Psycho Mantis prototype is almost done; Gray Fox is in development
The Solaire Jolly Cooperation Combo comes in one shipping box and one art box
Alucard is still deep in development—Alex has approved some changes and the piece is moving forward now
F4F blog is now live on the website; great way of capturing history and for people not on Facebook
Shadow of Mordor is the most recent game Alex has fired up
Alex's goal is 50,000 members in the CC by the end of 2018
Around 5,000 of the 35,000 F4FCC members are active, which is why getting the votes for TTs is so difficult
Alex wants to see a million orders for Streets of Rage statues
Final edition size for Taki revealed in next week's Q&A
Chock will post photos of the art boxes for Nightmare and Fighter Kirby next week
First4Figures will concentrate on more and more PVCs; want to do more each year—great ambassadors to get attention from new customers
The inaugural Rock-Paper-Scissors match on the F4F Q&A!
Alex easily wins the first round, but Chockles sweeps rounds 2 and 3 to win the match! Can Alex Davis bounce back in a future rematch?!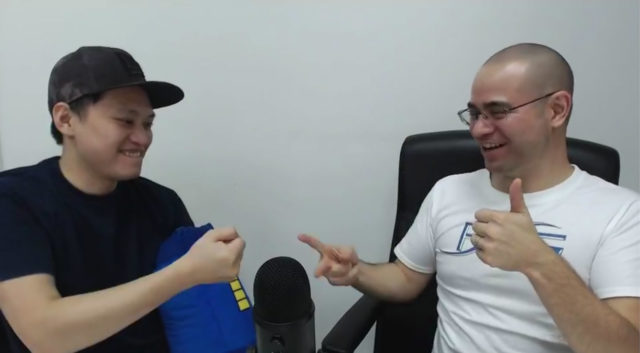 …And that's it for this week's First 4 Figures Q&A Recap! If you enjoyed this recap, please be sure to follow the Gamer Toy News Facebook Page and/or Twitter Feed. That's is the best way to get alerts when new articles and recaps have been posted, and seeing people actually checking out this site means that I can devote more time to creating content for it.
Also, if you want to chat about video game toys and statues outside of First4Figures, join us over in the Gamer Toy Alliance Facebook Group, where we chat all video game merch, all the time! See you next week for Q&A Recap #45!