Another week, another First 4 Figures Q&A with Alex (F4F CEO) and Chocks! This week, the Q&A started off with a mega-ton bang, as the F4F Bowser Exclusive statue is now officially up for pre-order once again! How much does the monstrous King Koopa weigh? Are any changes being made to the current prototype? And what about other licenses: Interchangeable heads for Rider Link? Different Colored Yoshis? Could we see the Ornstein Pre-Order before the end of 2017? All this and more in the F4F Q&A #43 Recap!

On Nintendo:
Last Chance Weekend for Varia Suit Samus will be done when the time comes with a raised price—no price increases for existing orders
Bowser pose is based on official artwork and was chosen in collaboration with Nintendo
The EX Flame for Bowser will have two settings: constantly on and flickering lights
Nothing to report at this time on possible lava effect for Bowser base
The Bowser Exclusive flame will be angled downward somewhat so that you can see Bowser's face better—production videos of this will be posted later
About 300 Bowser statues were blind pre-ordered
Bowser will ship in two separate boxes
Regular Bowser comes in two pieces (base and figure); EX version comes in four pieces (base, figure, flame, tongue)
Bowser Jr. and Koopalings are possible if Bowser is successful—need to run a Mario characters poll
No Mario Odyssey statues anytime soon, but will be an evergreen game that F4F can go back to later
Mario on Yoshi Statue pre-Order in summer 2018 if licensor-willing
A few different colors of Yoshi are definitely being considered for the Mario on Yoshi statue—maybe even customizable (!!!)
Exclusive Bowser weighs 21kg: "Thick as Hell"
On Dark Souls:
Ornstein may be the final First 4 Figures pre-order of 2017
Ornstein has been submitted for approval—the Exclusive was holding him up
The SD Dark Souls Artorias and Solaire PVCs are going to the tooling stage now—should be done with tooling in around 45 days
Pre-orders for the Dark Souls Chibi statues won't occur until actual PVC prototypes are ready (the ones at NYCC 2017 were resin)
On Anime:
My Hero Academia TT: Alex was surprised by the early results! Great rally! Very impressive first 24 hours, but concerned the push isn't sustainable.
Keep rallying and bringing new members into the group for the My Hero Academia TT—still needs 550 total votes for serious consideration!
First4Figures has made contact with the licensor for Yu-Gi-Oh and is having advanced conversations about the license
Jet will definitely be the first Statue in the First 4 Figures Cowboy Bebop statues series, with Spike second
There may be more sneak peeks for Edward Elric before Alphonse Elric Statue goes up for order
Possible blind pre-order for Al because he's quite expensive if the licensor approves of it
If the F4F Gurren Lagann Kamina and Yoko statues are successful, the trio will be completed with Simon
Cloth cape on Guts Statue didn't look as good as the sculpted resin one, so F4F isn't doing it
No plans for One Piece statues at this time—want to be more established in anime statues market before approaching huge licenses like that yet
Alex hasn't been pushing for an Attack on Titan TT because of concern about the amount of AoT merchandise already out there
Fans should put up an unofficial poll for Attack on Titan to gauge interest
On The Legend of Zelda:
Rider Link Statue will have interchangeable heads (hooded and non-hooded)
Regarding a potential new Fierce Deity Link Statue: Proposed lineup of future statues has been submitted to Nintendo—no information to give right now
Edition Size for Majora's Mask Exclusive went up as a result of the Last Chance Weekend by somewhere around 300 pieces; don't have exact numbers calculated yet
Unlikely for a 1:8 scale Happy Mask Salesman statue to be made of resin—not high on list of considerations
A large (1:4) Happy Mask Salesman Statue would be difficult to do, regardless of poll votes
The simple base for the Zelda BOTW Link PVC was necessitated in order to keep the figure in the price window necessary for selling at Best Buy and other retailers. A more elaborate base is something we could have seen if there had been an Exclusive Archer Link PVC Statue released.
On Various Topics:
Banjo-Kazooie TT was very impressive and set the record for 'Yes' votes. Getting right on it!
Working on Okami stuff, but nothing to share or announce right now—maybe something during the launch window for Okami HD next month
Alex and Chocks haven't had time to play Mario Odyssey yet
Cuphead TT is next week–Is the hype still there or has it died down? We'll see next week!
This week's hashtag is #F4FMrB
Last Chance Weekend was a good thing to do and will continue for all products moving forward
There were quite a few new orders for Taki during Last Chance Weekend
Maybe Phoenix Wright Sneak Peek as part of the Christmas Sneak Peeks
Haven't figured out the edition sizes of Taki and Majora's Mask yet
Alex has a memory like an elephant
Psycho Mantis Statue is pretty much done paintwise; minor tweaking to face being done; needs to be submitted for approval
There will be four versions of Mega Man Zero released: regular and exclusive versions of normal (red) Zero and Black Zero—the exclusive versions of each will light up
Black Zero will come with a purple sabre and red Zero will come with a blue sabre
Zero will have a Day One Edition and not a Zero Hour Version
95% of changes to statues have to be approved by the licensor
Next TT after Cuphead hasn't been decided yet; top suggestions include Star Fox characters, Mario Kart, Modern Tails and Xenoblade
One-and-done licenses are bad because they require all of the behind the scenes efforts of licensing as licenses with many statues
Alex has no dreams of First4Figures owning its own factory—lots of effort, time and difficulty
F4F will be making both more larger statues (when warranted by the character) and smaller PVCs (for major characters only due to tooling costs)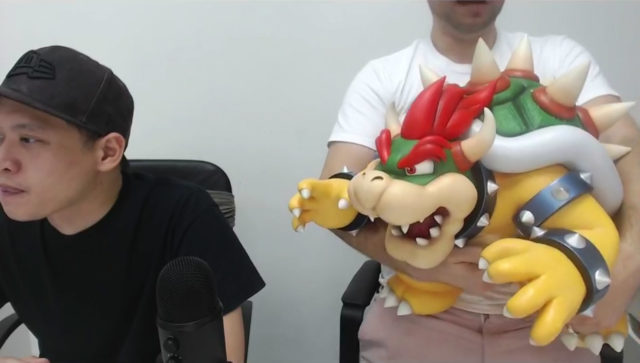 And that's it for this week's First 4 Figures Q&A! Did you learn anything that's got you pumped from the latest Q&A, and if so, what? Leave us a reply here, or drop by the Gamer Toy Alliance Facebook Group to chat about First4Figures or any other video game toys and statues that you may want!
Also, if you want to receive alerts on your favorite choice of social media whenever a new article or Q&A recap is posted here, be sure to follow the Gamer Toy News Facebook and/or Twitter Page!