The First4Figures Q&A took a week off while Alex Davis and Chockles were in New York for NYCC 2017, where I was able to meet the F4F Icons personally and see all the latest statues up-close and person (while I also battled a kidney infection during a major convention—woo!). But now F4F is back home, and on Friday they brought us the 40th edition of their cult-classic live-stream Q&A, which ran a short 3 hours! Need a recap of the show? Read on…

On Dark Souls:
Some Dark Souls ladies are in development
A Dark Souls III Statue is likely to be released before Dark Souls II
First 4 Figures Dark Souls I Statue line will continue after Dark Souls II & III lines begin
F4F will possibly consider a line for oversized Dark Souls characters that don't fit into the 1/4 scale
The pose on Ornstein will not be changed just to make him more easily displayable (he's 32" deep)
In retrospect, Alex wouldn't have announced the licenses for Dark Souls II & III at New York Comic-Con and would have saved it to reveal later
The tip of Ornstein's spear may be die-cast
Plush line can include characters from Dark Souls II and Dark Souls III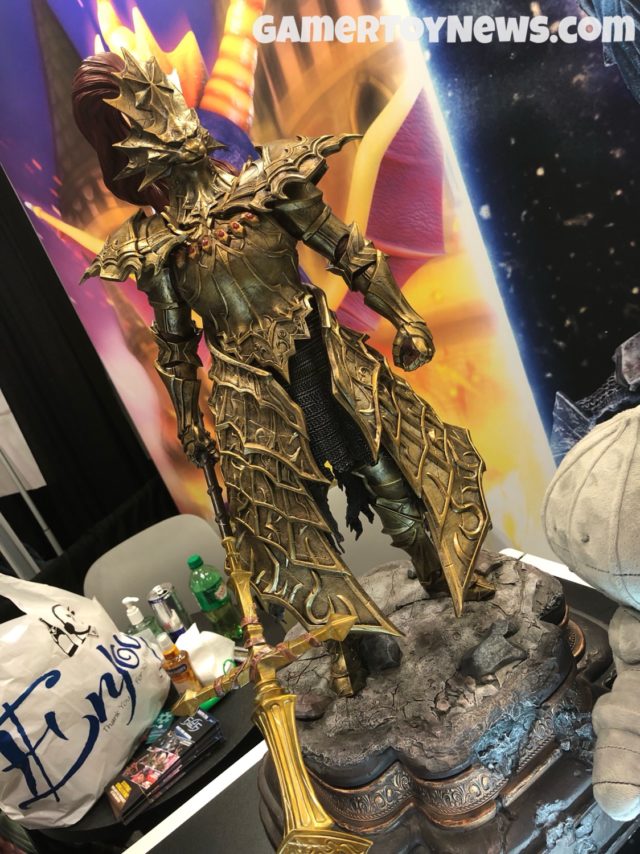 There will definitely be both regular and exclusive versions of the Artorias and Solaire PVCs
Two more (Super-Deformed) SD Dark Souls statues are deep in development beyond what's been shown
First two PVCs (Solaire and Artorias) will likely be up for order in 2-3 months
Dark Souls PVC prices will be in line with other F4F PVCs ($80-$100)
Dark Souls rings from partnership will arrive at F4F offices next week and then will go to the warehouse after being checked out
Ornstein will definitely not be the the next F4F pre-order
Sif delay is because of problems with the ring
Mimic is coming along nicely
On Anime:
Looking at Yu-Gi-Oh; no meeting has happened yet—licenses don't happen overnight
Chockles checked the TT schedule to see if My Hero Academia was scheduled for an official poll, but we didn't get an answer [I'll keep asking]
Need to follow up on Kamina, hasn't heard back yet from licensor
If the Gurren Lagann series continues past Kamina, Yoko would be next
Saitama shipments to the EU delayed because there were so very few orders for it there that it needs to be shipped in a shipping container with other statues coming up—would ship faster if more people ordered in the EU
Fullmetal Alchemist Alphonse statue undergoing revisions—head was too small and legs too long on previous prototype
Guts' sword will not be die-cast because it's way too large and heavy for that
F4F is leaning heavily toward continuing the Samurai Champloo line with Jin
Screaming head only planned to be included with regular version of Guts
On Nintendo:
Alex doesn't trust the results from the Luigi TT poll—thinks people are misinterpreting the poll and voting "Yes" even if they'd only want a Luigi's Mansion Luigi
There's no guarantee at all Nintendo licensing would allow a Mansion Luigi version statue to be made
Alex will open up a follow-up Luigi poll next week to gauge interest levels in both regular and Mansion version Luigis
If a Mario Kart Luigi Statue were ever made, it might have an interchangeable head with the Luigi Death Stare
Everything about the Bowser Exclusive has been shown: giant removable flame and interchangeable tongue to put over the gap in mouth when not using flame
No changes will be made to the Bowser statue base before the pre-order; Alex may look at adding a lava effect to the base, but not a sure thing at all
No plans for 1:1 scale Samus busts right now
Diddy Kong is a thought for down the line past Donkey Kong
No Princess Peach is in the works yet
No Starfox news for now
F4F still working on Varia Suit Samus revisions—something will be ready next week
 On Zelda:
May get feedback from Nintendo on Majora's Mask next week (now this week)
True Form Midna is looking like an early 2018 pre-order right now
Nothing is planned for the resin Zelda BOTW line right now beyond the Sheikah Slate replica and Rider Link—want to focus on getting these pieces approved by Nintendo and not planning further ahead
Life-Size Ocarina of Time Spiritual Stones? "Rally for them if you want them."
Wind Waker Princess Zelda is always a possibility
Sheikah Slate should be ready for PO around the same time as True Form Midna, but may be held back a bit so as not to hit Zelda collectors hard all at once
Checking to see what's going on with US KORL Exclusive Wait List conversions
2-3 Zelda statues should go up for order in 2018 [True Form Midna, Sheikah Slate and Rider Link?]
On Soul Calibur:
Is Taki selling as well as Nightmare? "Nope!"
Nightmare is taking his time in production; coming along slowly but surely
The Taki EX pre-order is now closed, but will reopen for Last Chance Weekend on October 27th
Adding purple to the foot is the main revision to the Taki figure
Cervantes is more likely to be made as a statue than Voldo
Starting 3-D Sculpting work on Ivy's head
On NYCC 2017:
Best part of the convention was the ability to connect with the customer base in person
Loved the breakfast buffet in NYC
Didn't really have the opportunity to check out other companies' stuff at NYCC
F4F did not see any hookers at NYCC 2017
Nothing was broken or stolen at the convention
Alex did not spit on the Sideshow Collectibles booth at New York Comic Con, but did introduce himself to Susan
Probably won't bother with glass for displays at future cons
Need to assess what convention to attend next
On Various Topics:
F4F is soliciting the Tekken Law Statue to wholesalers now to see if there's any interest in him
The new pre-order for Zero will probably be in the next month or so
If Zero sells well, the Mega Man X Armor version from the first game would probably be next in the series
Legend of Dragoon TT scheduled for next week
#F4FDragoon is this week's hashtag
Would collectors be interested in a chibi-style Bloodborne PVC line?
First4Figures has never really tried for a Resident Evil license
Looking into including both red and green LEDs for Night Vision Snake EX head
Exclusive Crash PVC has begun shipping to the United States and Australia, and will start shipping to Europe this coming week
Crash Bandicoot EX is delayed for Canada because of waiting to be packed with another shipping container
Bayonetta Statue should be ready for pre-order in 2018
TT polls need to achieve 550 votes now—450 isn't good enough anymore
Ōkami Shiranui is coming along really nicely
Factory was changed for Katamari Damacy Prince and Dipp; new counter sample almost done—production should be smooth
Darksiders statues will probably be on horses if F4F goes ahead with the line
Alucard pre-order possibly by the end of the year
Persona 5 and Donkey Kong TTs met their goals and will be looked into
Need to run a poll to gauge interest in specific Persona 5 characters
Dead Space Isaac Clarke: TTs never die. Keep rallying.
Reala TT Poll to Save Reala will be in the near future
Working on logistics of distributing the mini Boom8 Sonic figures—"soon"
Will push for Ōkami PVC when poll hits 1000 Yes votes
Crystal Dragon prototype stuck on palette in New York—need it back to continue with development
More PVCs in development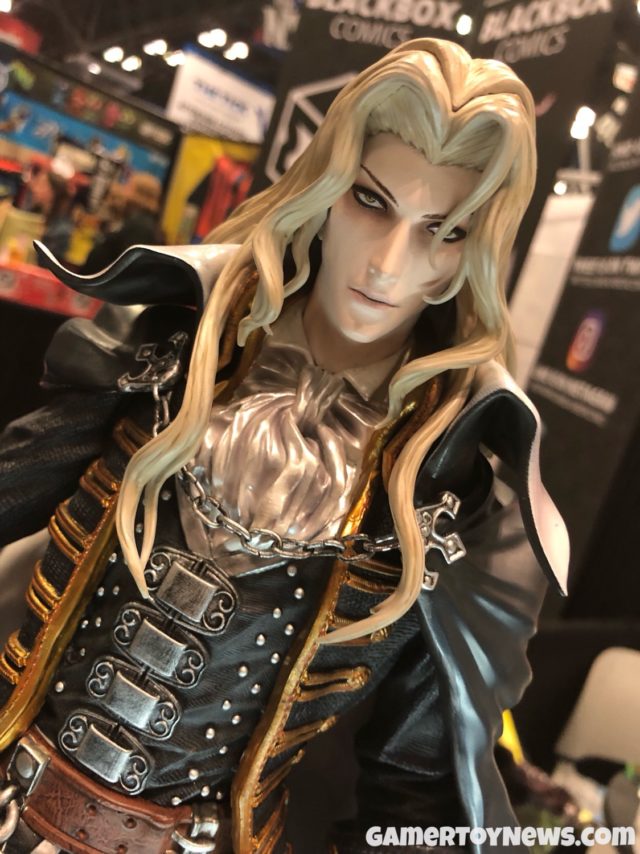 That's all for this week, #F4Fans! What was your favorite tidbit of information this week, and what are you planning to ask next week (if anything)?
Also, remember that you can follow Gamer Toy News on Facebook to get alerts whenever a news article or a fresh F4F Q&A is posted, and you can also hang out in our Gamer Toy Alliance Facebook Group where we talk all video game toys, all the time!