Coming off of their highly successful 3-day pre-order phase 1 for their Solid Snake statue, you might think the hardest-working men in the collectible statue business would take a break for a few days. But nope! Alex and Chockles returned last Friday with the First4Figures Q&A #37 live-stream, which included the announcement of the next 3 TT polls, a new pre-order procedure coming to the F4F website, a brand new live-stream game segment and more! Here's your weekly recap…

On New Pre-Order Procedure:
A new system for the two-week pre-order window is coming, partially due to the success of Bowser and Snake: Pre-orders will now be done in phases.
Pre-orders on the F4F website will now open on Pre-Order Tuesday and run for two Fridays–and then close for two weeks.
After two weeks of being closed, the pre-order will reopen during the Friday Q&A for "Last Chance Weekend" for three more days.
This new system will shorten the PO window to 13 total days instead of 14.
There will be no wait list available between when the first window closes and Last Chance Weekend (the same as Bowser and Snake wait lists aren't available right now).
Having the first phase cut off allows for hyping of the last 3 days of the pre-order, and gives time for news of the PO to fully permeate.
This new F4F Pre-Order system is meant to help people who are out of the country during the first 10 days of the PO, need a little time to pay, didn't hear about the statue right away, etc.
On Zelda:
Got feedback on Sheikah Slate from Nintendo saying that more feedback was coming
F4F has a massive Zelda wish list for statues they'd like to pursue after BOTW Rider Link
If F4F could only make a statue of one of the BOTW Champions, it would be Mipha (because Alex "loves me some fish wife").
No movement on True Form Midna yet–submitted photos to Nintendo on 9/15
First4Figures would love to talk to Nintendo about a Life-Size Fierce Deity mask; would be next mask made in Life Size Majora's Mask series
Would F4F members like to see another Skull Kid (on the moon) statue?
Nothing to announce about more Zelda PVCs right now
A suggested Imp Midna Life-Size Statue would be comparable in size and cost to the Life Size Amaterasu Bust
On Anime:
Maybe My Hero Academia TT can be the 4th next TT in 4 weeks?
Guren Lagann Kamina submitted for approval on 9/15
Unclear if Ornstein or Guts will go up for pre-order first–juggling
Cowboy Bebop Jet Black is almost ready to submit to Funimation
Yu Yu Hakusho needs more support for consideration. TTs never die–hopefully anime fans will come in and vote for Yu Yu Hakusho later when there are more anime collectors in the club.
Yu Gi-Oh Dark Magician poll results have been disappointing so far
Would love to be able to bring Mugen to NYCC and allow attendees to place orders for him at the show–will ask the club about allowing F4F to reopen orders for the con
Samurai Champloo Jin statue's future will be considered after NYCC
On Dark Souls:
Ornstein statue is taller than Link on King of Red Lions statue
Unclear if Ornstein or Guts will go up for pre-order first–juggling
Solaire is almost finished with pre-production work
On Shovel Knight:
Very happy with the positive reactions of the club to the Sneak Peek of Shovel Knight
Really want to launch Shovel Knight soon so they can start work on the next piece if there's a lot of support
On Nintendo:
A revisit (not re-release) of Zero Suit Samus would require 800 votes for consideration.
Donkey Kong TT is going very well; requires 550+ votes for serious consideration and to be pushed for–will not automatically become a reality once 550 votes reached
Two more Metroid statues are currently lined up for after Meta-Ridley and Varia Suit Samus
Working on scaling for Ridley now
Luigi TT is third-next TT; will gauge interest in regular Luigi in case Luigi's Mansion version is not possible (there's no guarantee a Luigi's Mansion statue can be made)
On Metal Gear Solid:
Can make some slight changes to Snake's gun to make it more SOCOM-like, but have to find the balance between walking the line and getting sued
F4F must respect the decisions of the license and work with the hand they're dealt
Have seen comments about thermal goggles for Snake. Nothing to say right now about that.
Happy with sales on Snake–sold very well/better than expected in first 3 days with the controversy surrounding the statue in mind.
Collector edition numbers won't be a problem in the Metal Gear Solid line, since Snake will ship, assigning line numbers to collectors, before Psycho Mantis
There's no good answer for handling Sniper Wolf's sniper rifle due to licensing issues–maybe F4F doesn't make Sniper Wolf at all if they can't get approval for her actual in-game rifle?
Will play with Snake gun silhouette behind the scenes as possible without stepping on license infringements
Don't have exact sales numbers calculated yet for Snake–Neon Green probably has slight sales over regular Stealth
Sniper Wolf, Revolver Ocelot and Liquid Snake are the top characters in the MGS Poll after the three announced characters already in development
On Soul Calibur:
Taki may be coming up for order sooner than we think
On Various Statues:
Dante is coming along slowly
Aku Aku Mask has been submitted for approval and will be on display at New York Comic Con 2017
Aku Aku Mask will be the start of a new line and not part of the Zelda Props line with Majora's Mask
Phoenix Wright Ace Attorney statue is at factory now to have head repainted; still coming
Zero counter sample is almost complete; hopefully wrapping up this week
Silver should be finishing production around mid-October
Odds & Ends:
Rayman will be the next TT; Chockles won't comment on if he thinks Rayman will do well or go to the "TTs never die" pile
#F4FMAN is this week's hashtag
Dead Space TT will be after Rayman
Next Preview Friday and next PO are both still being juggled–dates unknown right now
F4F would do Final Fantasy statues if licensing wasn't an issue [it is]
First 4 Figures won't be venturing out of video games or anime for statue lines at this time
5-6 more pre-orders expected for this year [Editor's Note: Aku Aku Mask, Jet Black, Guts, Alphonse, Ornstein, Alucard and Taki all seem like possible choices to take these spots]
Streets of Rage TT happens at 99,999 members in the F4F Official Collector's Club Group
Okami HD is an amazing coincidence–F4F won't take credit for the game
Working on First 4 Figures Polo Shirt Samples
Expanded Flexipay plans are a possibility if F4F can get it to work on the back-end
Licenses/characters that fail to get enough votes in TTs are unlikely to be given a chance at production anyway
F4F has no plans to partner up to make shelving or furniture
New Weekly Q&A segment debuts: "Who Dat Who Dat?". Semi-Impossible hint shown during stream; 500 points to first correct responder.
When Alex uses his Friday Q&A voice, he turns into a robot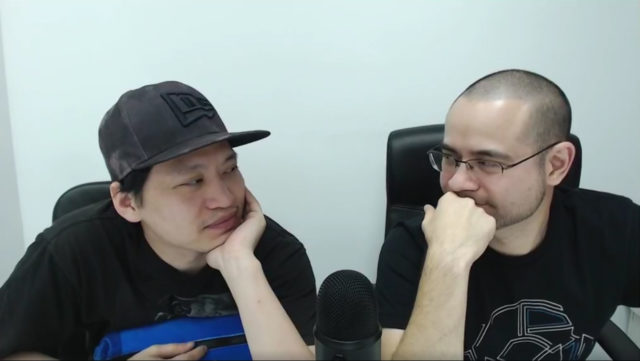 That's all for this week! Not enough news tidbits for you on your favorite gaming toys? Be sure to check out the Gamer Toy Alliance Facebook Group, where we talk all video game collectibles (including F4F), all the time!
Also, you can follow the Gamer Toy News Facebook or Twitter Page if you want to be alerted on your favorite type of social media whenever a new F4F Q&A Recap is available. See you next week!