While I was deeply immersed in Star Wars Force Friday II last Friday, "Fun Daddy" Alex Davis and Tsoek Cheung were delivered the 35th edition of the longest-running weekly Q&A with the head honchos of a high-end statue company! Topics covered included the reveal of the Metal Gear Solid Snake statue (that's now been delayed from going up for order this week), as well as a major announcement of the next character to receive a TT poll: Donkey Kong! Read on for all the details and the full recap of the Q&A…

On Metal Gear Solid:
–Snake is the first Konami pre-order since Simon Belmont years ago; Alucard PO soon after Snake
–One Metal Gear Solid statue planned for every 4-5 months depending on reception
–Concentrating solely on original Metal Gear Solid 1 right now; will not jump around between games at this time
––I also did an article detailing the proposed revisions for the Snake statue and how they'll affect the PO schedule.
— Solid Snake would beat Samurai Jack in hand-to-hand combat
–Liquid Snake planned to be made if support is there; all main characters from original MGS will be made if support is there
–Clear resin (such as that used for the Snake Stealth Camouflage Edition) is more expensive and complicated to work with than regular resin; not cheaper
On Various Anime Lines:
–Edition size for Exclusive Mugen is around 230 pieces. F4F is very happy with that number.
–Samurai Champloo line will end after Mugen, Jin and Fuu. There wouldn't be a fourth statue.
–Jet Black will kick off the Cowboy Bebop line before the end of the year.
–Kamina (Guren Lagann) being submitted for approval next week
–Guts was submitted for paint approval last week
–"Blob of Purple" impossible hint from last week was from Guts' translucent purple base
–Berserk Skull Knight on Horse in scale of Link on Epona is a possibility; Skull Knight not on horse will be first in 2018
–$400-$500 is the likely price-point for Taki and True Form Midna; not finalized
–Yu Yu Hakusho TT poll after Donkey Kong
–Alex will run a poll to gauge interest in Yu-Gi Oh Dark Magician shortly
— Hellsing not being pursued right now because other companies have announced it
On Zelda:
–Midna will be ready to submit to Nintendo for approval this week
–BOTW Rider Link is estimated for pre-order some time in 2018
On Nintendo:
–Nintendo requested additional changes to Varia Suit Samus; F4F is wrapping up those changes now
–F4F has submitted revised Majora's Mask to Nintendo and is awaiting approval now
–Warp Star Kirby is awaiting feedback from HAL (who's currently very busy)
–Actual Bowser PO targeting for around November for those who didn't blind pre-order
On Castlevania:
–Alucard was submitted to Konami for approval on 9/1/17
–The base on Alucard had to be simplified to keep the price down and focus on the figure; cost of paint hits astronomically expensive
–Alucard is crazily detailed; the paint touches required are mental; is not going to be cheap–quite pricey
— Haven't locked down a factory yet for Alucard because the prices estimates coming back are insane
On Crash Bandicoot and Spyro:
— No Crystal Dragon statue pre-order until 2018
–Aku Aku Mask has gotten far ahead of resin Crash statue in development; could potentially launch in November with Crash resin 3 months later
–Alternatively, resin Crash could go up for PO in December with Life-Size Aku Aku Mask in April 2018
–A poll will be posted in the club to gauge which members would like to see offered first: Aku Aku Mask or Crash resin
–Spyro the Dragon PVC is still a no-go for now
–Life Size Aku Aku Mask made to have similar size and base style as Majora's Mask
On Donkey Kong:
–Because Bowser blind pre-order sales are so solid, the next TT poll will be for Donkey Kong
–F4F Donkey Kong statue would be a similar size and (estimated) price as Bowser
–It will be much easier and earlier to get DK through Nintendo approval if the poll shows an audience for a large statue of this magnitude
–Rally the fans if you want to see a Bowser-sized Donkey Kong statue
–#F4FTheKong is this week's hashtag
On Dark Souls:
–Ornstein has been submitted for approval to licensor; haven't heard back yet
–Mimic's base has already been decided on
–Dark Souls Accessory Packs are possible; fans should run some polls to see what people would be interested in
On Various Statues:
— Counter samples being created now for Dante, Zero and Phoenix Wright Ace Attorney
–Phoenix Wright will not go into the vault; will have his time to shine
–Dark Stalkers Morrigan pose looks beautiful; have to work on her base before submitting for approval
–Things don't look good for more Shenmue statues right now
–Bayonetta will be a statement piece; extremely detailed and challenging to create
–Silver is waiting for the factory to finish Nightmare before beginning production
–Production starting soon-ish on 25th Anniversary Sonic the Hedgehog statue
–Aika TT not going well; fans need to rally outside the club to bring in more Skies of Arcadia fans to vote
–Reala will be the next character to get a TT vote whether or not to go forward with a pre-order
–Persona 5 TT poll going well so far. This one has potential–keep rallying!
On Logistics:
–First 4 Figures had hoped to start running pre-orders every two weeks instead of every three weeks in Q3, but the back-end isn't there yet
–Alex Davis is the "Fun Daddy" of the F4Family
–Pre-order calendar needs to be rescheduled as a result
–Wait Lists for KORL will be processed three weeks to a month after the statues hit each region's warehouse for processing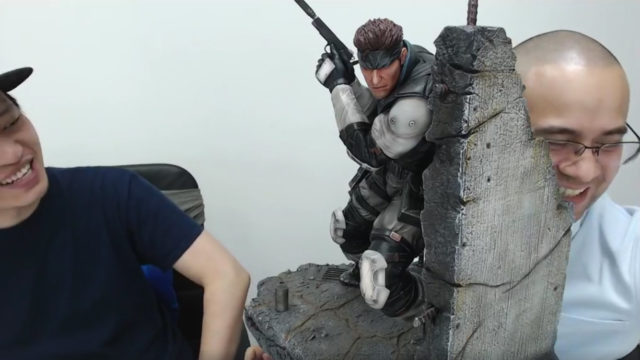 …And that's all for this week! Be sure to head back to F4F World tomorrow for the opening of the MGS Snake pre-order, which will only be open for three days at this time! Also, if you want to receive alerts on your social media whenever we post a new F4F Q&A Recap, make sure to follow the Gamer Toy News Facebook Page and/or Twitter Feed!
What did you find most exciting about this week's First 4 Figures Q&A session, F4Fans?