First4Figures is starting off new blockbuster lines one after the next in 2017, with Spyro the Dragon, Crash Bandicoot, and Samurai Champloo all getting their first entries during the summer. But their next launch is likely to be the biggest and most hype-worthy of the year for F4F, as it's from a series that rarely gets high-end collectibles: the Exclusive and Day One Metal Gear Solid Snake Statues are now available for order!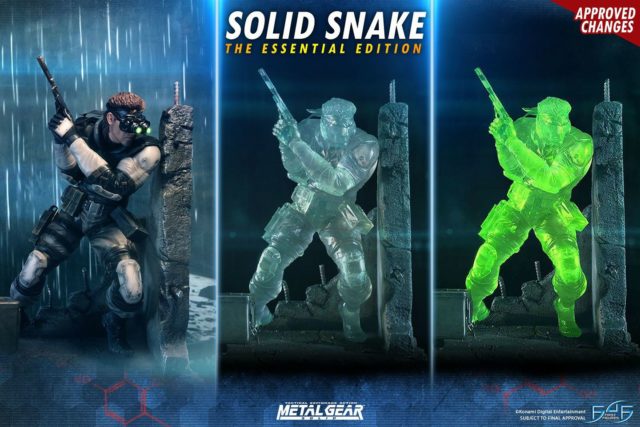 "How limited is the Exclusive Edition? Will I have to rush to order it on September 12th?"
First 4 Figures ordinarily has a two-week order window to order the exclusive versions of their statues. In this case, things are slightly different, as Snake is undergoing revisions due to feedback after being revealed, in order to make the statue even better!
F4F MGS Snake will open for pre-orders for three days from September 12th-15th, 2017, and then orders will close. He will be available for order again from October 5th-8th, 2017 exclusively in person at New York Comic Con 2017.
Finally, once all revisions are approved and a new physical prototype is complete, pre-orders will reopen online for the final 11 days of the two-week pre-order window later on in 2017.
After the full two week window ends, any additional orders for the exclusive edition will go into a Wait List which will only be fulfilled when people with confirmed orders cancel their orders.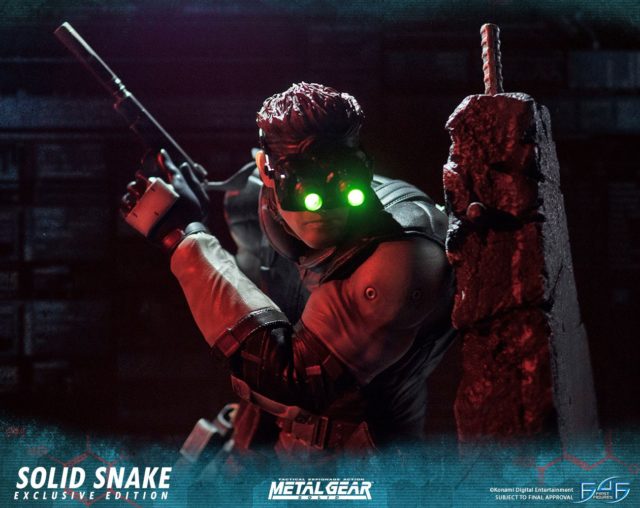 "What's different about the Exclusive edition?"
The Exclusive version available only directly from the F4F website will feature an additional interchangeable head sculpt of Snake wearing his Night Vision goggles, which really light up green with electronic LEDs. The regular edition head is also included with the exclusive.
In addition, the exclusive version includes an Ammo Box that hovers and electronically rotates above the ground, just like in the video game! The "post" the ammo box attached to doesn't exist on the regular version of Snake's base.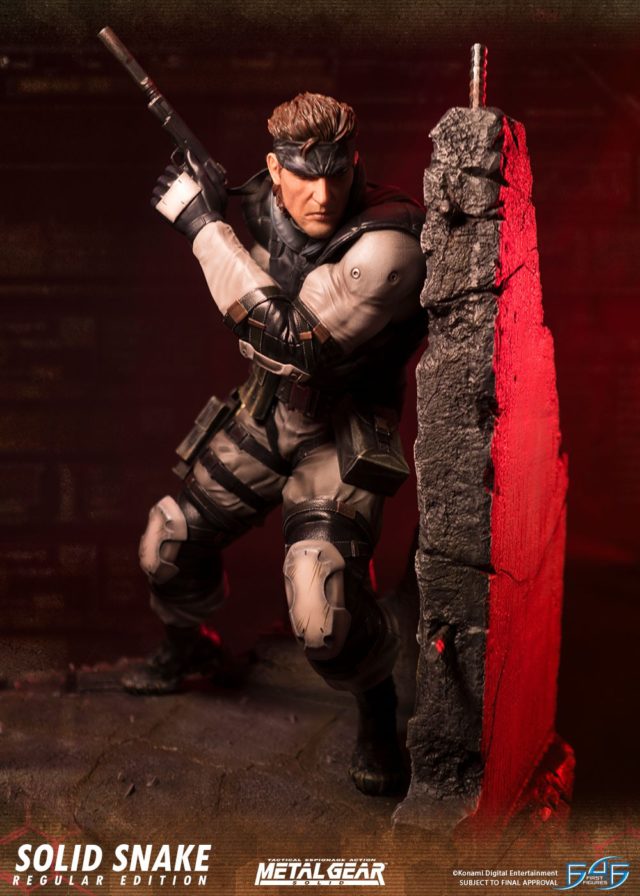 "What's different about the Day One edition, and how long will it be available?"
The Day One Edition is available for only 24 hours, beginning when orders open on Tuesday, September 12th. The Snake Day One Edition includes everything that the non-Day One Editions come with, as well as an additional art card signed by First 4 Figures CEO Alex Davis, a holographic sticker inside the box and extra Reward Points.
Day One editions of the Twin Packs (950 bonus points), Triple Pack (1400 bonus points), Stealth Versions (525 bonus points) and Exclusive Snake (525 bonus points) are all available–but there is no Day One Edition of the Regular Version.
"Why isn't the statue in a more traditional "museum pose"?"
The original pose that F4F worked on for this piece was in a museum pose, but it felt too static and "standard" and didn't scream "Solid Snake". The series is about stealth, so First 4 Figures decided that the pose and base had to coincide with each other and make sense to the game. The result is this stealthy, sneaky Snake looking around a corner.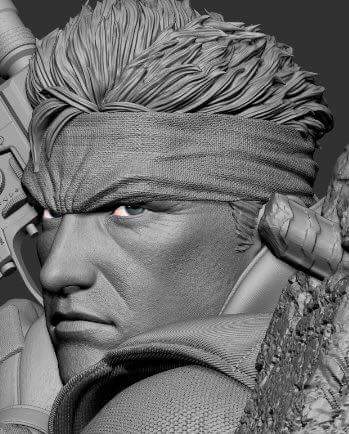 "I heard Snake was going to have a new head?"
Yes! Based on collector feedback, First4Figures developed a new, "younger" head for Snake that has been approved by Konami and will be included with the statue. However, this is in addition to the original head shown (without the mullet), and not instead of it. Buyers will receive both interchangeable heads at no additional cost.
"Why isn't Snake wielding a SOCOM?"
F4F has requested that the gun for the Snake statue (currently a silencer) be changed to a SOCOM, but whether or not that revision will be approved is unconfirmed at this time. This is a licensing issue–if Konami gives approval, the statue will be altered to Snake wielding a SOCOM. If not, the gun will remain as-is.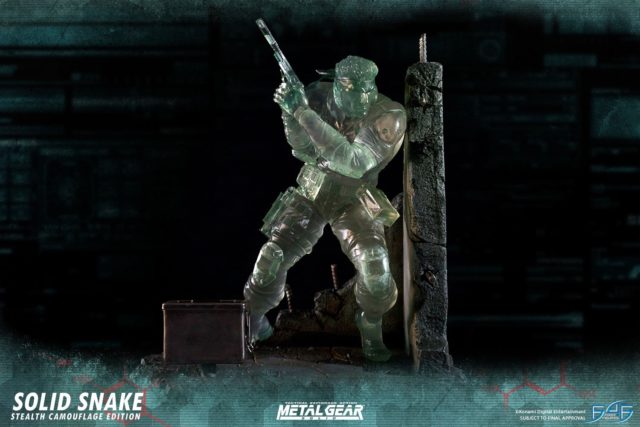 "What's the deal with that clear Snake statues?"
In addition to the regular and exclusive versions of Snake, two "Super Exclusive"-like Stealth Camouflage Editions of Snake cast completely in translucent resin will also be available for a very short period of time. This is meant to represent the periods in the game when Snake would use tech to turn "invisible".
These versions will only be available only from September 12th-15th, and will not be available for any additional days when the ordering window reopens later in the year.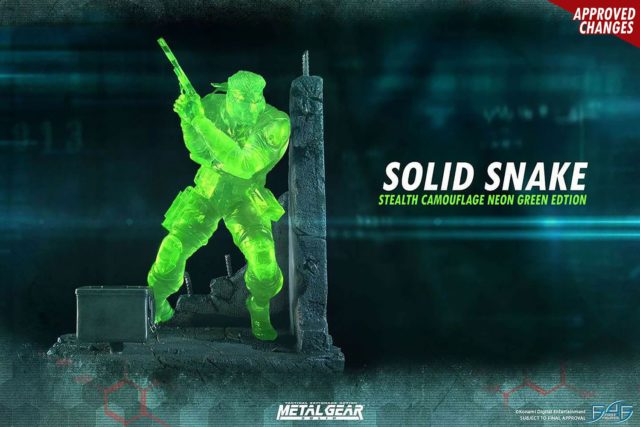 "Where did that Neon Green Stealth Snake version come from!?"
By popular demand in the club following the reveal of the clear blue Stealth Snake, a neon green Stealth Snake has been added to the pre-order lineup as well.
"Will the Night Vision Goggles on the Stealth Camouflage Snakes light up?"
No–because the LED lighting requires wires inside of the statue, it would be impossible to include the electronics in the clear resin version of the statue without compromising the aesthetic, so this version does not light up.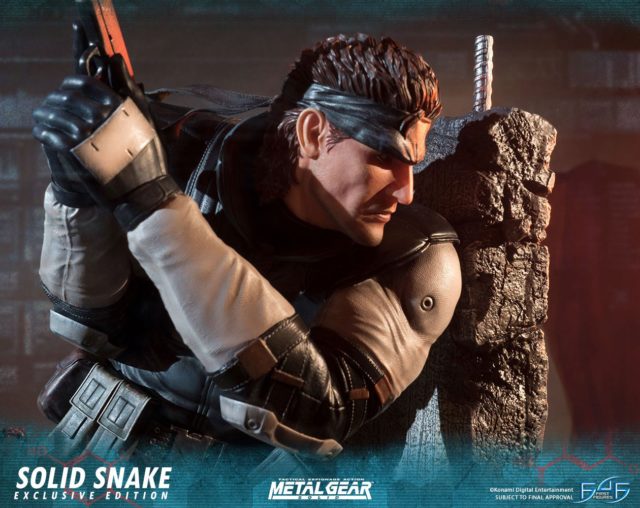 "When does the pre-order window open?"
The first round of pre-orders will open on September 12th 2017 at the following time: 8:00am (California), 11:00am (New York), 4:00pm (London), 5:00pm (Germany), 11:00pm (Hong Kong). If you're not in one of these regions, you'll have to adjust to see when the statue launches locally for you.
"Are low numbers available for this statue?"
YES! Because this is the first statue released in the new Metal Gear Solid series, all numbers from #3 and up are up for grabs! The earlier that you place your pre-order for Snake, the lower your number will be. After you authenticate your statue once it's received, you'll get the same number for all the rest of the characters in the series such as Psycho Mantis as long as you continue to pre-order each one directly from F4F.
Numbers are awarded on a first-come basis, so those who order during the initial round of pre-orders in September will get the lowest numbers, followed by those who order at NYCC 2017, and finally those who order during the second round of online pre-orders.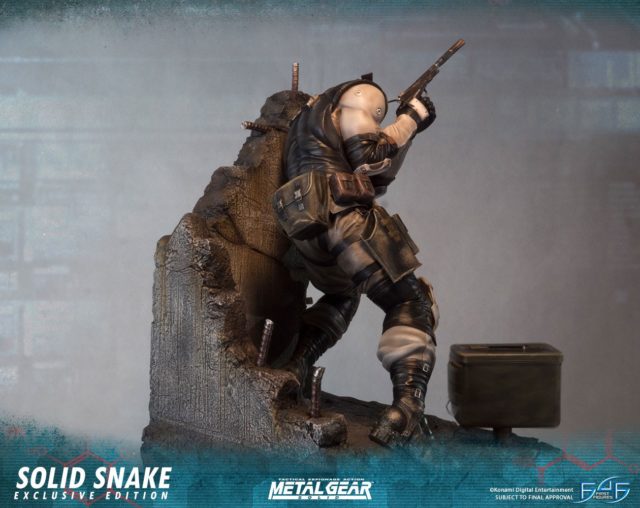 "What are the dimensions of this polystone resin Solid Snake statue?"
Snake is 17.5″ tall, 15″ wide and 9.5″ deep. He weighs 10.4 kg (about 23 pounds).
"Why is this statue so heavy?"
The wall/terrain base of this statue can't really be hollowed out, so it's made of solid resin and consequently is extremely heavy.
"How many pieces does this statue come in?"
The regular version of the Metal Gear Solid statue comes in five pieces (base, head, removable bandana and body, updated head), whereas the exclusive edition and the stealth edition comes in seven pieces (ammo box, Night Vision Goggles head, regular head, removable bandana, statue body and base, updated head).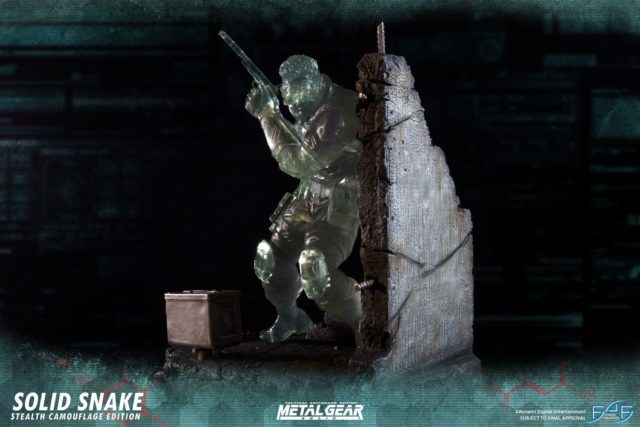 "How much does a First 4 Figures Snake statue cost?"
Both the regular and exclusive versions of the Metal Gear Solid Snake F4F statue are priced at $524.99. A "Twin Snakes Edition Combo Pack" containing both the Exclusive and a Stealth Version statue (of your choosing) with matching numbers and an extra authenticity card for each will also be available for $949.99, and an Essential Collection Triple Pack with all three versions for $1,399.99.
"Why are the regular and exclusion editions the same price?"
The exclusive is priced the same as the regular to give collectors an incentive to buy directly from F4F instead of from another store that carries the regular editions of their statues. F4F makes very little on sales through other retailers, so they're spoiling us with extras as incentive for us to buy the Exclusive directly.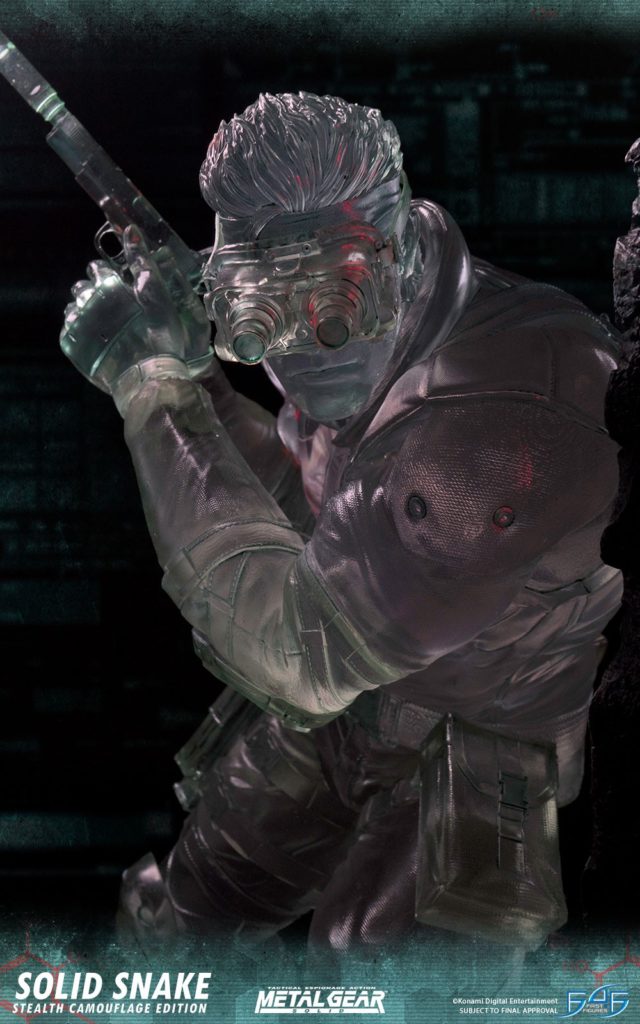 "Will I be charged outright for the entire statue when I order?"
Nope! You'll only be charged the non-refundable deposit (NRD), which is usually around 10% of the total price ($52 in this case for one Snake, or $95 for the Twin Snakes Combo Edition, or $140 for the Essential Collection Triple Pack). Then you'll either pay for the remainder of the balance (including shipping) at once when Snake is ready to ship, or in several monthly payments if you choose a Flexipay option.
"What if I want to pay for the entire MGS Snake statue at once up-front?"
You can arrange making a full payment for the Snake statue(s) by contacting F4F CS using the Contact Form located on the website.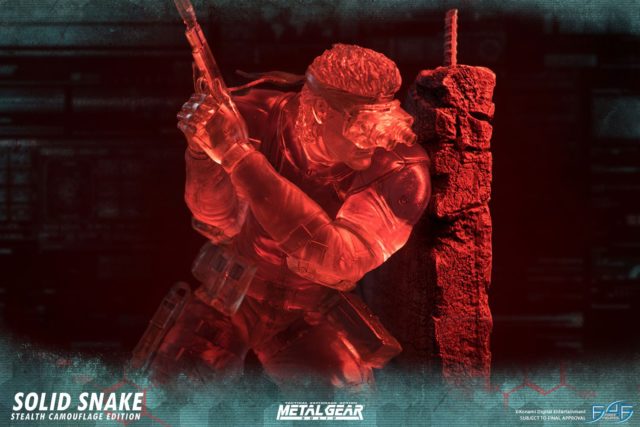 "Are Payment Plans available for Snake, and if so, what do they cost?"
Yes–4-month, 7-month and 9-month Flexipay payment plans for Snake are available. With the 4-month plan, you'll be charged three scheduled times for $118, with the 7-month plan you'll be charged for $68 six times, and with the 9-month plan you'll be charged for $53 in eight scheduled payments.These scheduled payments are in addition to the deposit and final payment plus shipping cost that's due when the item is ready to be shipped to you.
If you're looking to order the twin-packs, it's a $95 deposit, and then scheduled payments of $214 (3 times), $122 (6 times), or $95 (8 times). For the Essential Collection three-pack, it's a deposit of $140 and scheduled payments of $315 (three times), $180 (6 times) and $140 (8 times). These scheduled payments are in addition to the deposit and final payment plus shipping cost that's due when the item is ready to be shipped to you.
All of this information is also broken down in table form on the page for each version of Snake under the "Additional Information" tab.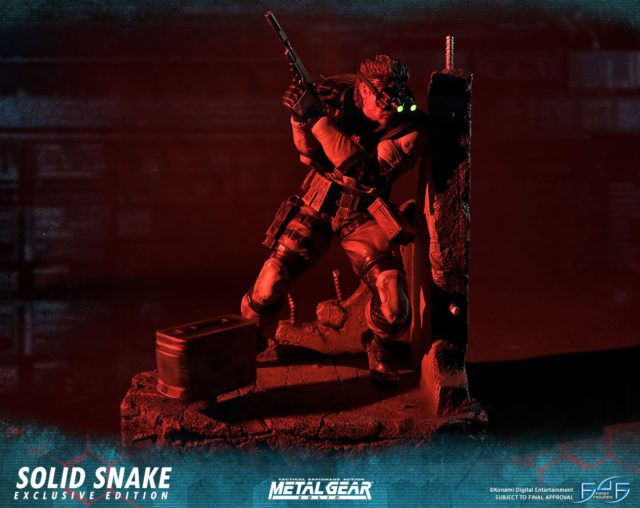 "Can I order Snake using PayPal?"
YES!!! Paypal is finally a default payment option built right into the First 4 Figures website! Just select "Paypal" as your payment method during checkout, and you'll be all set! No more need to E-Mail CS in order to place a Paypal order!
Yep!! Since you can use Paypal as a default payment method on the F4F website now, low numbers will be assigned to everyone on a first-come basis, regardless of whether you pay using Paypal or a credit/debit card.
"Why is the First4Figures Metal Gear Solid Snake statue so much more expensive than the PVC statues from other companies?"
Most PVC figures and statues released by other companies have an open edition size, whereas this version of Snake is much larger and more detailed and is a highly-limited limited polystone resin statue.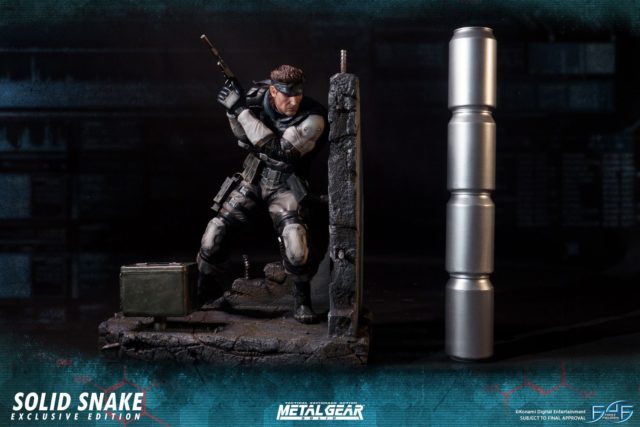 "What makes resin statues so much more expensive than PVC statues?"
The expense with non-PVC statues comes from the fact that resin statues are fairly small limited edition pieces (whereas PVC figures are produced in tens of thousands), require extremely expensive production (factory workers' wages in particular have exploded in the past few years), and are far larger, much heavier and vastly more detailed than PVC figures.
If you're looking to get into collecting high-end resin statues, F4F is one of the cheapest companies around cost-wise and one of the best companies around quality-wise, so you've picked a great place to start.
"What are the shipping rates for this statue and when is shipping charged?"
Shipping is charged along with your final payment for a statue. First4 Figures has now released the full chart of international shipping rates, which you can see below: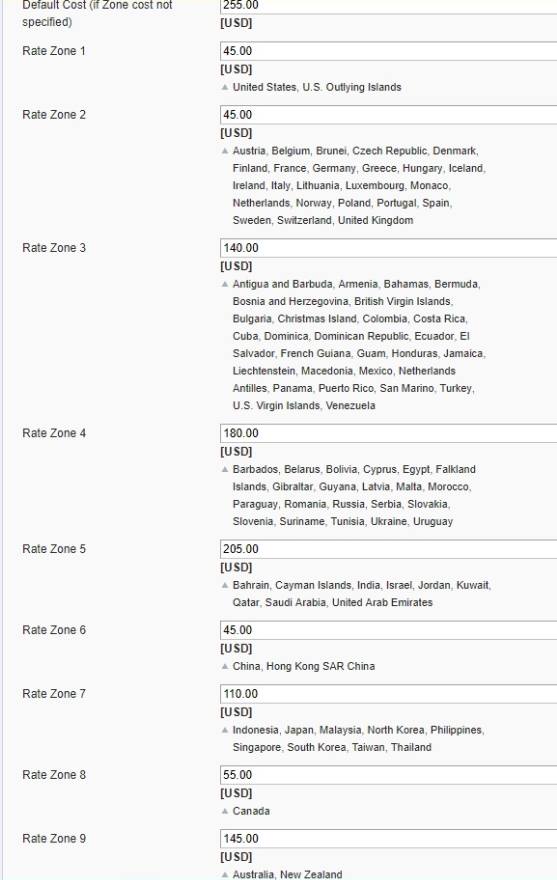 "What if I'm buying both versions of Snake individually, or the Twin Snakes Edition? Do I have to pay more in shipping?"
Yep! Whether you order the Stealth Camouflage Snake and regular Exclusive Snake as individuals or as part of the Twin Snakes Edition two-pack, they will ship separately so you'll end up paying for shipping two statues.
The table of total shipping rates for ordering two Snakes is below: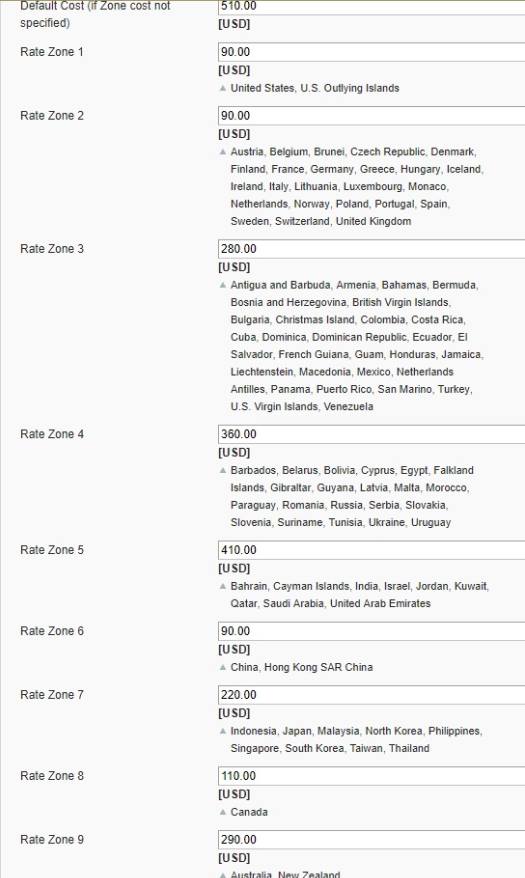 "How much is shipping if I want to order the Metal Gear Solid Snake Essential Collection Triple Pack?"
Because all three statues in the Triple Pack will still ship individually (but with matching numbers), just triple the amount from the shipping rate table for one Snake.
"How long has this statue been in development?"
First 4 Figures first approached Konami about the MGS license in 2008, so in a way the road to this statue has been nine years long. This specific Snake statue has been in development since 2014.
"What other Metal Gear games will First 4 Figures be producing statues from?"
First4Figures is focusing on the original Metal Gear Solid 1 video game for now. If the series sells well, characters and statues from other Metal Gear games are possible in the future.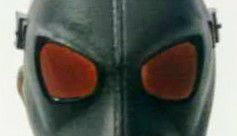 "Is First4Figures working on any additional statues of characters from Metal Gear Solid?"
Yes!! First 4 Figures has confirmed that there are two Metal Gear Solid statues in physical form right now, and another is in the 3-D modeling stage. A teaser posted by F4F CEO Alex Davis (shown above) confirmed Psycho Mantis as the next addition to the line. If the support is there, First4Figures plans to go deep with this series.
"When will the Snake F4F statue be released and ship out?"
The statue is currently estimated to ship out in Q2 2018 (April to June 2018), but that date is subject to change to Q3 2018 (especially in light of the proposed revisions to the piece).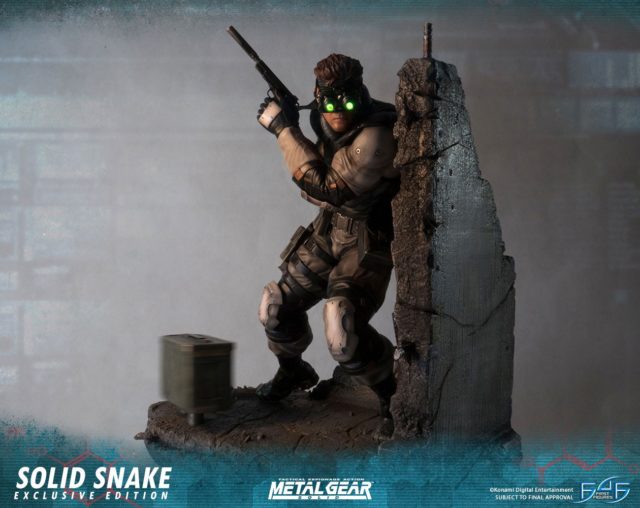 "So where can I order the Exclusive versions from again?"
The Exclusive and Day One editions of the MGS Snake statue and Stealth Camouflage Versions are now available only via the official First4Figures website from Tuesday, September 12th 2017 to Friday, September 15th 2017. The Day One edition and Stealth Versions will be available only during this time period and not when ordering opens up again at a later date, so if you want any of the special editions, now is the time to lock them in.
If anyone has any further questions regarding the launch for this sculpture that I didn't answer here, please feel free to leave a comment and I'll do my best to answer your question myself or get you the information that you're looking for. And if you're interested in seeing our future articles, updates and Q&A recaps on First 4 Figures statues, please be sure to follow the Gamer Toy News Facebook Page and Twitter Feed!
Also, we're talking about video game toys and statues 24/7 in the Gamer Toy Alliance Facebook Group, so please check out the group if you're interested in chatting with like-minded collectors!