I've fallen way behind on several projects I'm working on lately (including this site), and was planning on using today as a catch-up day. But then the doorbell rang this morning and all plans went out the window when a new figure came in through the front door! I've been anxiously anticipating it ever since I ordered it in June 2016: I've finally gotten equipped with the First4Figures F4F Item 2 Mega Man Statue, and it "rockets" (haha, get it?) past my expectations…
The Right:
I did
not
have a lot of money for video games as a kid, and I can honestly only remember owning two video games before I got into high school: the original Mario Bros. (no, not "Super") and Mega Man 2 for the NES. I played a lot of video games via store demos, mind you, but my actual video game library was pretty shallow. So as you might expect, the all-time classic, Mega Man 2, is pretty near and dear to my heart.
Thus, when First 4 Figures opened their orders for their Exclusive Item 2 Mega Man statue last summer, I had my order placed in under a minute. And 10 months later, the fighting robot is in my home at last! Let's take a look…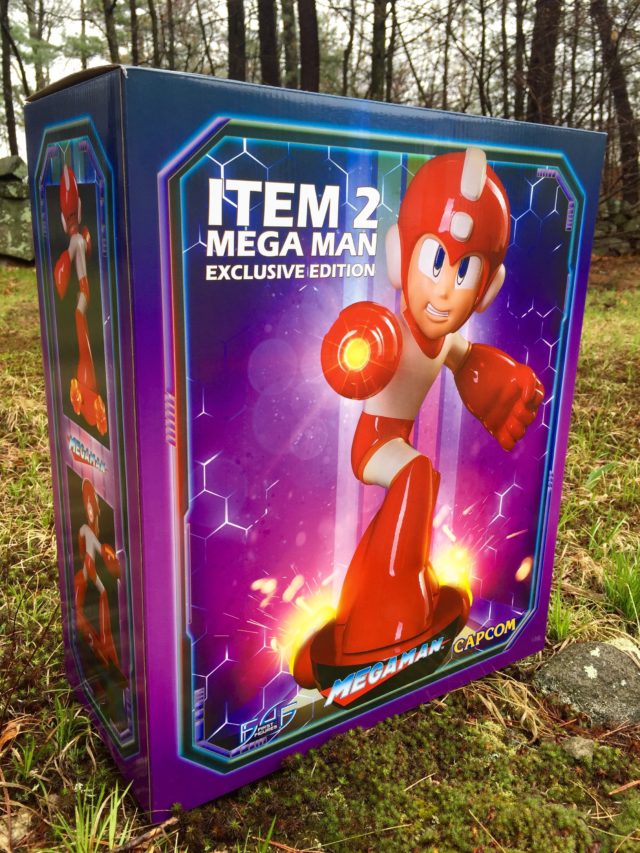 As usual, the First4Figures Item 2 Mega Man box is a thing of beauty. I love the retro style of the box and the bright colors that really set F4F's statues apart from the bland boxes we see from many manufacturers.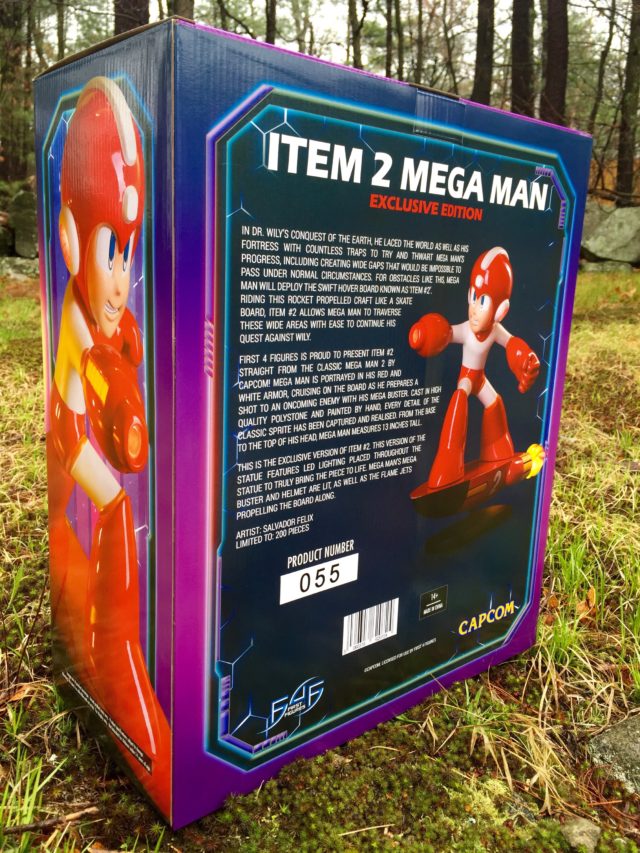 I suspect the number of collectors who bought this particular statue without a deep knowledge of the game it's from are few, but for those wanting more background on this character's history, there's a nifty full write-up to be found on the back of the box.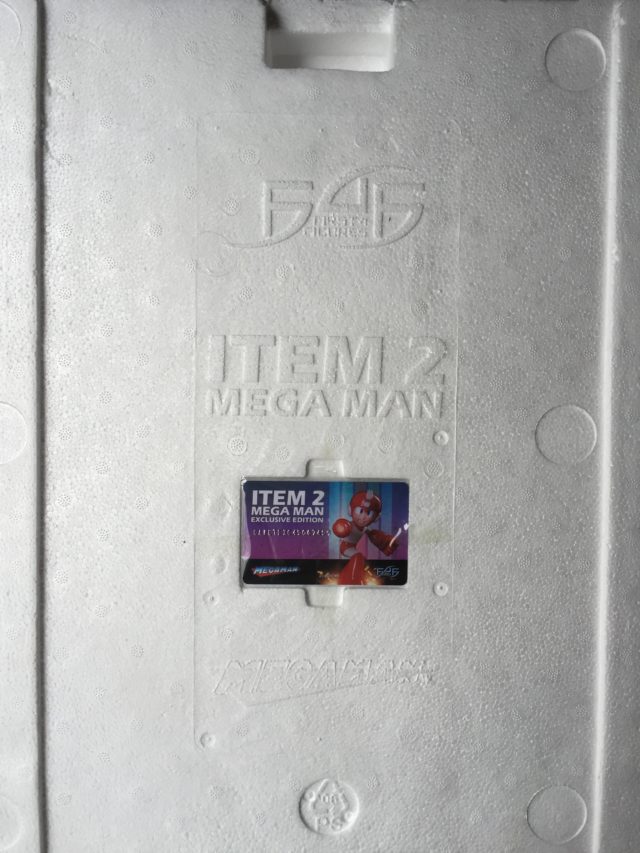 Pulling the Mega Man Item 2 figure from his box, we come to three more aspects of F4F that I'm in love with: styrofoam art, the authenticity card, and… handles!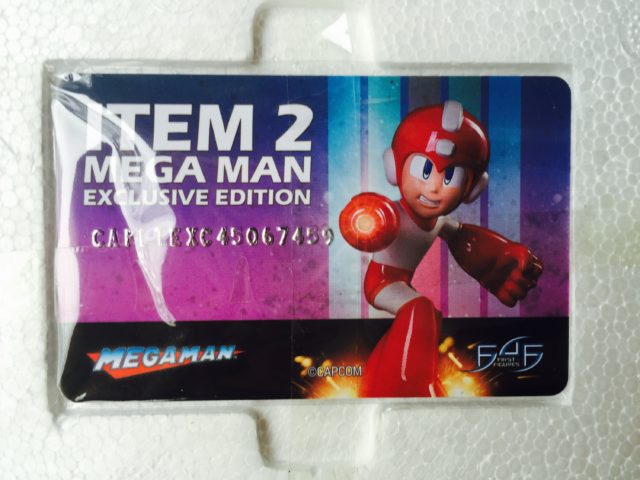 I've had many epic battles struggling to remove styrofoam inserts from boxes over the years, and as such I really appreciate the handles First 4 Figures includes built into the styrofoam of all their recent statues. I cannot express how much more convenient it is removing my F4F statues from their boxes than pieces I get from almost any other company.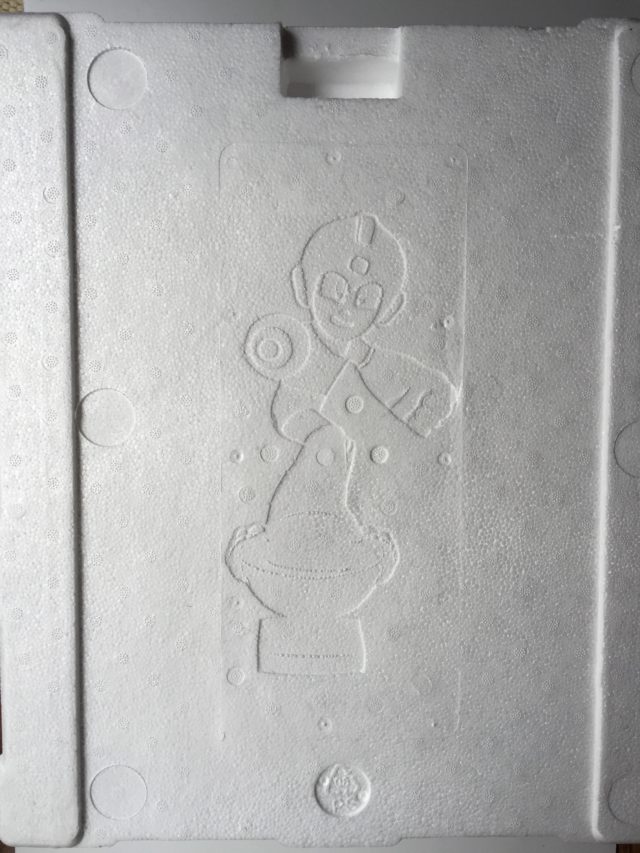 Meanwhile, I don't display the authenticity cards or styrofoam (wait, does anyone display the styrofoam?), but the hard work that goes into making the art on both these items is apparent and really adds a little something extra to unboxing sessions.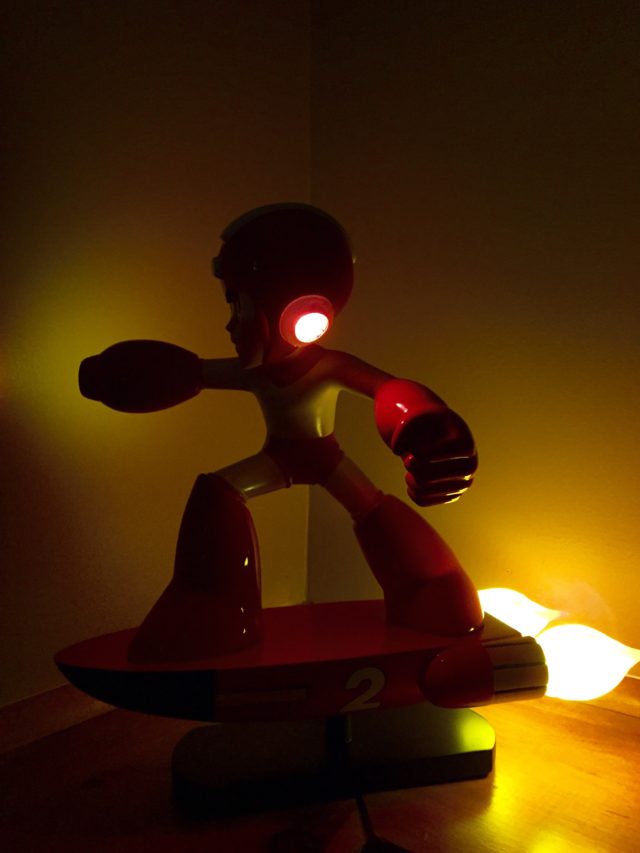 I purchased Item 2 Mega Man Exclusive Edition statue, so mine has LED light-up features built in throughout the statue. This version was limited to 200 pieces (I got lucky palindromic number 55!) and has been sold out for a while in most regions, but you can still order in some parts of the world or get on the Wait List for the EX and hope someone else cancels (which happens more frequently than you'd expect).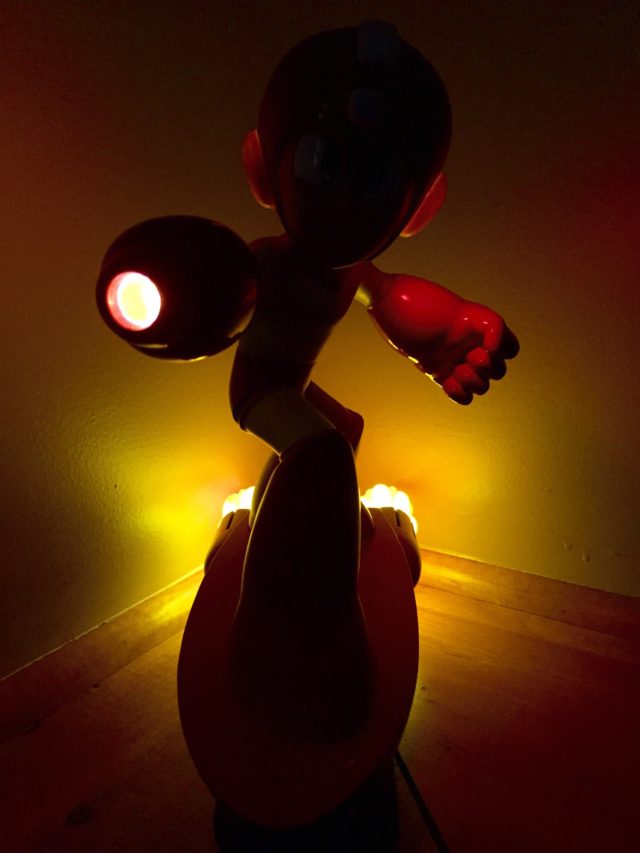 The electronic lights on the Mega Man Item 2 statue are strong and look fantastic–I easily prefer the light-up feature on this Mega Man to the ones on Proto-Man and Running Mega Man. Lights are built into the flames of the hoverboard, as well as Mega Man's blaster arm (side and front) and the sides of his helmet.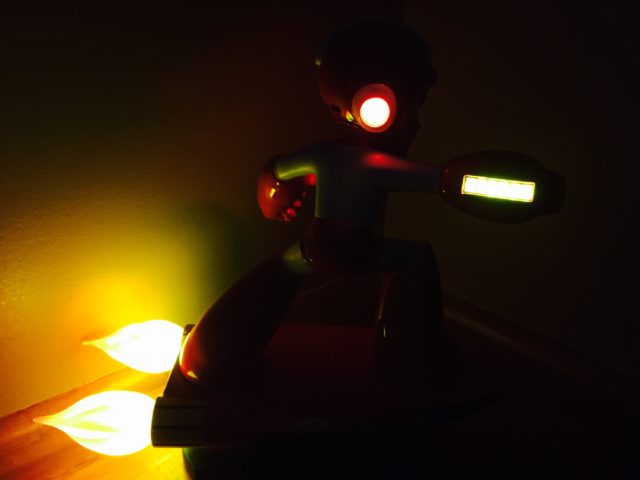 The statue requires three AAA batteries that insert under a magnetic cover on the jet board. The magnets on the cover are ridiculously strong and almost ripped the cover straight out of my hands. I have no concerns whatsoever about that part of the hoverboard ever coming loose, that's for sure!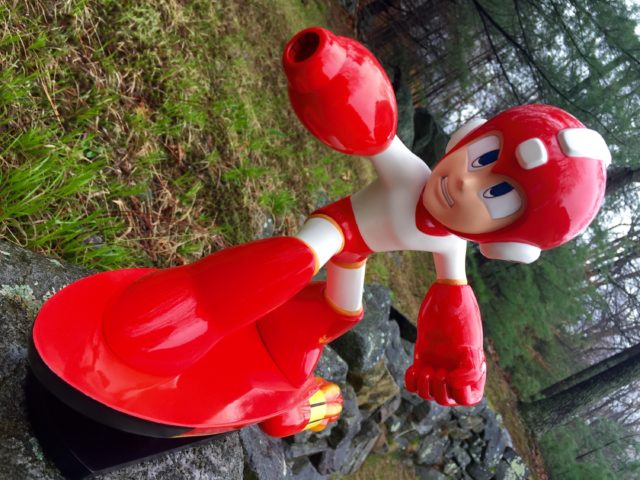 Even with all this rambling, I've yet to talk much about the actual design of the statue. This design is purely retro and classic, so if you're not into this style of 80's retro video game art, this piece isn't for you.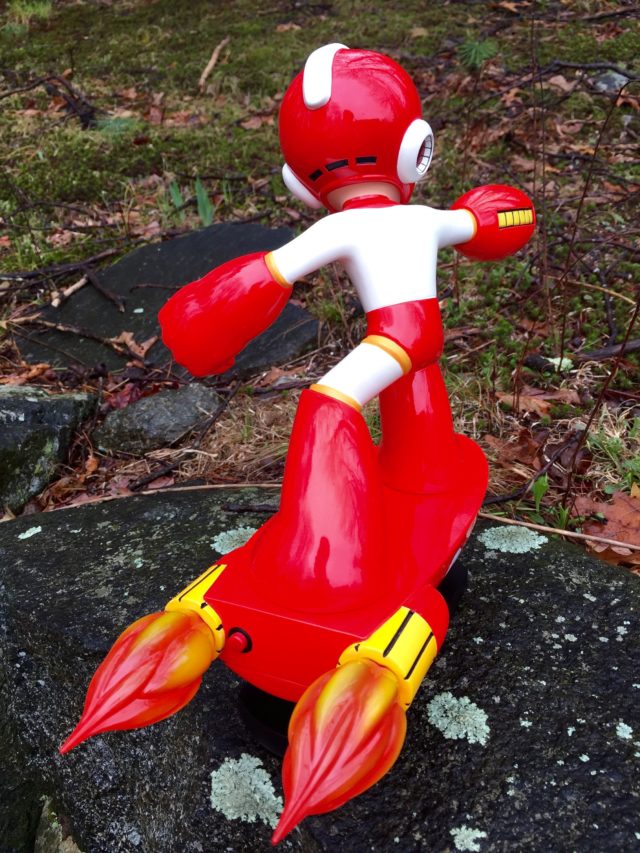 That said, this is an amazing translation of the 80's Mega Man artwork brought to life in figure form–and an iteration of Rock that I doubt any other company would ever dare try to release a high-end collectible of. Bravo to First 4 Figures for taking a risk and bringing us something truly unique and unexpected!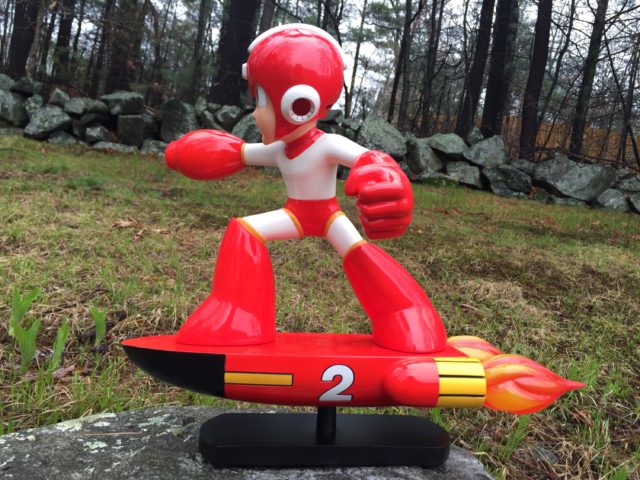 The quality of the color choices and paint applications on this piece are off the charts perfect–I legit cannot find a single flaw to complain about. I especially love the bright, quirky colors and design of the Item 2 rocket board.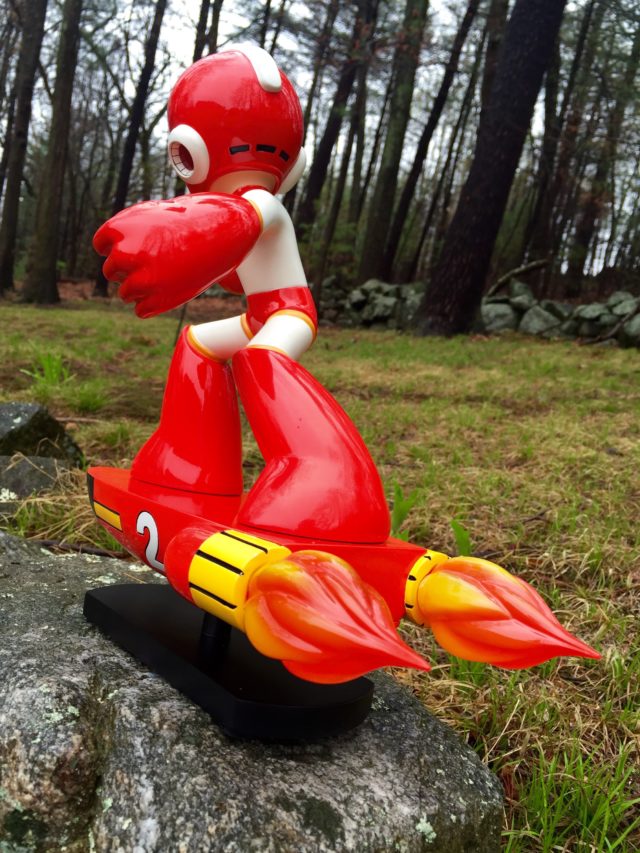 Even the price on this piece is fantastic: $230 for the regular version or $250 for the light-up version of a 13″ resin statue is excellent in this day and age, when a lot of companies are charging $300 and up for similarly sized pieces with no electronics.
The Wrong:
Legitimately, there's only one thing about this statue that I'm not crazy about, and it's stability. While the Item 2 hoverboard slots into the flight stand base without any problems at all, it never really latches in
tightly
.
In addition, there's only a rod in one of Mega Man's feet–the front foot doesn't have a magnet or even a peg in it to stop it from swiveling around freely, which is a bit scary on a $250 statue.
Consequently, picking up the statue to move it, I felt like I needed to keep tight hands carefully on all three parts of the statue or else risking it sliding around or coming apart to a tragic end. If everything held together just a little more safely, I think this piece would be perfect.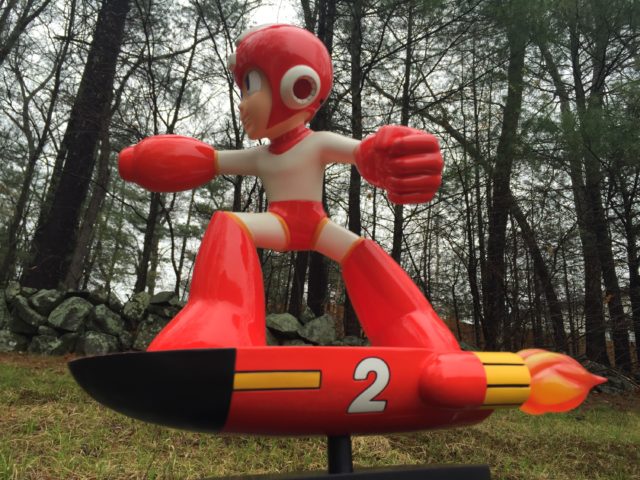 Overall: If you're not a big Mega Man 2 fan, this statue of an obscure version of Mega Man is probably not for you. But if you are a diehard Mega Man 2 video game fan, this super high-quality Mega Man Item 2 statue may end up being one of your favorite collectibles of all-time.
I own so many beautiful statues that I can't really pare a list down to my "favorites" personally, but the F4F Item 2 Mega Man EX is definitely a piece that makes me smile ear-to-ear every time I look at it. Well worth the money and a definite triumph from First4Figures. The F4F Mega Man statue line is in danger of being cancelled, so if you're at all interested in seeing the line continue, please consider ordering one of the remaining Mega Man statues to help #SaveF4FMegaMan.
GRADE: A